Let us just begin by saying this: Dr Justin Coulson, PhD, has six daughters. That's right, six. He also grew up with five brothers and sisters of his own. So, he knows a thing or two about families. About the challenges they face. He also has a PhD in psychology, writes parenting advice for Sydney's Daily Telegraphy, appears on The Project, the TODAY Show, Studio 10, Mornings and is the parenting expert at kidspot.com.au, Australia's #1 parenting website.
So it's no surprise that he is one of Australia's leading parenting experts.
Justin is the author of 21 Days to a Happier Family, 9 Ways to Raise a Resilient Child and now his latest, 10 Things Every Parent Needs to Know.
Justin now answers the Booktopia Guru's Ten Terrifying Questions!
---
1. To begin with why don't you tell us a little bit about yourself – where were you born? Raised? Schooled?
I was born in Sydney in the 1970's, and raised on the NSW Central Coast, the eldest of six kids (with two sets of twin sisters, plus a little brother). I grew up around magical beaches and headlands like Avoca, Terrigal, and Wamberal. My parents forked out a small fortune for a private school education at Central Coast Grammar School. Unfortunately, that investment didn't pay dividends. I barely finished Year 12. In my late 20's I quit my career and returned to school for close to a decade full-time.
2. What did you want to be when you were twelve, eighteen and thirty? And why?
From a career perspective, I wanted to be a pro-surfer when I was 12. By the time I was 18 I had finally recognised I was a gumby on a surfboard, and while I still loved the ocean, I wanted to be a radio announcer. At 30, I wanted to be a better husband and dad and so I'd quit my career and returned to school to study psychology.
3. What strongly held belief did you have at eighteen that you do not have now?
As an 18 year-old I was right into the Richard Bach/Stuart Wilde/Deepak Chopra/Wayne Dyer view of the world and I really believed that I could manifest anything in my life. I had a goal that I would walk on water. (Yes, I know… insane, but true.) I really believed I could do it. I don't believe it so much anymore. I also really believed I would be 6-feet tall. Instead I peaked at 5'9".
I guess those beliefs could be a metaphor for life. When I was 18 I was pretty cocky. I think most of my beliefs were pretty strongly held. Now, in my 40's, I'm a lot less sure of pretty much everything!
4. What were three big events – in the family circle or on the world stage or in your reading life, for example – you can now say, had a great effect on you and influenced you in your career path? 
The three big events that led me to where I am today are:
First, I served a two-year volunteer mission as a 19-year-old. That exposed me to a world beyond my comfortable middle-class upbringing and influenced me tremendously. I got to see how great it feels to help others. I learned that the greatest happiness in life comes from using our unique strengths and talents in serving others.
Second, I lost the plot with my toddler and realised how poorly equipped I was to be a dad. I needed to learn parenting, and that incident was a catalyst in moving me from my successful career as a radio DJ towards a decade at university and my PhD in psychology.
Third, I read a book called Punished by Rewards by Alfie Kohn. This book steered my studies in unanticipated and exciting directions, and changed my view of pretty much everything related to how people work.
"My goal is to influence every parent in Australia to be better."
5. Considering the innumerable electronic media avenues open to you – blogs, online newspapers, TV, radio, etc – why have you chosen to write a book?
I blog, I write for online papers (and the old-fashioned print ones too), I'm on the TV and on the radio. A book is just another way to get information into people's hands (and minds). I love that books allow a fuller exploration of a topic though. Everything is so short and fast in the media. A book allows a person to slow down, settle down, and really absorb information deeply.
6. Please tell us about your latest book…
This is a book for every parent who has ever wanted to be better.
10 Things Every Parent Needs to Know is my fourth book, and it's definitely the one I'm most excited about. I've distilled EVERYTHING I've learned over the past 15 years in working with parents (and raising my own 6 kids) and condensed it into ten principles that matter most. Whether it's getting discipline right, stopping sibling fights, sorting out screen time, protecting our kids' right to have a childhood, getting on the same page as your partner, or just finding the joy in parenting, there are profound, moving, and simple answers in this book.
7. If your work could change one thing in this world – what would it be?
Just one thing? Gah. My goals are loftier than that! Haha.
If my work could just change one thing, it would be that every child would know – absolutely know, deep down in their heart – that they were raised by a parent who was absolutely crazy about them… and that parent would show it in the way they looked at, spoke to, and interacted with their child in every instance – including the tough times.
(I know I kind of snuck a second one in there… couldn't help myself.)
8. Whom do you most admire and why?
My favourite, most-admired people are those who exhibit tremendous (and often undeserved) kindness to others under the most challenging circumstances. There are some people in my circle who are breathtakingly kind and compassionate. They have a positive energy that draws people to them through a warm smile, a gentle touch, or a soft word. They're the ones I most admire. No names, because they're not public figures. But those who have come into contact with someone like that know what I mean and why it matters so much.
9. Many people set themselves very ambitious goals. What are yours?
My goal is to influence every parent in Australia to be better.
10. What advice do you give aspiring writers?
This may be the hardest question of all. I still don't think of myself as a writer. I'm a guy with a desire to influence and improve the world, and writing is one of the ways I do that.
Perhaps that's really what it comes down to for me. There has to be a reason – a deep, transcendent purpose – for writing. What's your "why"? If you can tap into that why, write something that matters, and work with other people who believe in you and your message, it can happen.
Justin, thank you for playing!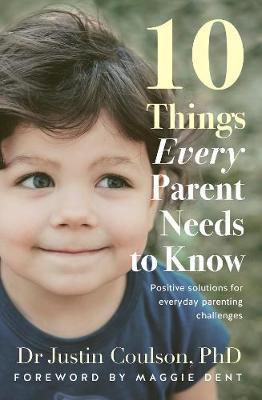 10 Things Every Parent Needs to Know
From the author of 21 Days to a Happier Family and 9 Ways to a Resilient Child, this book is a moving, inspiring and loving call to action for all parents.
Parenting expert Dr Justin Coulson shares the ten key things every parent needs to know in order to raise their children in positive ways. They are also simple solutions to make parenting easier for you - so you don't have to keep 'making it up as you go'.
About the Contributor