Reece Carter on The Happy Gut
Reece Carter, aka The Garden Apothecary, is Australia's very own herb nerd. The Professor Sprout of the muggle world. He won over the hearts and minds of those craving a more homemade remedial approach to health with his first book The Garden Apothecary. Now Reece is back with his latest book on gut health, The Happy Gut, which is Reece's answer to the plethora of Aussies out there who are realising the importance of good gut health.
"People are hungry for good information," says Reece. "In the last ten, fifteen years, we've started to refine our understanding and a lot of it comes down to the bacterial residents that call our gut home… we're seeing exciting research at the moment. How do you influence the gut through diet?
Growing up on a farm in Western Australia, Reece's grandpa had a passion for gardening and his mum a passion for cooking. So from a young age, our soon-to-be national herb nerd was cooking with fresh and healthy produce, and now he is driven to sharing his passion with us.
"We need to stop seeing vegetables and legumes as boring and start going 'how do we make these dishes exciting?'" – Reece Carter
It's not just your gut that Reece wants to look after, either! Reece is also driven to help improve your mental and emotional wellbeing through good gut health.
"There's this old, traditional understanding that a lot of disease begins in the gut," says Reece. "Over the recent years, we're starting to see more and more really interesting research that backs up that idea. What we eat, what we're putting into our gut improves – or alters – mental and emotional wellbeing."
Don't sit back and suffer through the bloating, digestive discomfort or low energy – give Reece's book a try and experience feel-good recipes and remedies for better gut health.
Have a listen to our full interview with Reece below: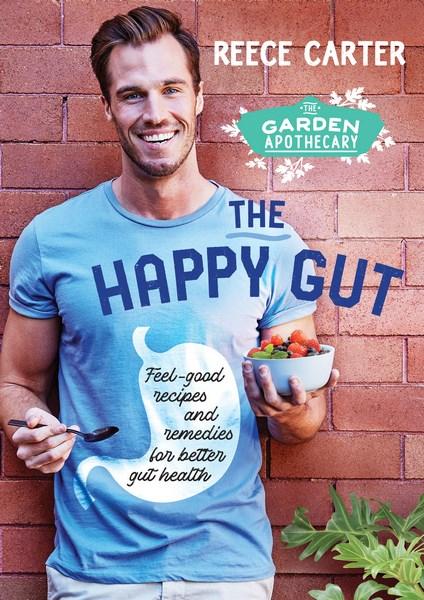 The Happy Gut
As the wellness world is going nuts for guts, naturopath and herb nerd Reece Carter offers traditional holistic remedies you can make at home as well as 'food as medicine' recipes to help treat a range of everyday gut ailments.
Reece also discusses how to achieve optimal health the naturopathic way, what you should grow in your garden and he also takes us on a tour of the materia medica: the wonderful world of medicinal herbs. Powered by the latest research into the gut–brain axis, The Happy Gut will show you the pathway to everyday good gut health...
About the Contributor
Before entering the exciting world of books, Bronwyn served in the Royal Australian Air Force, travelled extensively and worked (still does!) as a barista on the weekends. Books are her true passion. Bronwyn's debut fantasy novel Relic is coming out in 2019 with indie publishing house Talem Press. They are to publish her entire trilogy called The Relic Trilogy. In her spare time, Bronwyn writes, reads and enjoys keeping fit (which she undoes by eating loads of chocolate) with Martial Arts and personal training. She can't answer what her favourite book is but she has a soft spot for Peter Pan (J.M Barrie), Outlander (Diana Gabaldon), Stardust (Neil Gaiman), The Illuminae Files (Jay Kristoff and Amie Kaufman) and Six of Crows (Leigh Bardugo). Fantasy, sci-fi and YA make up the majority of her bookshelves.