If you love to be thrilled, make sure you don't skip over Ben Sanders. Ben is the author of American Blood and Marshall's Law, as well as three New Zealand Fiction Bestsellers: The Fallen, By Any Means, and Only the Dead. The Stakes is his latest work, described as 'unputdownable' by Weekend Australian.
Ben now answers the Booktopia Guru's Ten Terrifying Questions!
---
1. To begin with why don't you tell us a little bit about yourself – where were you born? Raised? Schooled?
I live in Auckland, New Zealand, and I was born and raised here, too. I had a great childhood, blessedly devoid of crime, which people sometimes find surprising, given the nature of my novels.
2. What did you want to be when you were twelve, eighteen and thirty? And why?
When I was twelve, I wanted to fly Hercules freighter planes for the air force. It looked pretty exciting. Unfortunately, being a myopic type 1 diabetic renders me unsuitable for military operations, so I have to write books instead. I've wanted to be a writer since I was fourteen. I'm twenty-eight now, still love reading and writing, and I imagine my feelings will be the same when I'm thirty.
3. What strongly held belief did you have at eighteen that you do not have now?
None spring to mind. I think I was too distracted by the adolescent pressure of the day-to-day. I've gained many strong beliefs, but I can't recall changing my mind on anything that mattered deeply to me, and I can't remember being strident about something and then losing interest.
4. What were three works of art – book or painting or piece of music, etc – you can now say, had a great effect on you and influenced your own development as a writer?
Lost Light by Michael Connelly was the book that made me want to write something of my own. James Ellroy has had a big impact on my work: it wasn't until I read American Tabloid that I appreciated the importance of style, and it drastically changed how I approached my own fiction. I love listening to music (Nick Cave, Ryan Adams and Lorde are my current favourites), and I'll always vividly remember being eighteen and discovering R.E.M. I loved their album Out of Time, and often had it playing while I wrote my first novel, The Fallen.
5. Considering the innumerable artistic avenues open to you, why did you choose to write a novel?
I was passionate about stories and learning how to write, so it didn't occur to me to pursue another medium.
6. Please tell us about your latest novel…
My latest is The Stakes, about an NYPD robbery detective who has a mid-life crisis and decides to rip off rich criminals. Of course, this lands him in a tonne of trouble. There's a studio boss-turned-gangster, a failed actor-turned-hit man, and a brilliant and dangerous woman named Nina. Everyone collides in brutal fashion. I loved writing it, and I think it's my strongest novel so far. 
7. What do you hope people take away with them after reading your work?
I'm interested in language, so I aim to write well, and I want to give readers interesting people and places—something a bit different within a very well-worked genre. But the whole point of publishing these stories is to entertain, so ultimately I want people to reach the end of the book and consider the reading time very well spent.
"I was passionate about stories and learning how to write, so it didn't occur to me to pursue another medium."
8. Whom do you most admire in the realm of writing and why?
James Ellroy has been a favourite for many years: his books are epic, he writes with flair and originality, and he has a great way of combining fact with fiction—it's hard to spot where the welds are. I love Martin Amis, too. He's perhaps the finest living writer of British English sentences. My favourite of his novels is The Information, and exhibits many a gem. How's this for an ending: 'The planesaw whines, whining for its planesaw mummy. And then there is the information, which is nothing, and comes at night.'
9. Many artists set themselves very ambitious goals. What are yours?
I'd like to keep steadily tracking in the direction that I'm going—writing books that people seem to enjoy, and getting to write for a living. I want to be someone who's read all over the world, but that's the very long-range plan.
10. What advice do you give aspiring writers?
Read a lot, write a lot, and edit mercilessly. Getting published is tough, so whatever you submit should be spotless. Write your book, leave it alone for a month, and then go at it hard with a red pen.   
Thank you for playing Ben!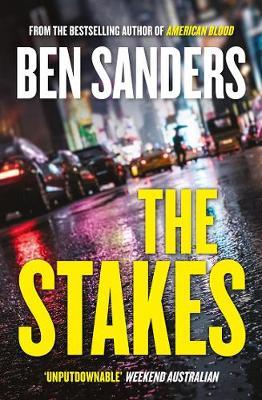 The Stakes
An NYPD robbery detective uses his insider knowledge to rob criminals. The dazzling new stand-alone thriller from the bestselling author of American Blood and Marshall's Law.
Effortlessly cool, suspenseful as hell and pure reading pleasure, The Stakes confirms Ben Sanders as one of our finest writers of crime fiction.
About the Contributor