How would you like to enjoy some champagne and canapes while listening to Scott Gooding talk about his new book, The Keto Diet Cookbook?

Books & Bubbles is a series of quarterly ticketed events for readers hosted at the Hachette Australia office in partnership with WHO Magazine.

A total of five authors over four events will appear in conversation with WHO Magazine Content Director and Editor, Keshnee Kemp. Keshnee and the authors will sit down and discuss their careers, their inspiration and so much more!

Books and Bubbles is an intimate evening giving readers the opportunity to meet their favourite authors, discover new ones and meet fellow fans.

Are you one of the keto-curious? The keto diet is a high fat, low-carb diet that has got everyone talking.

On Tuesday the 26th of February, Scott Gooding and Keshnee Kemp will be discussing all things Keto to celebrate (with bubbles and canapes!) the launch of his brand-new cookbook The Keto Diet Cookbook.
Scott Gooding is a passionate cook, health coach and personal trainer. He has worked with brands such as Whirlpool, Thr1ve, Huon Salmon, Body Science and Undivided Food Co which has allowed him to share his true passion: to educate on healthy lifestyles through online information and inspiration, demos, presentations, classes and TV appearances. In 2013 he appeared on Channel 7's My Kitchen Rules, which allowed him to share his version of healthy food with Australians. He is also co-author of the bestselling Clean Living series of books and cookbooks.

Keshnee Kemp is a multi-skilled leader with experience in print, television & digital media. An expert in communicating with women across multiple touchpoints, Keshnee has worked as a producer on Channel Nine's Today Show, as Editor of Cosmopolitan Magazine and today is Editor and Content Director at WHO.
WHEN AND WHERE?
Tuesday, February 26, 2019 at 6 PM – 9 PM

Hachette Australia Books Level 17, 207 Kent Street, Sydney, Australia 2000
Click here to get your tickets to this exclusive event!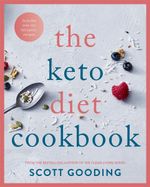 The Keto Diet Cookbook
Following a keto diet means most of your daily calories come from fats, a few from proteins and very few from carbohydrates.
Once you make this change, you become an efficient fat-burning machine, with fewer cravings and improvements in mood, alertness and brain function.
In The Keto Diet you'll find simple explanations of the science of ketosis and the importance of real food, gut health and reducing inflammation. You'll also receive practical advice on which fats to cook with and more than 150 nourishing recipes that will taste amazing and reap the many benefits of ketosis.
The Keto Diet is not a quick fix, it's not a fad. It's the lifestyle you need to be your best - inside and out!
About the Contributor
Sarah McDuling is Booktopia's Senior Content Producer and Editor of The Booktopian Blog. She has been in the bookselling game for almost a decade and a dedicated booklover since birth (potentially longer). At her happiest when reading a book, Sarah also enjoys talking/writing/tweeting about books. In her spare time, she often likes to buy a lot of books and take photographs of books. You can follow her on Twitter and Instragram @sarahmcduling
Follow Sarah: Twitter