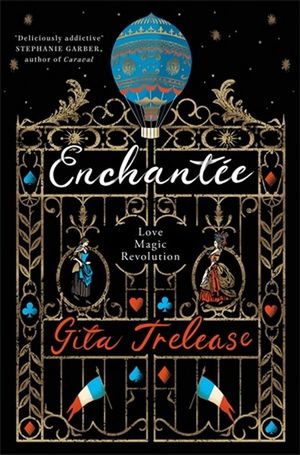 Enchantée
by Gita Trelease
Review by Bronwyn Eley
Bienvenue à Paris! But not just any Paris – this is a strange and wondrous time. Paris 1789. Twisted streets and twisted minds. The court of Louis XVI and Marie Antoinette… and the bejewelled playthings inside this illustrious palace.
Enchantée revolves strongly around love – love for one's family, love for oneself and love for strangers. Our protagonist is seventeen-year-old Camille who, after the death of her parents, takes up the role of carer and peace-keeper to her remaining family: sweet and sickly Sophie, and volatile and abusive Alain.
What I love about Camille is that she is both brave and reckless, selfish and selfless. At first, she is completely selfless. Using la magie (dark magic taught to her by her mother) in order to provide for her family and sacrificing her own morals and beliefs in order to do so. As things progress, and Camille starts to use her magic for grander schemes, the selflessness leeches away and what is left is anything but simple: an addict.
Having banished her drunkard brother (bravo, I say!), Camille begins to reflect the very same qualities that she so despised in her brother. Camille transforms herself with magic to resemble the fine and beautiful Baroness de la Fontaine – a disguise grand enough to gain her access to the intimate inner court of Versailles where she gambles in order to grow her wealth and circumstance. Inside she meets both friend and foe alike as her addiction to magic grows alongside her winnings.
It was fascinating to sit back and be privy to a strange world where young men and women – children, in my eyes – were left to their own devices. To gamble, to drink, to play, to scheme. Camille, like the reader, is innocent to all of this. But just like Camille, I found myself constantly drawn to Versailles and wondering what was going on inside.
In stark contrast to the glittering palace of Versailles, Camille strikes up a confusing relationship with a young man with his head in the clouds. Lazare is beautiful, charming and ambitious. His obsession with hot air balloons is almost endearing, as he funnels his life, wealth and time into his project. The moments she spends with him and the balloon were a breath of fresh air, a welcome reprieve from the false and fast-paced Versailles.
I completely and utterly fell into this world created by author Gita Trelease. Enchantée is absolutely enchanting and I dare you not to fall in love with it.
Enchantée by Gita Trelease will be published on the 26th of February and is available to order from Booktopia.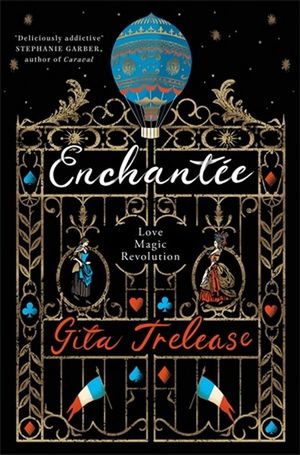 Enchantee
Paris in 1789 is a labyrinth of twisted streets, filled with beggars, thieves, revolutionaries – and magicians . . .
When smallpox kills her parents, seventeen-year-old Camille is left to provide for her frail sister and her volatile brother. In desperation, she survives by using the petty magic she learnt from her mother. But when her brother disappears Camille decides to pursue a richer, more dangerous mark: the glittering court of Louis XVI and Marie Antoinette.
Using dark magic Camille transforms herself into the 'Baroness de la Fontaine' and presents herself at the court of Versaille, where she soon finds herself swept up in a dizzying life of riches, finery and suitors. But Camille's resentment of the rich is at odds with the allure of their glamour and excess, and she soon discovers that she's not the only one leading a double life...
About the Contributor
Before entering the exciting world of books, Bronwyn served in the Royal Australian Air Force, travelled extensively and worked (still does!) as a barista on the weekends. Books are her true passion. Bronwyn's debut fantasy novel Relic is coming out in 2019 with indie publishing house Talem Press. They are to publish her entire trilogy called The Relic Trilogy. In her spare time, Bronwyn writes, reads and enjoys keeping fit (which she undoes by eating loads of chocolate) with Martial Arts and personal training. She can't answer what her favourite book is but she has a soft spot for Peter Pan (J.M Barrie), Outlander (Diana Gabaldon), Stardust (Neil Gaiman), The Illuminae Files (Jay Kristoff and Amie Kaufman) and Six of Crows (Leigh Bardugo). Fantasy, sci-fi and YA make up the majority of her bookshelves.