It's not every day you get to sit down across from Matthew Reilly. This master storyteller and international mega-bestseller came by to promote his latest book The Three Secret Cities, which is the fifth book in his wildly popular Jack West Jr series.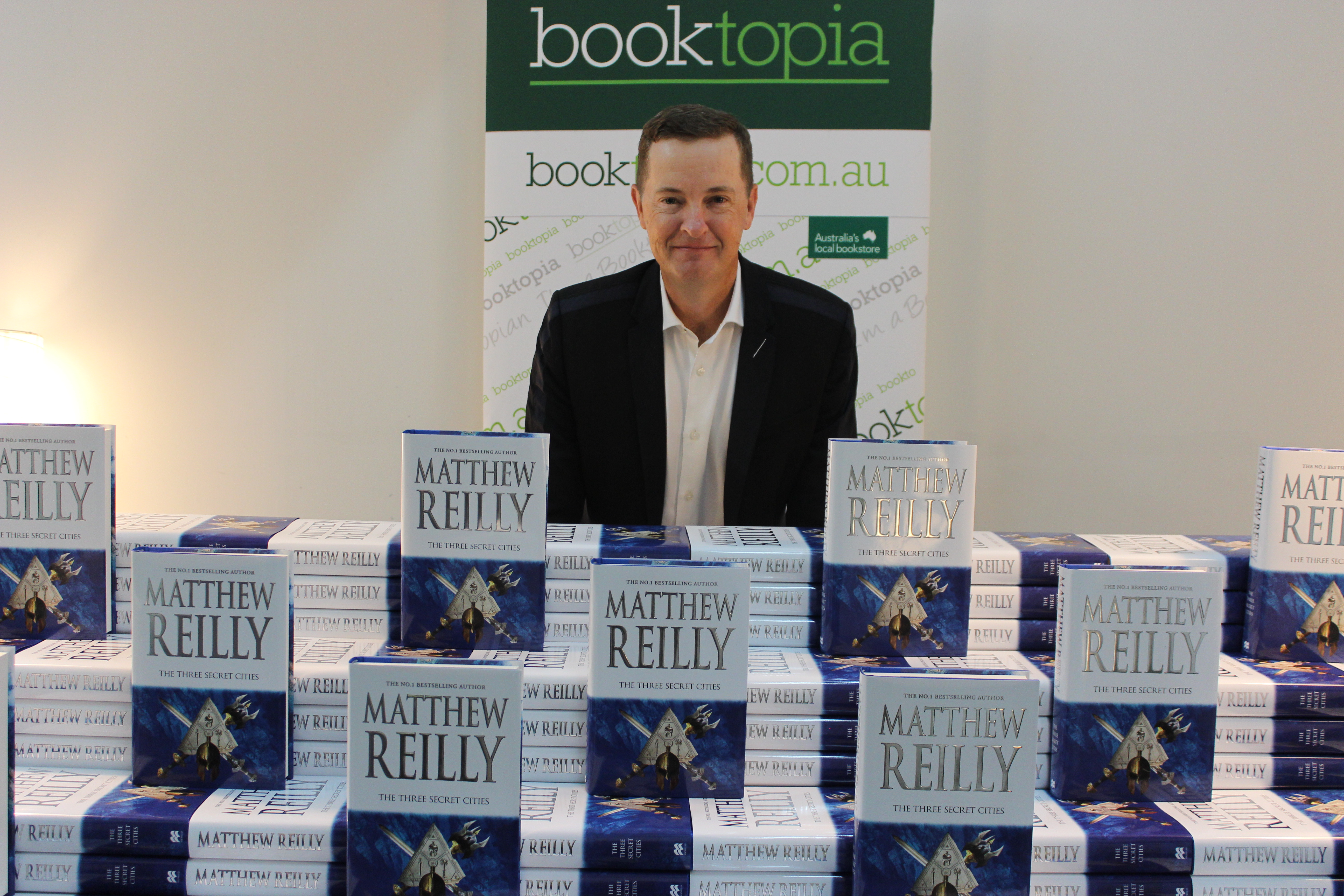 Surely you've heard of Jack West Jr? He's the star of Reilly's action-packed series – part soldier, part scholar, all hero. Dedicated father, loyal friend and problem solver extraordinaire, Jack West Jr has a whole lot of heart. And what a great cast of supporting characters! One of the most heartwarming aspects of this series is the way all these gung-ho military types become a tight-knit family unit.
Booktopia customers are raving about The Three Secret Cities. We can't remember the last time a book got so many 5 stars reviews, and all of them submitted so quickly after the publication date! The thing about a Matthew Reilly book is that you just can't read it slowly. Once you get it in your hands, the only question is how quickly you can devour it.
Check out some of our customer reviews below: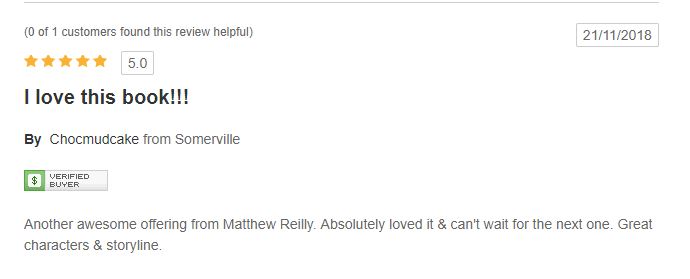 Reilly is a fan of big budget action-adventure movies. He often cites Jurassic Park by Michael Crichton as one of his greatest inspirations, because it is a book written on the scope of a Hollywood blockbuster (which is probably why it lent itself so well to a movie adaptation). The best thing about writing a book, of course, is that you don't have to worry about finding the budget for huge explosions and epic set designs. There is no limit to what you can do when all the "special effects" are completely funded by the author's imagination!
When it comes to his own writing, Reilly has one simple rule for each new book. "It just has to be better in some way than the book I wrote before," he explains. "When you're writing a sequel… the sequel has to do something better."
He has certainly achieved this goal with The Three Secret Cities, which is Reilly's most enthralling book to date!
---
Review of The Three Secret Cities by Jayllee Carter
Matthew Reilly does it again!
The Three Secret Cities is a nail-biting and gut-wrenching adventure following Jack West Jr and his extremely talented family and friends as they save the world again.
Reilly, never one to shy away from killing much loved characters, will have readers wiping away tears more than a few times in The Three Secret Cities. (I know I definitely shed tears!)
From the moment I picked it up, I wasn't able to put this book down. Reilly blended real historical stories with fiction, creating an exciting and believable world where secret organisations, hidden worlds, myth and legend is brought to life.
As a huge Matthew Reilly fan, I was beside myself when I came across some small references to Mother and Scarecrow (characters from previous series)
A per usual, just when you think you know what's going to happen Reilly does a complete 180, changing the direction of the plot and leaving you on a painful cliffhanger asking, "When is the next book coming out?"
The Three Secret Cities is a great addition to the Jack West Jr series – a fantastic and thrilling story that I would recommend to any adventure-loving reader.
---
Click the link below to listen to Matthew Reilly chat with Booktopia's Sarah McDuling and John Purcell about his latest book, The Three Secret Cities, his writing process and his inspirations.
---
Bestsellers of the Week
1. The Land Before Avocado by Richard Glover
2. Any Ordinary Day by Leigh Sales
4. Ottolenghi SIMPLE by Yotam Ottolenghi
5. The Barefoot Investor 2018 Update by Scott Pape
6. Nine Perfect Strangers by Liane Moriarty
7. The Ice Monster by David Walliams
8. The Lost Man by Jane Harper
9. The Subtle Art of Not Giving a F*ck by Mark Manson
10. Bridge of Clay by Markus Zusak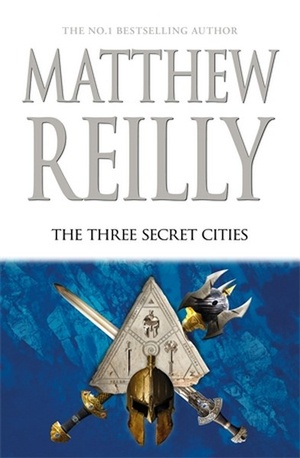 The Three Secret Cities
A shadow world behind the real world...
....a world with its own history, rules and prisons, that is reaching into our world explosively. When Jack West Jr won the Great Games, he threw the four legendary kingdoms into turmoil.
Now these dark forces are coming after Jack in ruthless fashion. With the end of all things rapidly approaching, Jack must find the Three Secret Cities, three incredible lost cities of legend.
It's an impossible task by any reckoning, but Jack must do it while he is being hunted by the greatest hunters in history.
About the Contributor
Before entering the exciting world of books, Bronwyn served in the Royal Australian Air Force, travelled extensively and worked (still does!) as a barista on the weekends. Books are her true passion. Bronwyn's debut fantasy novel Relic is coming out in 2019 with indie publishing house Talem Press. They are to publish her entire trilogy called The Relic Trilogy. In her spare time, Bronwyn writes, reads and enjoys keeping fit (which she undoes by eating loads of chocolate) with Martial Arts and personal training. She can't answer what her favourite book is but she has a soft spot for Peter Pan (J.M Barrie), Outlander (Diana Gabaldon), Stardust (Neil Gaiman), The Illuminae Files (Jay Kristoff and Amie Kaufman) and Six of Crows (Leigh Bardugo). Fantasy, sci-fi and YA make up the majority of her bookshelves.