One of Australia's favourite novelists – Kate Forsyth, author of The Impossible Quest, Bitter Greens, The Wild Girl and now The Beast's Garden – continues her monthly blog with us, giving her verdict on the books she read in April and May.
APRIL
Tower of Thorns

by Juliet Marillier

Juliet Marillier's books are an enchanting mix of romance, mystery and historical fantasy. Tower of Thorns is the second in her new Blackthorn & Grim series which tells the story of the damaged and disillusioned healer Blackthorn and her faithful companion Grim. Both have been badly hurt and betrayed in the past, and they carry the scars deep inside them. In this episode of the series, the two friends are asked to help a noblewoman who has a strange and uncanny problem – a creature has taken up residence in an old tower and howls all day, driving the people of the land mad. Bound by the fey to help anyone who asks, Blackthorn has no choice but to do what she can – even though the task will tax her to the limits of her strength.
As always, Juliet Marillier's prose is luminous, and the story both powerful and poignant. The books in this series can be read and enjoyed on their own, but I'd recommend beginning with Book 1: Dreamer's Pool.
Learn more about Tower of Thorns here
---
All The Light We Cannot See

by Anthony Doerr

I loved this story of a blind French girl (Marie-Laure) and a German boy (Werner) whose stories slowly converge amidst the horror of the Second World War. The book is composed of small vignettes of their lives, as they each struggle to make sense of the madness that is their world.
Werner is fascinated by radios, and so is trained to track down the anti-Nazi resistance. Marie-Laure escapes the invasion of Paris with her father and makes it to the old walled town of Saint-Malo where her reclusive uncle remembers his past with an old radio transmitter. When Marie-Laure's father is arrested, she and her uncle begin to surreptitiously use his old radio to help those fighting to resist the German occupation. And so the two story lines converge, with heart-breaking results. A truly compelling and moving novel.
Learn more about All The Light We Cannot See here
---
Our Tiny Useless Hearts

by Toni Jordan

The fourth novel by award-winning Australian author, Toni Jordan, Our Tiny, Useless Hearts is a clever, funny, wise-cracking novel about love, infidelity and divorce. It reminded me of one of those farcical 1960s movies in which a group of people tumble in and out of bed with each other, but finally end up in the right person's arms.
The pace is manic, the one-liners brilliantly funny, and there is also a real insight into some of the problems that beset modern-day couples. Toni Jordan's diamond-cut prose lifts this book well out of chick-lit territory into something quite extraordinary.
Learn more about Our Tiny Useless Hearts here
---
Tipping the Velvet

by Sarah Waters

A picaresque romp through the music-halls and demi-mondes of the Victorian era, Tipping the Velvet is bawdy, brave and at times heart-breaking. It tells the story of Nan King, an ordinary girl from a good lower-class family, who becomes enraptured with Kitty Butler, who treads the boards dressed as a boy. Soon the two girls become friends, then lovers, then partners … and Nan has set out on an adventure through the darker recesses of London. A whole new world is revealed to Nan – and so to us – as she endeavours to find a place where she can be herself.
Tipping the Velvet has been turned into a play and then into a BBC drama series, and launched Sarah Water's glittering career. Utterly brilliant (if a little confronting at times.)
Learn more about Tipping the Velvet here
---
Bluegate Fields

by Anne Perry
The sixth in the Charlotte & Thomas Pitt series of Victorian murder mysteries, Bluegate Fields is centred around the murder of a handsome upper class boy, whose naked body is found in the sewers of the worst slum in London. The focus in the book shifts a little from Charlotte's upper-class background to Thomas's work on the streets as a detective – a welcome change in pace as the earlier books were beginning to feel a little too much the same. Once again, the strengths of the book lie in her fog-bound London atmosphere and the depiction of the sordid underbelly of Victorian society.
Learn more about Bluegate Fields here
---
MAY
I read a total of ten books in May, ranging from children's books, murder mysteries and a metafictive narrative of biography and art. It was a great reading month! Hoping you find some wonderful new reads too.
The Last Painting of Sara De Vos

by Dominic Smith

This novel is like a nest of Russian dolls – it has a story within a story within a story. The first is the contemporary story of a young and brilliant Australian art historian called Ellie Shipley. In the 1950s, she was hired to paint a forgery of a rare winter landscape by one of the few known women painters of the Dutch Golden age. The owner of the painting, a wealthy New York lawyer, becomes obsessed with tracking down the forgerer. And the final point of view is that of Sara de Vos herself, the first woman to be admitted to the painters' guild in Holland in the 17th century, and the creator of the hauntingly beautiful landscape that Ellie copies.
Three historical periods, three narrative threads, all adroitly spun together to create an utterly suspenseful novel about love, art, lies and grief. I loved it!
Learn more about The Last Painting of Sara De Vos here
---
Big Magic

by Elizabeth Gilbert

I asked the twittersphere to tell me the most inspiring book of the year and Big Magic by Elizabeth Gilbert won hands down. After that, I felt I simply had to read it. I haven't read anything by Elizabeth Gilbert before, though I had watched and loved her TED talk about creativity. So I was not really sure what to expect. I whizzed through the book in a night – and found myself nodding my head to many of the things that she says about creativity, living bravely, trusting in the story, and trusting in yourself.
Gilbert has a warm and engaging style, and she talks about her own failures and successes openly and frankly, which I liked. Not only did I really enjoy Big Magic, but I'm now curious to read more of her work – and I'm very sorry I missed hearing her speak in Australia recently.
Learn more about Big Magic here
---
Dissolution

by C.J. Sansom

Dissolution is the first in a series of utterly brilliant murder mysteries set during the reign of Henry VIII. The story begins in 1537, a time just before the dissolution of the English monasteries. Anne Boleyn has lost her head, and the country is in turmoil.
Matthew Shardlake, a young hunchbacked lawyer, is sent to deal with the murder of a royal commissioner within a Sussex monastery. A black cockerel has been sacrificed on the altar, and the monastery's famous relic has been stolen. Matthew must unravel one of the most intricate and dangerous mysteries of his short career.
I can't recommend this series enough to anyone who loves historical crime fiction – it's a humdinger.
Learn more about Dissolution here
---
The Girl on the Train

by Paula Hawkins

There's been a lot of buzz about this globally bestselling book. I read this ahead of Paula Hawkins's appearance at the Sydney Writers' Festival and enjoyed it immensely.
It's told from the point of view of three different women, but the primary narrative is the story of Rachel, a divorcee and a drunk, who catches the same train every day. She looks out on to the backyard of a row of houses in an aspirational suburb and imagines the lives of the people within. One day she sees something … and so we enter a world of lies, deceit and murder, set in a world instantly recognisable to most of us. A really good, quick read.
I've also really liked other books in this new genre they're calling the 'domestic thriller' (books like Gone Girl by Gillian Flynn, The Husband's Secret by Liane Moriarty and The Quality of Silence by Rosamund Lupton.)
Learn more about The Girl on the Train here
---
A Bad Character

by Deepti Kapoor

One of the wonderful things about the Sydney Writers' Festival is that it introduces you to a lot of books and authors that you might not otherwise discover. I chaired a panel with Deepti Kapoor, Toni Jordan and John Purcell called 'Who's Been Sleeping in my Bed?', talking about contemporary depictions of love, desire and sex in fiction.
A Bad Character is the story of a love affair between a young woman and man in modern-day Delhi. It begins: 'My boyfriend died when I was twenty-one. His body was left lying broken on the highway out of Delhi while the sun rose in the desert to the east.' Then, in a series of small broken scenes, expressed in concentrated language that is poetic in its intensity, the narrator tells the story of how she came to meet her boyfriend, their passionate and ultimately destructive relationship, and the damage left behind.
The city of Delhi is brought to vivid and pungent life, and so too is the inner life of this one young woman caught between tradition and a longing to be free. Beautiful and full of pain, A Bad Character is a dazzling debut.
Learn more about A Bad Character here
---
The Secret Lives of Emma: Unmasked

by Natasha Walker

Natasha Walker is the pseudonym of John Purcell, the author of the The Secret Lives of Emma series, a hugely successful series of erotic novels about free-spirited Emma and her sensual adventures. The series encompasses three books – Beginnings, Distractions and Unmasked – and I read the third.
Emma has fled her life as a suburban banker's wife in Mosman and headed to Italy to try and discover what it is she really wants. She meets a young Italian artist and begins a steamy affair, while her husband David follows her, regretful about his own affair with her best friend.
Amatory adventures abound, until David learns to accept Emma for who she is and they discover a new world of sensual exploration together. The Secret Lives of Emma series is definitely for Adults Only, but it has a lot to say about sexual freedom and honesty, and the importance of being true to oneself. For anyone who has ever dreamed of running away to Italy and having a scorching-hot illicit affair.
Learn more about The Secret Lives of Emma: Unmasked here
---
Nest

by Inga Simpson

Inga Simpson is an Australian writer and Nest is a rhapsody about the importance of being at one with the natural world. The protagonist Jen is a middle-aged artist who has retreated from the world after a bitter break-up. She lives on the edge of a sub-tropical rainforest, which she has turned into a paradise for native birds and animals. Hers is a quiet life; she watches the birds, teaches a local boy to draw and paint, and practises her own art when she can.
One day a local girl goes missing, and Jen's tragic past collides with the present. Somehow she must find peace with her own father's disappearance many years before, and find the courage to push the boundaries in both her creative and personal endeavours. Simple, elegant, wistful, Nest is as delicate and as nurturing as the birds' home it describes.
---
Death in the Devil's Acre

by Anne Perry

I bought a whole pile of Anne Perry's Victorian-era detective series second-hand for a pittance, and have been reading my way through them in order.
Death in the Devil's Acre is the seventh in the series, and the weakest so far. Although the murder is macabre enough, the denouement felt rushed and unlikely, and the Victorian world was not brought to such vivid and effective life as previous books in the series. That said, it may be the result of reading too many back-to-back! And I have about 15 more to read …
Learn more about Death in the Devil's Acre here
---
The Marvels

by Brian Selznick

Brian Selznick is an artist as well as an author, and his books combine words and pictures in the most wonderful of ways. The story in the first half of The Marvels is told entirely through exquisite pencil drawings. Storms at sea, shipwrecks, angels, babies abandoned at theatres, old lunatics in the basement, a devastating fire … all is revealed through one delicate complex drawing after another. The second half of the story is told in words, and turns everything the reader thought they knew upside down and inside out.
I can't express just how brilliant this book is … but I will tell you I turned the last page with a lump in my throat and tears on my face.
This book is not just for children … it is a tour de force, a work of genius, and a collector's item. Buy his other books at the same time – The Invention of Hugo Cabret and Wonderstruck – for extraordinary works of art unlike anything else in the world.
Learn more about The Marvels here
---
Flaubert's Parrot
by Julian Barnes

I saw Julian Barnes
at the Sydney Writers' Festival, and he was such a fascinating speaker that I was most curious to read some of his work. I bought the last copy of Flaubert's Parrot in the bookstore, and found it a really interesting and unusual read.
In some ways, it is a metafictive biography of Gustave Flaubert, the author of Madame Bovary, told through lists, letters and diaries real and imagined, as well as more conventional biographical techniques. It is, however, also a work of fiction, telling the story of Flaubert-tragic Geoffrey Braithwaite who becomes obsessed with tracking down the real stuffed parrot that inspired one of the French writer's most famous stories. The quest is, of course, both ludicrous and futile, as is the life of poor Geoffrey (and, one could infer, the work of any biographer). Geoffrey Braithwaite is a classic unreliable narrator, adding another level of interest to the narrative.
Learn more about Flaubert's Parrot here
---
Kate Forsyth
Kate Forsyth is the bestselling and award-winning author of more than twenty books, ranging from picture books to poetry to novels for both children and adults.
She was recently voted one of Australia's Favourite Novelists. She has been called one of 'the finest writers of this generation', and 'quite possibly … one of the best story tellers of our modern age.'
Kate's books have been published in 14 countries around the world, including the UK, the US, Russia, Germany, Japan, Turkey, Spain, Italy, Poland and Slovenia.
Visit Kate Forsyth's Booktopia author page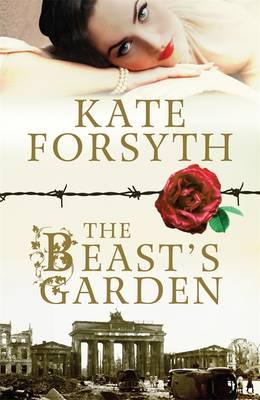 The Beast's Garden
A retelling of the Grimms' Beauty and The Beast, set in Nazi Germany.
It's August 1939 in Germany, and Ava's world is in turmoil. To save her father, she must marry a young Nazi officer, Leo von Löwenstein, who works for Hitler's spy chief in Berlin. However, she hates and fears the brutal Nazi regime, and finds herself compelled to stand against it.
Ava joins an underground resistance movement that seeks to help victims survive the horrors of the German war machine. But she must live a double life, hiding her true feelings from her husband, even as she falls in love with him. Gradually she comes to realise that Leo is part of a dangerous ...
About the Contributor