The Booktopia Book Guru asks
Gary N. Lines

author of Doing Life in Paradise

Ten Terrifying Questions
____________
To begin with why don't you tell us a little bit about yourself – where were you born? Raised? Schooled?

I'm a bloke but that wasn't always the case; I was a boy for quite a long time. I grew up in Adelaide, South Australia. I went to the South Road Primary School and developed a dislike for warm milk. The school is now closed. I worry it might have been something I said.
I went on to Marion High School and developed a dislike for almost everything. I failed English, which was not the best start for someone who wanted to be a writer. They insisted I read other people's work; I only wanted to write my own.
My first job was assisting the mortician at Adelaide University Medical School. I left because he had this habit of throwing dissection knives at the propped up coffin lids while grinning at me through his yellow teeth. What would you do?
I always wanted to write, but I never wanted to be poor. So writing had to take a back seat. I went to University, sold life insurance, sold microscopes, worked my way up to Vice President of an American Public Company, then left the corporate world to forge my own business.
All that time I kept writing whenever I could. In New York, where I lived for eight years, I studied creative writing at NYU and at the famous New School on 5th Avenue. I had moderate success during my business career writing scripts for television and the stage and narrowly missed out on a number of short story competitions; I cornered the market of the 'highly commended' and 'runner up' categories.
My partner and I founded a company in Australia, which became very successful, exporting its products to 16 countries internationally and employing over 100 people. We eventually sold the company, retired from business and headed to Adelaide to go back to Uni. I completed a Masters in Creative Arts, and wrote half my novel, Doing Life in Paradise, which I finished while living in Paris.
What did you want to be at twelve, eighteen and thirty?
At twelve I was pimply and ordinary. I sat alone in the schoolyard thinking and looking at girls. At eighteen, I had lost my pimples, but I was still thinking, and still looking at the girls. I realised around this time that looking at girls was pleasant but not a career. I had always wanted to be a writer; maybe it was time to get on with it.
At thirty, I went to New York to take up a senior position with an American public company. I spent two years traveling the world as a VP and then I quit. I was ill suited to corporate life.
What strongly held belief did you hold at eighteen that you do not have now?
At eighteen, like all teenagers, I felt bullet proof. I knew everything there was to know about life, and I found it necessary to tell my parents this often. It seemed the least I could do since they had unselfishly brought me up. Today, I no longer hold that belief, in fact the reverse; now I don't know a damn thing about anything.
What are three big events that changed your life?
I found my partner who is still with me today, after 38 years. She came to NY and lived a nomadic life with me, as we bounced around the globe. The 8 years we lived in New York was pre-Giuliani, a tough city to survive. It had a profound influence on the way I saw life. Not something I would ever have experienced in Adelaide.
I learnt how to listen and watch. In fact, that was how I had spent my days in the schoolyard, but primitively. In my twenties, I began to develop these two principles as a habit.
I started writing about the things I heard and saw. My observations of people, the things they do and the times they do them, all informed my writing. I found why I wanted to write, and I found how to write, and what to write about. Doing Life in Paradise represents my writer's ears and eyes on the human condition. Reading other writer's work has acted as my informal education. I learnt much from contemporary authors such as Joseph Heller, John Fowles, and eventually, Martin Amis, Jay McInerney and Bret Easton Ellist (to name only a small sample of the writers who influenced me, and directed me to the absurdities of life.)



Why write a book?
I don't tweet, I don't Facebook, I don't blog, a book is the only thing open to me. Books have always been my method of researching the world. I am a prolific reader and always have been. Books satisfy in the same way that sitting down to a good blog, tweet, Facebook entry, doesn't.
But also, social media is not for me; I can't imagine anyone being in the least bit interested in my daily routines or thoughts. If I have a thought bubble, I will write it down, I will kick it around for months, pin it on the wall, look at it endlessly, rewrite it, and rewrite it again, in fact many times. And if I haven't discarded it, deleted it or burnt it, then when it finally says something of note, then, and only then would I inflict it on others and almost always in a novel or short story.
Please tell us about your latest book…
Doing Life in Paradise is contemporary fiction about the human struggle to find meaning in an absurd world. Like life, some make it, some don't.
It's all about character, and the flaws and fragility of the human condition. As such it is a voyeuristic journey into the lives of larger than life characters, each trapped in their own psychological struggle for survival. They live in a recently re-named city called Paradise, formally known as Adelaide. They are all connected by having been a witness to, or affected by a tragic accident.
Ruby lives with a spider in her stomach. Peter lives in limbo with his dishwasher. Peter's mother, Madeline has just discovered rapture. Hawkey lies to his psychologist and understands irony, and Tommy is a killer.
The central theme surrounds the lies we tell ourselves and our distorted dependence on hope. The characters live in the gaps of life, between fantasy and reality, truth and lies, life and death all in search for their story.
What do you hope people take away with them after reading your work?
Perhaps, if ambitiously, I want people to see the absurdity of life and the pointlessness of trying to make sense of it. At the end of Chinatown the movie when nothing has made any sense, one of the detectives says to Jake Gittes (Jack Nicholson), 'forget it Jake, it's Chinatown.' That is what I hope people see when they read my work, life is inexplicable at best and you will drive yourself mad trying to force sense upon it or out of it. I want readers to find it 'intriguing', 'powerful', 'quirky' and hopefully a little 'clever' – to quote the words of strangers who have read the novel already.
Whom do you most admire in the realm of writing and why?
The writers identified above, but this list is incomplete without Douglas Adams, Albert Camus and David Foster Wallace. Camus might arguably be the father of defining and writing about absurdism, Adams took it to an extreme level, while Foster Wallace demonstrated how you can break all the rules and still write a compelling post-modern book about being bored. Bret Easton-Ellis can write pages on describing a business card and keep you enthralled. Now that is talent.



Many artists set themselves very ambitious goals, what are yours?
To write everyday. To get better every day. Not to waste the reader's time. To give them something to think about. I hope to write another two novels at least, and sell this one to a film producer for an embarrassingly large amount of money. I will also win the Miles Franklin and possibly the Man Booker if I have any spare time.
What advice do you give aspiring writers?
As a general rule, I don't give advice to anyone as this presumes I know something worthwhile (see previous response on this topic). However, if I were to presume to give advice I am not going to say to anyone, 'keep writing' as this is the 'bleeding obvious'. I would however, suggest you do four things, listen, watch, think and find your voice, which will require a lot of writing. Good Luck.
About Gary
Born and educated in Adelaide Australia, Gary Lines has lived in Sydney, New York and Los Angeles, and finished this novel in Paris. In addition to a Masters degree in creative writing at Flinders University in Adelaide, Gary has studied at the New York University and The New School in New York.
He has previously written for the television series Twisted Tales; in addition to successes in short story competitions, his work has been performed by the Queensland Theatre Company and also featured in the acclaimed Australian Book Review.
Doing Life In Paradise, his first published novel, culminates years of writing, observation and thinking about the human condition and absurdity.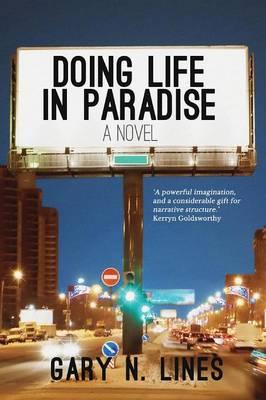 Doing Life in Paradise
Doing Life in Paradise explores the impact and ripple effect of trauma on a group of strangers inextricably linked by, and witness to, a tragic accident. The novel is a surreal voyeuristic journey into the minds and lies of its larger than life characters, each trapped in their own psychological struggle for survival and redemption.
Ruby hopes for love, but her destiny is controlled by a malicious spider. Peter laments the loss of love, but prefers to discuss it with Mr Dishwasher. Madeleine discovers rapture while counting down her periods. Hawkey knows if you lie to your psychologist, you are still telling the truth ...
About the Contributor