Fantastic Beasts and Where to Find Them hasn't hit cinemas yet (November 2016), yet the film's director, David Yates, has said that J.K. Rowling has already written the script for the second film … and has ideas for the third!
"We've done the first one, she's written the second one, [and] she's got ideas for the third one," he told GSN.
Yates, who directed Order of the Phoenix, Half-Blood Prince, and both parts of the Deathly Hallows, explains the differences in directing book adaptations and scripts: "When we adapted the books, you would always have to leave out things that you hate leaving out because they didn't quite work within the structure of the storytelling for the movie, or the movie would just be far too long. With this [Fantastic Beasts and Where to Find Them] it's just pure Jo [Rowling] from the first page to the last page."
This slideshow requires JavaScript.
Fantastic Beasts And Where To Find Them is an all-new wizardly adventure created by J.K. Rowling; a Harry Potter spin-off. Academy Award winner Eddie Redmayne (The Theory of Everything) plays the central role of wizarding world magizoologist Newt Scamander, who searches for the world's most magical creatures and stores them in his suitcase.
Get to know Newt Scamander in the below featurette: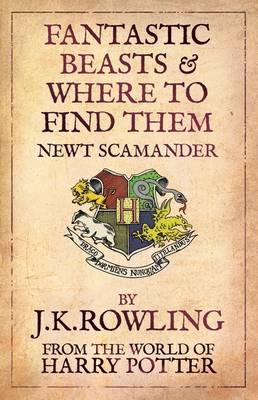 Fantastic Beasts and Where to Find Them
As featured in the first year set texts reading list in Harry Potter and the Philosopher's Stone, Fantastic Beasts and Where to Find Them is an extensive introduction to the magical beasts that exist in the magical, non-Muggle world.
Some of the animals featured in the A-Z you will have already met in the existing Harry Potter books: for example Hippogriff, Flobberworm, Kappa - others you certainly won't: read on to find out exactly what a Chizpurfle is, or why one should always beware of the sinister Lethifold ...
About the Contributor
Anastasia Hadjidemetri is the former editor of The Booktopian and star of Booktopia's weekly YouTube show, Booked with Anastasia. A big reader and lover of books, Anastasia relishes the opportunity to bring you all the latest news from the world of books.