Since 2009, Kelly Doust has published five non-fiction books about craft and fashion: The Crafty Minx, The Crafty Kid, A Life In Frocks: A Memoir, Minxy Vintage  and The Crafty Minx At Home. Her latest book, Precious Things, is an intricate mystery entwining love, desire and fashion.
She has a background in book publishing and publicity, and has worked in the UK, Hong Kong and Australia and freelanced for magazines such as Vogue, The Australian Women's Weekly and Sunday Life Magazine. She currently lives in Sydney, Australia with her husband and daughter.
Kelly Doust now answers the Booktopia Book Guru's Ten Terrifying Questions.
To begin with why don't you tell us a little bit about yourself – where were you born? Raised? Schooled?
I was born in Perth but mostly raised in Sydney. Our family moved around a lot when I was young so I went to lots of different schools. It makes you quite adaptable but also very restless.
What did you want to be when you were twelve, eighteen and thirty? And why?

I've wanted to be a writer since I was small, although when I was twelve I probably dreamed of being an air hostess more than anything. It seemed like a highly glamorous way to travel the world.
What strongly held belief did you have at eighteen that you do not have now?
That thirty is really, really old.
What were three works of art – book or painting or piece of music, etc – you can now say, had a great effect on you and influenced your own development as a writer?
Hole's album Live Through This had an enormous impact on me when I was growing up. The Seattle grunge scene seemed so raw and real, and my first proper forays into writing (terrible, angst-ridden poetry and prose) were inspired by it.
Brother of the More Famous Jack by Barbara Trapido is one of my most favourite novels ever. I first read it in my twenties and have re-read it many times since. I love how Trapido makes her largely domestic subjects seem sweeping, funny, clever and full of pathos. I dream of writing as well as she does one day.
Similarly, Annie Proulx's novel Accordion Crimes is a favourite and was the first inspiration behind Precious Things. Proulx follows a 400-year-old accordion from when it is first created to its eventual destruction, an idea which really struck a chord with me. I've always wondered about the lives of antique objects.
Considering the innumerable artistic avenues open to you, why did you choose to write a novel?
Because apart from clothes, novels are the most beloved objects in my life. In writing about the former I'm allowed to indulge in both of my obsessions. I also think that reading a novel is the best way to experience life in someone else's shoes.

Please tell us about your latest novel…
Precious Things is about a beautiful handmade collar and its journey through time in the hands of the women who created it, loved it, wore it and lost it, and the modern-day woman who can't help but be intrigued by its mysterious past. It's set all over the world – in the circus grounds of Paris, 1890s Normandy, Istanbul's Grand Bazaar and 1920s Shanghai – as well as London in the present day.
Maggie, Precious Things' main protagonist, works in an auction house and is juggling the demands of a busy family, career and the notion of having it all when Francesca, a wealthy older woman searching for the truth behind her past suddenly enters her life. As Maggie sets out to uncover the secrets of the collar's past for Francesca, she finds herself tempted to reach for things that she has never wanted before…
What do you hope people take away with them after reading your work?
A pure sense of pleasure and warmth. I wrote the book to be escapist and enjoyable to read, but hopefully it touches a nerve as well and feels full of wonder and truth.
Whom do you most admire in the realm of writing and why?
It's very tricky to choose just one! Joanne Harris for the sheer depth of her imagination, Jeanette Winterson for her sensuous and passionate writing style and Cheryl Strayed for her honesty, open-mindedness and for opening a vein in the name of art.
Many artists set themselves very ambitious goals. What are yours?
My big goal at the moment is to find a US or UK-based publisher for Precious Things. Fingers crossed.
What advice do you give aspiring writers?
I recently read Elizabeth Gilbert's Big Magic: Creative Living Beyond Fear and I think she nailed it. Don't believe the hype about art being torture to create, and don't weigh down your writing with the need to make a living from it. Most art since the dawn of time has been created in snatched moments – there's always time to create if you love it enough.
Thank you for playing, Kelly!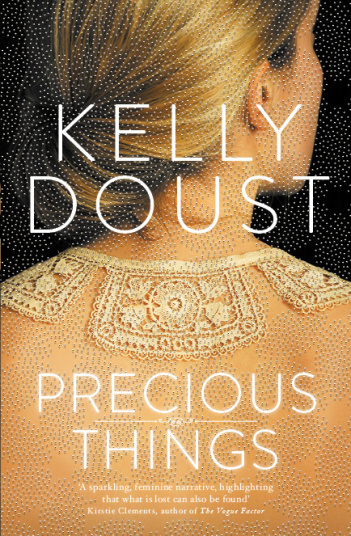 Precious Things
Normandy, France, 1891: a young woman painstakingly sews an intricate beaded collar to her wedding dress, the night before her marriage to someone she barely knows. Yet Aimee longs for so much more ...
Shanghai, 1926: dancing sensation and wild child Zephyr spies what looks like a beaded headpiece lying carelessly discarded on a ballroom floor. She takes it with her to Malaya where she sets her sights on a prize so out of reach that, in striving for it, she will jeopardise everything she holds dear ...
Precious Things tells the story of a collar - a wonderful, glittering beaded piece - and its journey through the decades...
About the Contributor
Anastasia Hadjidemetri is the former editor of The Booktopian and star of Booktopia's weekly YouTube show, Booked with Anastasia. A big reader and lover of books, Anastasia relishes the opportunity to bring you all the latest news from the world of books.