Meet Penguin Bloom, the social media sensation the world has fallen in love with. Bestselling author Bradley Trevor Greive chats to us about this rescued magpie and the book of hope and courage he wrote about it.
1. Were you always fond of magpies?
No, not at all. My first and most vivid recollection of a magpie encounter was at primary school, in Wahroonga, Sydney, when a male magpie dive-bombed me and pecked quite savagely at the dozen fresh stitches across the top of my scalp (courtesy of a rugby head-clash). His sharp beak split my wound wide open and things quickly became very Hitchcockian; my older sisters had to help me stumble-run to a nearby medical centre for a new set of stitches.
2. Have any other birds attacked you like that?
Oh yes, many times. A cassowary once knocked me off my feet, I've been bitten by fairy penguins on at least three occasions, including once on my face. An African grey parrot once took a chunk out of my neck while I was having my picture taken with Claudia Karvan at Channel Nine. A black swan once tried to emasculate me at a picnic, I've suffered several owl bites, mutton bird bites, pelican bites, all manner of poultry dust-ups, and I can't even recall the number of times I've been cracked on the skull by an emu or an ostrich. To add insult to injury, an especially well-fed scarlet ibis once pooped on my head at Melbourne Zoo.
3. Did you ever develop Ornithophobia (an irrational fear of birds)?
For a brief time, while I was living in the Cloud Forests of Costa Rica in 2011, I started to worry that I might just be unlucky enough to choke on a hummingbird while riding my bicycle down a mountain path at high speed. But otherwise, I'm fine.
4. So these bizarre and terrifying experiences haven't put you off birds for life?
Not at all, I love birds – I think they are incredibly beautiful and intelligent and I am astonished by the variety of species and by their utterly masterful design, flightless or otherwise. I consider birds to be quite miraculous creatures. A number of my close friends are painfully keen birdwatchers; I once spent a week in the rain-soaked mountains of Guatemala looking for a resplendent quetzal – an absolutely magnificent bird.
5. Did you actually see resplendent quetzal in the wild?
No. It was a complete waste of time.
6. Have you ever felt you were being unfairly targeted or victimised by birds?
Not really, at least no more so than any other wild creatures. So far I've endured five treatments for rabies as a result of monkey and bat bites. I've been bitten or stung by countless marine animals; in fact a fish bit my right nipple three months ago while I was snorkelling in Mexico – which was rather off-putting, especially as my left nipple was gored by a reindeer 18 months earlier –  so I'm a little sensitive about that tender part of my person.
A huge reticulated python once tore the rotator cuff in my left shoulder, a koala urinated in my eyes and a baby bongo once bit me on the nose while I was feeding her some leaves – I still have a small divot in my lower nasal cartilage. But I don't blame them; if I was a wild animal I'd probably bite me too.
7. How did Cameron Bloom convince you to write a book with him about a bird?
Truth be told, when Cameron first called me and asked me to do the book with him I had some reservations – I was already busy with another project I was very passionate about and I was about to get married, so things were a little mad, and of course I always prefer to work alone. However, like everybody else, I fell head over heels in love with Cameron's incredible photographs and then, when I had heard all the details of Sam's terrible accident and learned how Penguin came to be part of the Bloom family, I suddenly realised how Sam's tragic yet uplifting story was linked to Penguin's rescue and I knew I simply had to write this story.
The media were already smitten with Penguin, and Sam's dramatic accident in Thailand also received a great deal of news coverage, but no one had yet understood how these two very emotional narratives were intertwined and I knew in my heart that this was something I was meant to do. In retrospect I don't believe I even had a choice. On the contrary, I felt like my whole literary career was merely leading up to the moment when I agreed to write Penguin Bloom.
8. So Penguin Bloom is not a bird book?
No, it's not. The structure of this book is quite unique – Penguin herself is essentially an avian vessel for Sam's story. Both Sam and her feathery best friend embody physical fragility and emotional strength. Truth be told they are actually very much alike, in the best possible sense, especially in their cheeky sense of humour and love of adventure; despite all that life has thrown at them they remain fearless, bright, creative and full of life. It's a joy to be around them.
9. After your breakout success with The Blue Day Book, which became a New York Times best-seller in 2000, you've written more than 20 books and sold more than 25,000,000 copies around the world – what are your expectations for Penguin Bloom?
Penguin Bloom is by far the most beautiful and moving book I have ever written – I've honestly never laughed and cried so much in my entire life as I have this past year. It has been an absolute honour to help share the Bloom family's extraordinary true story. As you'll soon see, the production values are superb – ABC Books executed the book exactly as Cameron and I wanted and, now that it is finally finished, we're both feeling exhausted and incredibly proud. It's no exaggeration to say that this book contains a piece of my soul, I know that it is the best thing I've ever done and I feel very confident the whole world is going to fall in love with this crazy little bird, just like I did.
10. What are you working on next?
Well, for the past three years I've been out in the field researching a book about giant brown bears that can be found on a remote Alaskan Island, known to the Native American Tlingit people as Kootznoowoo. I put this project on hold to write Penguin Bloom but, now that it's done, I'm heading back to bear country. What could possibly go wrong?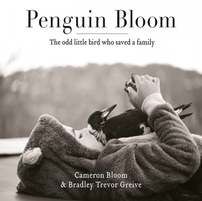 Penguin Bloom
The odd little bird who saved a family
Penguin Bloom is a unique journey of recovery and an extraordinary celebration of life, featuring Cameron Bloom's exceptional photographs and a captivating narrative by New York Times bestselling author Bradley Trevor Greive. Penguin the Magpie is a global social media sensation with over 113k followers on Instagram. People the world over have fallen in love with the stunning and deeply personal images of this rescued bird and her human family.
But there is far more to Penguin's story than meets the eye. This is a true story of hope and courage. It begins with a shocking accident, in which Cameron's wife, Sam, suffers a near fatal fall that leaves her paralysed and deeply depressed. Into their lives comes Penguin, an injured magpie chick abandoned after she fell from her nest ...
About the Contributor
Anastasia Hadjidemetri is the former editor of The Booktopian and star of Booktopia's weekly YouTube show, Booked with Anastasia. A big reader and lover of books, Anastasia relishes the opportunity to bring you all the latest news from the world of books.