From Vanity Fair to Fleabag, it seems we all love a flawed character, and John Purcell's novel The Girl on the Page is full of them.

Today, John breaks down just how his flawed characters came into being (and why he loves them so much).
---

The original spark of an idea for The Girl on the Page came to me while listening to Amy Winehouse's Back to Black. I love how heartache doesn't discriminate. Everything else in your life can be perfect, but if your heart is truly broken, there is only one trajectory open to you – downwards.
It's even worse if you're the cause of your own heart break. If you're the one who fucked it all up. No matter how we're feeling most of us need to get on with our days – we have bills to pay, mouths to feed, places to be. Be it work, raising kids, looking after family and friends, we have to get on with it. Life just doesn't stop when our hearts are broken.
So I had a character in my head. A woman who has betrayed the man she loved. A woman who will not forgive herself for doing so. A woman who must grin and bear it and just get on with her life. Because I'm a little bit evil, I really wanted her to be successful in every other part of her life but love.
Over a couple years this as yet unnamed character loitered around in my imagination. When she got bored, I gave her a job. She was now an editor at a large publishing house. Then I named her after my original inspiration, Amy. She became Amy Winston, a hugely successful writer and editor at the top of her game who, having betrayed the love of her life, seems hell-bent on self-destruction.
She was, in short, a very flawed character without a novel.
The thing is, for more years than I presently care to admit, I had been writing and rewriting a novel set in nineteenth century England, a novel I had put my heart and soul into. But also a novel no one wanted to publish. It had become a creative block, an impediment to all future work. Then, out of the blue, I had a publisher for the book. But as soon as someone wanted to publish the novel, I knew I wanted nothing more to do with it and binned it. The relief I felt on doing so was enormous.
Quietly, almost imperceptibly, came a knock at the door of my mind. Two new characters had arrived and proceeded to make themselves very comfortable in the lounge. Helen and Malcolm, two great writers nearing the end of their lives (and tethers) who have been shuffling around in my mind for the longest time.
These two characters had walked straight out of my memories of the years I had spent sitting in my second-hand bookshop. Two characters I now realised I had known and loved for years. But things weren't right with them. Helen had made a life changing decision without really consulting her husband of fifty years, Malcolm. Enter Amy, one of the many consequences of Helen's rash decision – she had finally found her novel, The Girl on the Page.
To me, there should be no flawless characters in fiction. Flaws are the parts of a character which define them. Flaws create drama. Flaws entertain us. Flaws are relatable. Flaws make us like them. All the characters in The Girl on the Page are flawed. Some deeply, like Amy, some mildly, like Trevor. But none are flawless. They may think they are – yes, I'm looking at you Julia – but they are not.
To make the great lie that is fiction seem real, it needs to be a little cracked.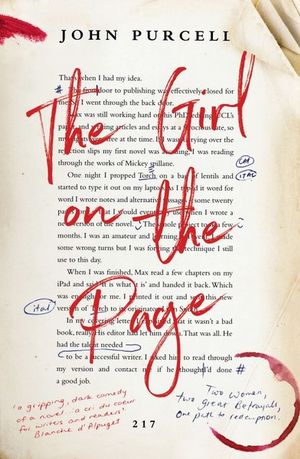 The Girl on the Page
Two women, two great betrayals, one path to redemption. A punchy, powerful and page-turning novel about the redemptive power of great literature, from industry insider, John Purcell.
Amy Winston is a hard-drinking, bed-hopping, hot-shot young book editor on a downward spiral. Having made her name and fortune by turning an average thriller writer into a Lee Child, Amy is given the unenviable task of steering literary great Helen Owen back to publication...
About the Contributor
While still in his twenties, John Purcell opened a second-hand bookshop in Mosman, Sydney, in which he sat for ten years reading, ranting and writing. Since then he has written, under a pseudonym, a series of very successful novels, interviewed hundreds of writers about their work, appeared at writers' festivals, on TV (most bizarrely in comedian Luke McGregor's documentary Luke Warm Sex) and has been featured in prominent newspapers and magazines. ​Now, as the Director of Books at booktopia.com.au, Australia's largest online bookseller, he supports Australian writing in all its forms. He lives in Sydney with his wife, two children, three dogs, five cats, unnumbered gold fish and his overlarge book collection. His novel, The Girl on the Page, was published by HarperCollins Australia in October, 2018.