Lethal White
is coming on the 18th of September, 2018!
This is amazing news for anyone who, like me, is thoroughly devoted to the Cormoran Strike series by Robert Galbraith (AKA J.K. Rowling.)
I've been hanging out for Lethal White basically since turning the last page on Career of Evil back in 2015. This will be the fourth novel in the series and what with the recent release of the Strike TV show starring Tom Burke and Holliday Grainger – I'm betting a whole new bunch of fans have joined the ranks of people desperate to get their hands on Lethal White.
For anyone unfamiliar with this series, I really cannot recommend it highly enough. Cormoran Strike is an amazing character – grumpy, irascible and haunted by his difficult past. He is an ex-army private investigator and the son of a famous rockstar. He also has one leg, a very short fuse and zero f**ks to give.
Meanwhile his assistant/partner, Robin Ellacott, is super determined, resourceful and clever. Together, Strike and Robin make an unlikely but efficient crime-solving duo!
As for what we can expect from Lethal White, it sounds as though this time Cormoran Strike will be investigating a cold case. After being approached by a troubled young man named Billy who tells him about a murder he witnessed in his childhood, Strike's interest is caught when the young man runs away before he can be questioned. Of course it is up to Strike and his invaluable assistant Robin Ellacott to get to the bottom of the case.
Meanwhile … lets not forget how complicated the relationship has become between Strike and newly married Robin. Honestly, I really can't wait to read more about these guys. This is really one of my all-time favourite crime series!

The title of the fourth Strike novel was released a while ago but I really didn't think it would be coming out this year. The announcement that we will have a new Strike novel in just a few short months was made this morning on Twitter:
Lethal White, the fourth instalment in the Strike novels, will be out on 18 September and is available now to pre-order, and this is what it will look like#LethalWhite #Strike pic.twitter.com/ruDbbteaPF

— Robert Galbraith (@RGalbraith) July 10, 2018

With the release of the new book it seems a safe bet that there will be another installment in the TV series. Hopefully it won't be too long a wait! If you haven't yet seen it yet, check out the trailer below: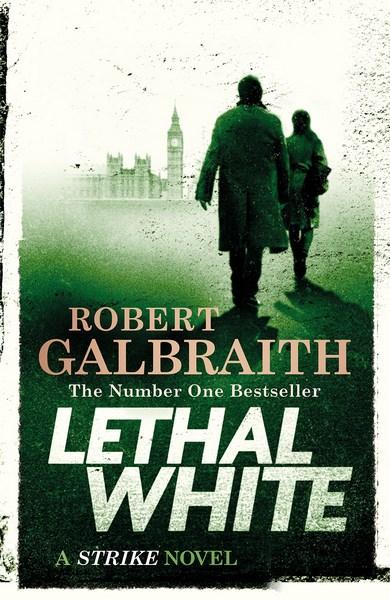 Lethal White
'I seen a kid killed . . . He strangled it, up by the horse.'
When Billy, a troubled young man, comes to private eye Cormoran Strike's office to ask for his help investigating a crime he thinks he witnessed as a child, Strike is left deeply unsettled. While Billy is obviously mentally distressed, and cannot remember many concrete details, there is something sincere about him and his story. But before Strike can question him further, Billy bolts from his office in a panic.
Trying to get to the bottom of Billy's story, Strike and Robin Ellacott - once his assistant, now a partner in the agency - set off on a twisting trail that leads them through the backstreets of London, into a secretive inner sanctum within Parliament, and to a beautiful but sinister manor house deep in the countryside.
And during this labyrinthine investigation, Strike's own life is far from straightforward: his newfound fame as a private eye means he can no longer operate behind the scenes as he once did. Plus, his relationship with his former assistant is more fraught than it ever has been - Robin is now invaluable to Strike in the business, but their personal relationship is much, much more tricky than that . . .
The most epic Robert Galbraith novel yet, Lethal White is both a gripping mystery and a page-turning next installment in the ongoing story of Cormoran Strike and Robin Ellacott.
About the Contributor
Sarah McDuling is Booktopia's Senior Content Producer and Editor of The Booktopian Blog. She has been in the bookselling game for almost a decade and a dedicated booklover since birth (potentially longer). At her happiest when reading a book, Sarah also enjoys talking/writing/tweeting about books. In her spare time, she often likes to buy a lot of books and take photographs of books. You can follow her on Twitter and Instragram @sarahmcduling
Follow Sarah: Twitter