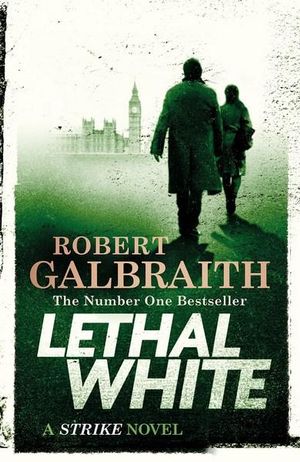 Calling all Cormoran Strike fans! We are giving away a special hardcover edition of Lethal White by Robert Galbraith (AKA J.K. Rowling), personally signed by the author herself!
Simply purchase the paperback edition of Lethal White by Robert Galbraith and/or fill out your details in the form below, and you will go into the draw to win this gorgeous signed hardcover edition*
Lethal White is the fourth book in the wildly popular Cormoran Strike series (recently adapted as an equally popular TV mini series) and it's a real humdinger, a perfect new chapter in one of my favourite crime fiction series. Completely addictive and deeply satisfying – the character-driven Cormoran Strike series continues to go from strength to strength. Each book offers a compelling mystery to solve, as well as oodles of captivating character development.
I consistently and thoroughly enjoy this series,  finding myself as invested in the gripping plot lines as I am in the slowly developing partnership between the central characters. Cormoran Strike is such a great character. Irascible, unfriendly and wonderfully weather-beaten, it's sort of impossible not to love him. Meanwhile Robin is smart, tenacious and brave. Together they make an awesome crime-solving duo.
Lethal White is a great addition to the Cormoran Strike series and wouldn't a beautiful signed hardcover edition make the perfect Christmas present for someone special? (Provided, of course, that the lucky winner is capable of parting with it.) I, for one, would be determined to keep it for myself!
Simply purchase this paperback edition Lethal White between November 1st and December 31st and/or fill out the form below for your chance to win. Who knows, with a little luck you may soon find yourself in possession of your very own signed hardcover edition of Lethal White …
*Terms and condition apply, Australian residents only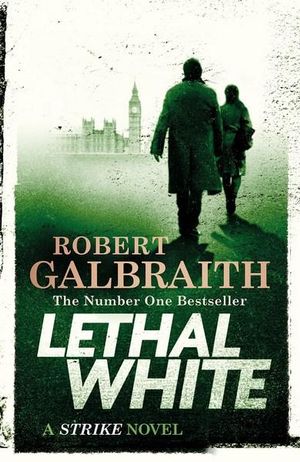 Lethal White
Cormoran Strike : Book 4
When Billy, a troubled young man, comes to private eye Cormoran Strike's office to ask for his help investigating a crime he thinks he witnessed as a child, Strike is left deeply unsettled. While Billy is obviously mentally distressed, and cannot remember many concrete details, there is something sincere about him and his story. But before Strike can question him further, Billy bolts from his office in a panic.
Trying to get to the bottom of Billy's story, Strike and Robin Ellacott - once his assistant, now a partner in the agency - set off on a twisting trail that leads them through the backstreets of London, into a secretive inner sanctum within Parliament, and to a beautiful but sinister manor house deep in the countryside.
And during this labyrinthine investigation, Strike's own life is far from straightforward: his newfound fame as a private eye means he can no longer operate behind the scenes as he once did. Plus, his relationship with his former assistant is more fraught than it ever has been - Robin is now invaluable to Strike in the business, but their personal relationship is much, much more tricky than that . . .
The most epic Robert Galbraith novel yet, Lethal White is both a gripping mystery and a page-turning next installment in the ongoing story of Cormoran Strike and Robin Ellacott.
About the Contributor
Sarah McDuling is Booktopia's Senior Content Producer and Editor of The Booktopian Blog. She has been in the bookselling game for almost a decade and a dedicated booklover since birth (potentially longer). At her happiest when reading a book, Sarah also enjoys talking/writing/tweeting about books. In her spare time, she often likes to buy a lot of books and take photographs of books. You can follow her on Twitter and Instragram @sarahmcduling
Follow Sarah: Twitter