Cancel all your plans tonight. It's time for Sharp Objects!
Amy Adams is returning to the small screen to play the role of troubled journalist Camille Preaker in the HBO series, Sharp Objects
Premiering in Australia today on Foxtel, Sharp Objects is an eight part mini series based on the novel by Gillian Flynn.
As well as Amy Adams in the lead role, the miniseries also stars the amazing Patricia Clarkson (The Green Mile, Good Night and Good Luck) Chris Messina (The Mindy Project) and Australian actor Eliza Scanlen, who many may be familiar with from her role as Tabitha Ford on Home and Away.
The HBO series was created by Marti Noxon – a television and film writer/executive producer who worked on Buffy the Vampire Slayer and Unreal. Gillian Flynn also has writing credits on three episodes.
Given the stellar cast and exceptional source material, it's safe to say I'm extremely excited to see Sharp Objects. After the huge success of Gone Girl – both the book and the movie adaptation starring Rosamund Pike and Ben Affleck – this seems like a guaranteed hit.
Sharp Objects is an intense and emotionally complex thriller that tells the story of Camille Preaker – a woman who must return to her hometown to investigate the abduction and murder of two girls. Haunted by a traumatic event in her past, Camille finds herself identifying a little too much with the murder victims whilst simultaneously reconnecting with her estranged mother and the young half-sister she barely remembers.
Chilling, addictive and deliciously dark – this is Gillian Flynn at her best. If you haven't already read the book, now is the perfect time to start!
Meanwhile, watch the trailer for the miniseries below.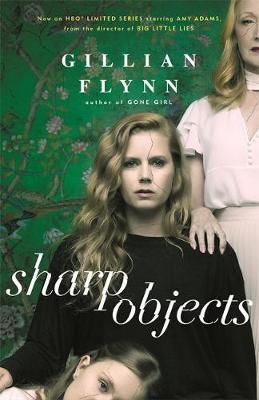 Sharp Objects
When two girls are abducted and killed in Missouri, journalist Camille Preaker is sent back to her home town to report on the crimes.
Long-haunted by a childhood tragedy and estranged from her mother for years, Camille suddenly finds herself installed once again in her family's mansion, reacquainting herself with her distant mother and the half-sister she barely knows - a precocious 13-year-old who holds a disquieting grip on the town.
As Camille works to uncover the truth about these violent crimes, she finds herself identifying with the young victims - a bit too strongly. Clues keep leading to dead ends, forcing Camille to unravel the psychological puzzle of her own past to get at the story. Dogged by her own demons, Camille will have to confront what happened to her years before if she wants to survive this homecoming.
About the Contributor
Sarah McDuling is Booktopia's Senior Content Producer and Editor of The Booktopian Blog. She has been in the bookselling game for almost a decade and a dedicated booklover since birth (potentially longer). At her happiest when reading a book, Sarah also enjoys talking/writing/tweeting about books. In her spare time, she often likes to buy a lot of books and take photographs of books. You can follow her on Twitter and Instragram @sarahmcduling
Follow Sarah: Twitter