Rosie Waterland is an author, comedian and screenwriter whose first book, The Anti-Cool Girl, was a critically acclaimed national bestseller. Her latest, Every Lie I've Ever Told, is a devastating, heartbreaking, brilliant, brave and laugh-out-loud funny memoir of all the lies we tell others and the lies we tell ourselves.
Tim Rogers is the front man and singer of the hugely popular rock n'roll band You Am I. He's a hard drinking rock star with the soul of a poet; a romantic and a realist. He's the wild man of Australian rock n' roll, a man who loves footy, who was brought up in the wild emptiness of Kalgoorlie, and is now an urban hipster. Detours is his immensely charming literary memoir.
---
Reviews by Ben Hunter

---
Every Lie I've Ever Told
by Rosie Waterland

I demanded that people read The Anti-Cool Girl and I'll do the same for this one. I met Rosie when she began press for this book and made a fumbling attempt to tell her how amazing she is. She took a copy aside for me, signed it to my girlfriend, and drew something for her that would be highly inappropriate for me to describe here, as with much of the contents of this memoir. What I can say is that it's every bit as honest as The Anti-Cool Girl, while also being steeped in a whole new level of grief.
I can also tell you how fantastically funny this book is. Pleasantly surprised by the drawing she'd received from Rosie, my girlfriend sat up in bed to read it one night. First came a snicker, then a chortle, then a snort, and soon she was holding the book aside with that kind of relentless exhausting laughter that sounds like a child crying uncontrollably. She handed me the book and commanded me to read it aloud because she could no longer see the pages through her tears. I picked up where she left off. She had made it to page three… Learn more.

PODCAST: Booktopia's John Purcell and Sarah McDuling chat with Rosie about her latest devastating, heartbreaking but brilliant book. Listen to it here.
---
Detours is a gem of a book and here's why you should read it. Detours is not a celebrity memoir. It has no ghostwriter, no laboured famous-name-droppings or manufactured moments of epiphany or scandal. It doesn't have that glossy photo-paper bit in the middle for in case you get bored of actually reading the thing. Detours is a beautiful hardcover book rich in exacting observation and not-tortuously-whimsical reminiscence.
This book offers a marvellous reflection on Tim's great passions – AFL, rock 'n' roll and Melbourne. Now I'm afraid to say that I've never kicked a Sherrin, blown an amp or had a number plate that declares itself the place to be, but still, I'm hooked on this stuff. I feel at home in Tim's writing. He leaves the bravado behind and takes you on long walks through his life on and off the stage.
Detours is a book that lets you see through the eyes of a towering broken-nosed greyhair – a guy who passes through violent suburbs in velvet lapels and silk scarves, who checks the ceiling of every hotel room he stays in for stray slices of pizza, and who armours himself with slabs of beer and bears his soul to strangers. Detours is an Aussie treasure, the neatly-polished self portrait of a dandy drunkard wordsmith. Pick it up and you'll see what I mean… Learn more.
---
Missed these podcasts?

---



Listen to Jimmy Barnes chat about Working Class Boy, Sam Dastyari discuss his unexpected and unorthodox memoir, One Halal of a Story, and former Mamamia editor Jamila Rizvi chat about her first book, Not Just Lucky.
---
Is David Mearns the Indiana Jones of the Deep Seas?

---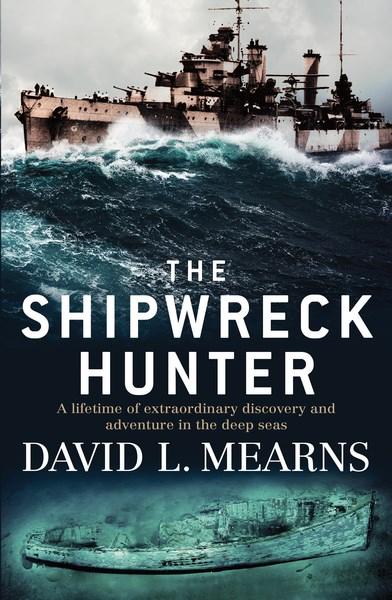 US-born marine scientist, researcher and deep-sea shipwreck hunter David Mearns OAM has found and filmed some of the world's most famous and controversial shipwrecks; notoriously difficult wrecks that others predicted would never be found or their mysteries solved.
Over his 25-year career he has led the research and discovery of 24 major shipwrecks achieving an overall success rate of 89%, and his company Blue Water Recoveries has been awarded three Guinness World Records!

The Shipwreck Hunter is his latest book. Discover which of his shipwrecks is his favourite here.
---
Coming Soon

---



About the Contributor
Anastasia Hadjidemetri is the former editor of The Booktopian and star of Booktopia's weekly YouTube show, Booked with Anastasia. A big reader and lover of books, Anastasia relishes the opportunity to bring you all the latest news from the world of books.