Congratulations to Anna Hackett who is a finalists in the 2017 RUBY Awards, nominated for her book, Unexplored! We chat with Anna about her nominated book, how she reacted when she found out she was a finalist, and her advice for aspiring authors.
Congratulations, you're a finalist in the 2017 RUBY Awards! How did you react when you found out you were a finalist?
Thank you! I was super excited to find out my story had finaled. I definitely had a glass of wine to celebrate.
Please tell us about the story you've been nominated for. Did you have a secret alternative title while you were writing it?
Unexplored is an action-adventure romance with a wild adventure into cloud forests of Peru. It is part of my Treasure Hunter Security series which are Indiana Jones crossed with romance. It was always called Unexplored – but all the books in the series have Un- titles (Undiscovered, Uncharted, Unexplored etc) and I will admit to getting them mixed up sometimes!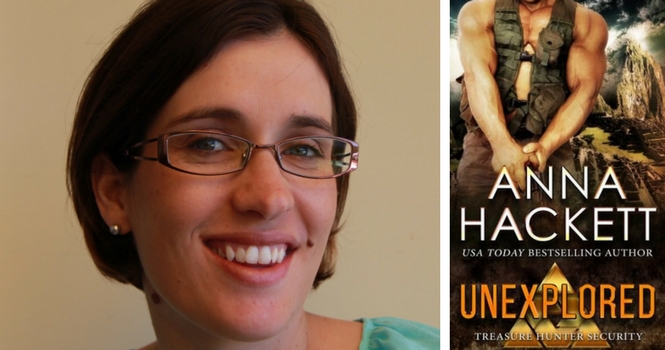 Do you write romance books in secret, or are you loud and proud?
I am a full-time romance author, and don't see any reason to keep something I love to read and write a secret.
Headless washboard abs, a torrid embrace, the sprawling homestead, an elegantly dressed décolletage, or a vaguely kinky object against a dark background – what's your favourite type of romance cover and why?
I like them all as long as they suit the story. All the different types of romance covers give readers an idea of what to expect in terms of sub-genre and heat level, so it's important for a cover to be just right. Personally, I enjoy reading (and writing) sexy, action-packed stories, so I look for covers that show that.
What is the secret life of a romance writer? What goes on between you and your keyboard (or quill) behind closed doors?
No secrets here except hard work. As soon as I finish a book and send it to my editor, I start the next story. I do have a secret notebook obsession. I love pretty notebooks and fill them with plotting notes for my books.
Do you remember the first romance you read, the one that inspired you to continue reading and writing in this genre?
I honestly can't remember the first romance I read, but I do remember scouring bookshops for anything by Nora Roberts and Linda Howard. I definitely count them as inspiration for me both reading and writing romance. I fell in love with tough heroes, smart heroines, and happily every afters.



Do you hide any secrets in your plot line that only a few people will find?
Sometimes. My husband is a huge Star Wars fan, and many of my series are science fiction romance, so I have been known to drop a few subtle Star Wars references into my stories.
How you differentiate between romance fiction, erotica and porn. Are romance readers getting naughtier?
Romance fiction includes stories about people falling in love and finding a happily ever after. The other two usually do not.
No, I don't think romance readers are getting naughtier, I think society is getting more open about discussing love, romance, and sex nowadays.
More women read romance than men, but some men do. What do you know of your male audience? And why do they read you?
Since I write a lot of action and science fiction in my romances, I do have quite a few male readers. The ones who get in touch seem to enjoy a well-rounded story: good characters, action, adventure, and romance (an important aspect of our lives!)
What advice would you give aspiring romance writers?
Stop aspiring and start writing. Write every day. Write when the writing is tough, write when the words are flowing, and finish that book.
Thank you, Anna!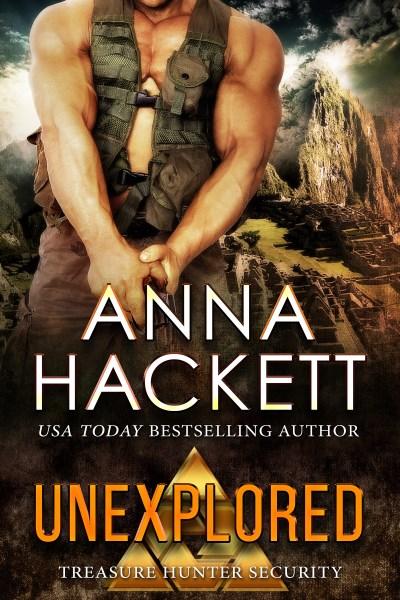 Unexplored
Treasure Hunter Security : Book 3
Former Navy SEAL Logan O'Connor is big, rough, and a little wild. He thrived as a SEAL…until he trusted the wrong woman. After a horrible betrayal that almost left him dead, he now works for his best friend at Treasure Hunter Security. He doesn't like the sand, the jungle, or the mosquitoes, but he gets the job done—protecting archeological digs and expeditions. What he likes even less are liars. As he finds himself heading to Peru with a cool, classy CEO in search of her kidnapped brother, Logan knows one thing: Sydney Granger isn't telling him the entire truth...
About the Contributor