Our Crime & Thriller book of the month is Fifty Fifty by Candice Fox and James Patterson – the second book in the highly addictive and super kickass Detective Harriet Blue series.
Given how much I loved Never Never (the first book in the series) and also the prequel novella, Black & Blue, I was a bit nervous about Fifty Fifty. Sometimes when a series starts out super strong it can be hard to maintain that same level of awesome in subsequent books.
I'm happy to say, I was worried for absolutely no reason! And really, I should have known better than to doubt the genius of this co-authoring dream team. James Patterson is, after all, a master storyteller, and literally every time Candice Fox writes a new book it becomes my new favourite thing! Every time.
Fifty Fifty sees Detective Harriet "Harry" Blue banished from the city after a dramatic incident of bad-assery gains her some unfortunate press during her brother's trial. For those who need a reminder and for newcomers to the series, Harry's brother, Sam, has been arrested and stands trial for multiple murders. Everyone believes Sam is the infamous Georges River Killer. Harry, however, is positive that her brother is innocent and is determined to prove it.
Unfortunately, before she can do anything to help Sam, Harry loses her temper in a rather spectacular way and finds herself banished to a small country town called Last Chance in western NSW. She is there to investigate a possible planned massacre and because she is Harry Blue, she soon finds herself up to her eyeballs in madness and mayhem.

My favourite thing about this series is definitely the main character, Harry Blue. A "wildcat cop" with iron fists, nerves of steel and a heart of gold, Harry is always ready with a knockout punch and a razor-sharp quip. Pretty much every line of dialogue she delivers in Fifty Fifty warrants a round of applause! She's ferocious and bold, tough and smart, totally out of control most of the time and possibly a little bit sociopathic… but only when the situation really calls for it.
Fifty Fifty gives readers two mysteries to solve. Harry carries the main plot which involves the discovery of a diary outlining a town massacre. Harry arrives to find herself teamed up with an obnoxious ASIO agent who is exactly the kind of character you love to hate. Naturally, it doesn't take long for fists to start flying.
Meanwhile, the other plot line follows Harry's partner, Whitt, and her friend Tox Barnes (Tox from Black & Blue is back! Hooray!) who remain in Sydney to investigate the case of the Georges River Killer with hopes of clearing Sam's name.
Fast-paced, action-packed, tightly plotted and bursting with crazy, explosive charm, Fifty Fifty is a great new addition to this wildly addictive series. And given the way this book ends, I suspect the next one will take Harry's story to a whole new level! Eeeeeeeeeee! I need it now!!
PODCAST: Listen to Sarah McDuling chat with Candice Fox about Fifty Fifty.
Want more crime and thriller recommendations? Browse them all here!
For a limited time only, order Fifty Fifty and you will receive a copy signed by Candice Fox! *Offer available while stock lasts. Also, order Fifty Fifty, or any product from the Father's Day Gift Guide by August 23rd, and you could win a book pack worth $700 RRP!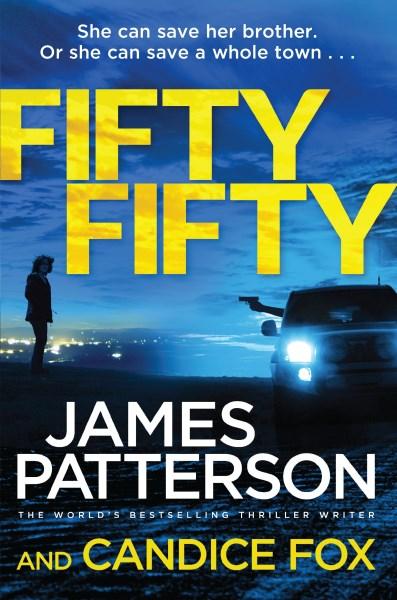 Fifty Fifty
The world's bestselling thriller writer James Patterson once again joins forces with award-winning crime writer Candice Fox for a compulsive page-turner in the Australian outback.
Sam Blue stands accused of the brutal murders of three young students, their bodies dumped near the Georges River. Only one person believes he is innocent: his sister, Detective Harriet Blue. And she's determined to prove it.
Except she's now been banished to the outback town of Last Chance Valley (population 75), where a diary found on the roadside outlines a shocking plan...
About the Contributor
Sarah McDuling is Booktopia's Senior Content Producer and Editor of The Booktopian Blog. She has been in the bookselling game for almost a decade and a dedicated booklover since birth (potentially longer). At her happiest when reading a book, Sarah also enjoys talking/writing/tweeting about books. In her spare time, she often likes to buy a lot of books and take photographs of books. You can follow her on Twitter and Instragram @sarahmcduling
Follow Sarah: Twitter