One of Australia's favourite novelists – Kate Forsyth, author of The Impossible Quest, Bitter Greens, The Wild Girl and now The Beast's Garden – continues her monthly blog with us, giving her verdict on the books she read in March.
I've had such a happy reading month! So many wonderful new discoveries, plus I re-read a couple of old favourites – Kate Forsyth
---
The Wife's Tale
by Christine Wells
The Wife's Tale is a dual timeline novel that alternates between the point-of-view of Liz Jones, a young Australian lawyer whose ambition and drive to succeed have put her marriage at risk, and Delany Nash, who was at the centre of an infamous scandal in the 1780s.
Most of the action is centred on Seagrove, a grand old house on the Isle of Wight, as Liz becomes fascinated with Delany's story and begins to dig deeper. However, the secrets she uncovers puts at risk her newfound relationship with the owners of Seagrove, and indeed her own future. Anyone who knows me knows that I love a dual timeline novel, yet they can be difficult to write. Often one storyline works and the other doesn't, or there's a slippage between the two distinct voices that jars.
Christine Wells has pulled it off brilliantly. Both story lines are intriguing, and the suspense builds steadily. The two women are very different, yet both have hidden strengths that make them very appealing. And I loved the romance!
I was given an advance copy of The Wife's Tale to read, in case I liked it enough to give it an endorsement. And I did! So the cover has my thoughts on it: 'A captivating story of love, secrets and obsession – I enjoyed every word!'
Learn more about The Wife's Tale here
---
The Wuthering Heights
by Emily Bronte
Wuthering Heights is the only novel ever written by Emily Bronte. She died of tuberculosis in 1848, the same year her book was published. She was only thirty years old. Since then the book has had countless new editions, and been made into many plays and movies. It is one of those books that everyone is meant to read (and if you haven't, I'd encourage you to pick it up – it really is an extraordinary book.)
I first read Wuthering Heights when I was a teenager, after being inspired by Kate Bush singing on a moor in a flowing red dress. I absolutely loved the book, and was particularly struck by the scene in the opening pages where the ghost appears. I thought it wildly romantic and eerie.
I have read the book again at least four times, and have had widely differing responses to it since. I remember being horrified by the cruelty in it, and disliking Heathcliff immensely, when I re-read it in my twenties. In my thirties, I was struck by the beauty of the language and the vividness of the characters, but still disliked the cruelty.
Reading it now, I was surprised by how suspenseful the novel was – the pages seemed to turn themselves (I admit I skipped some of the servant Joseph's monologues in Yorkshire dialect). I also loved the romance of Cathy and Hareton in the second half of the book, which I had never paid much attention to in earlier readings. I also loved the symmetry of the book, which I had never much noticed before. And the cruelty did not bother me so much this time – perhaps I have hardened over the years (I still hate the scene where Hareton is hanging the puppies).
I wonder how I will like it when I read it again next decade?
Learn more about Wuthering Heights here
---
The Matisse Stories
by A.S. Byatt
I picked up this little book only knowing that I love Matisse's art and A.S. Byatt's novels. I'm also very interested in how writers drew on the work of visual artists in fiction (I'm working on a book about the Pre-Raphaelites right now).
The book is comprised of three short stories, loosely linked through some mention of Matisse. The first story is the weakest, involving a frustrated middle-aged woman who visits a hairdresser because she likes his Matisse print on the wall. The second was my favourite, involving a tense triangle between a woman, her artist-husband, and their cleaner, who is much more than she seems. The final story – a sharply observed vignette about some of the problems of modern-day academia – is the one most closely concerned with Matisse.
Each situation is acutely observed and stamped with A.S. Byatt's trademark wit and irony.
Learn more about The Matisse Stories here
---
The Vicarage Family
by Noel Streatfeild
Noel Streatfeild is a British children's writer, most famous for her 1930s and 1940s children's books (often called 'the Shoes' series, as many were published in the US with similar titles such as Ballet Shoes, Party Shoes, Skating Shoes, and so on.) She's one of my favourite Golden Era children's authors, and I've been collecting her books since I was a child.
A Vicarage Family is an autobiographical novel inspired by her own childhood growing up as a vicar's daughter in the early 1900s. It gives a great deal of insight into the attitudes and beliefs of the British middle-class at the turn of the century, and into the forces that shaped one of the world's most revered children's writers.
Learn more about The Vicarage Family here
---
The Paragon Walk/ Resurrection Row/ Rutland Place
by Anne Perry
Anne Perry is acknowledged as the Queen of Victorian murder mysteries, with clever plots, engaging characters, and a great deal of period atmosphere. I've read a few of her books over the years, and am now reading my way through her first series (The Inspector Pitt Mysteries) in order.
Paragon Walk is the third book in the series, and sees Inspector Pitt and his unconventional upper-class wife Charlotte investigating the rape and murder of a seemingly ordinary young woman. However, dark secrets lurk behind the elegant facades of Paragon Walk, and Charlotte's relentless digging sees her facing mortal danger.
In Resurrection Row, a corpse is found sitting at the reins of a hansom cab … a corpse that simply will not stay buried. A really intriguing mystery that tests Inspector Pitt and his wife Charlotte in unexpected ways.
Rutland Place begins with a series of petty thefts, and escalates to bloody murder and a troubling denouement. Once again, Charlotte uses her upper-class family connections to dig out secrets that her policeman husband Thomas Pitt simply could not access.
This is not a series to read for pace and suspense. Anne Perry is much more interested in the interior lives of her characters, and in probing the hypocrisy of the Victorians' attitude to gender, class, and sexuality. The mysteries are always intriguing and most importantly – it's quite hard to guess the murderer!
---
The Life Tree
by Frances Hardinge
The Lie Tree is an utterly brilliant and surprising YA historical novel with a magical twist – it recently won the Costa Book of the Year award in a decision that I applaud most enthusiastically.
The story is set in Victorian times, teetering on the edge of the uneasy chasm that opened up between science and religion following Charles Darwin's Origin of the Species. Faith is a fourteen-year-old girl with an eager, questioning mind, who is constantly being reprimanded for unwomanly behaviour. She adores her naturalist father, loves her little brother, and dislikes her pretty, manipulative mother. The family – accompanied by her Uncle Miles – sail to Vane, an imaginary island much like Jersey, to escape a scandal. Faith's father is then found dead. Trying to find out what happened, Faith stumbles upon a complex mystery of deceit, betrayal, and murder.
The story twists and turns, with all sorts of surprising discoveries, and the characters are all drawn with a swift, deft hand. At the centre of the story is an extraordinary imaginative creation. This is one of the best books I've read in a long time, so please do not be put off by its young protagonist or the fantastical elements. This book is a tour de force. Read it.
Learn more about The Life Tree here
---
H is for Hawk
by Helen Macdonald
A wonderful meditation on grief, nature and hawks.
The author, Helen Macdonald is a naturalist and research scholar at the University of Cambridge. Hawks have fascinated her ever since she was a small child. When her father dies unexpectedly, she decides to train a goshawk, something she has never done before.
Goshawks are one of the biggest of the hawks, and have a notoriously savage temper. They are difficult to train. Helen Macdonald entwines the story of her own challenging journey with that of the author T.H. White, who wrote about his own struggles in a book called The Goshawk, published in 1951. T.H. White is better known for his classic children's fantasy The Sword in the Stone, which has a remarkable scene in it in which the Wart (the boy who became King Arthur) is turned into a hawk.
The result is utterly fascinating. I learned so much about hawks and falconry, and also about the life of T.H. White, which I did not know about before. The language is cool, precise, and beautiful: "The hawk was everything I wanted to be: solitary, self-possessed, free from grief, and numb to the hurts of human life."
Learn more about H is for Hawk here
---
The Sword in the Stone
by T.H. White
I had to re-read this book after reading Helen Macdonald's extraordinary memoir H is for Hawk, which revealed much I did not know about T.H. White and his life, sorrows and struggles.
A classic of children's fantasy, The Sword in the Stone is a funny and inventive story of King Arthur's childhood. It was first published in 1938, but it feels incredibly fresh. Much of the book is made up of a series of set pieces in which Arthur (known as the Wart) is changed into different animals like a fish, a falcon, and a badger, and meets various comic or menacing characters, such as Robin Hood (cleverly disguised as Robin Wood).
The underlying idea is that the Wart is being secretly prepared to be king by his tutor, Merlyn. The book abounds in comic anachronisms (ostensibly because Merlyn lives backwards), but it is also filled with acutely observed historical details about medieval times. No attempt has been made to simplify the language, and so one of its joys is the multitude of strange words and terms, which I remember delighting in as a child.
A wonderful, strange and memorable fantasy, perfect for any clever child.
Learn more about The Sword in the Stone here
---
The Rose Garden
by Susanna Kearsley
Susanna Kearsley mixes romance, suspense, and the supernatural in wonderfully readable ways. The Rose Garden is the story of a woman who keeps slipping back and forth between times in Cornwall. So part of the story is set in the present-day and part of it set in 1715, a time of smugglers and Jacobite plots.
Of course there's a man in the now and a man in the past, and problems and dangers in both. It's a period of history that I really love, and I must say I have a real soft spot for books set in Cornwall, a place I've always longed to visit. Susanna Kearsley has a light, deft touch – The Rose Garden is the sort of book that you can race through in a single setting, hoping all the time for a happy ending but not sure how the author is going to pull it off. Delightful.
Learn more about The Rose Garden here
---
Kate Forsyth
Kate Forsyth is the bestselling and award-winning author of more than twenty books, ranging from picture books to poetry to novels for both children and adults.
She was recently voted one of Australia's Favourite Novelists. She has been called one of 'the finest writers of this generation", and "quite possibly … one of the best story tellers of our modern age.'
Kate's books have been published in 14 countries around the world, including the UK, the US, Russia, Germany, Japan, Turkey, Spain, Italy, Poland and Slovenia.
Visit Kate Forsyth's Booktopia author page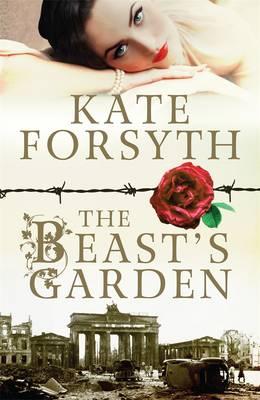 The Beast's Garden
A retelling of The Beauty and The Beast set in Nazi Germany.
The Grimm Brothers published a beautiful version of the Beauty & the Beast tale called 'The Singing, Springing Lark' in 1819. It combines the well-known story of a daughter who marries a beast in order to save her father with another key fairy tale motif, the search for the lost bridegroom. In 'The Singing, Springing Lark,' the daughter grows to love her beast but unwittingly betrays him and he is turned into a dove. She follows the trail of blood and white feathers he leaves behind him for seven years, and, when she loses the trail, seeks help from the sun, the moon, and the four winds. Eventually she battles an evil enchantress and saves her husband, breaking the enchantment and turning him back ...
About the Contributor