Eric Bana has been cast in the lead role of Aaron Falk in the upcoming film adaptation of The Dry by Jane Harper!
Published in 2016, Jane Harper's debut novel The Dry is a bestselling and multi-award winning literary thriller which follows the story of Aaron Falk – a federal cop who returns to the drought-stricken country town where he grew up to attend the funeral of his childhood friend (who is believed to have murdered his wife and child before ending his own life).
Reluctantly drawn into the murder investigation, Falk is soon dredging up long buried secrets and painful memories of a previous local murder connected to his past.
The Dry is a deeply compelling and incredibly gripping read which seems perfectly suited to a film adaptation. In fact, Australian Producer Bruna Papandrea (Big Little Lies, Gone Girl, Wild) bought the screen rights for The Dry before the book was even published.
The Dry will be Eric Bana's first Australian movie since Romulus, My Father in 2007. Robert Connolly (who produced Romulus, My Father) is set to direct. When asked about The Dry during an interview on ABC News Breakfast, Bana praised the book for is emotional undertone.
"It's a fantastic thriller but it has a real great emotional undertone to it which captured a lot of readers." – Eric Bana
Filming for The Dry is expected to begin in Victoria early next year.
The Dry by Jane Harper is published by Pan Macmillan Australia and available to order from Booktopia.
---
Bestsellers of the Week
1. The Land Before Avocado by Richard Glover 
2. Any Ordinary Day by Leigh Sales
3.  The Ice Monster by David Walliams 
4. Dear Santa by Samuel Johnson and Shaun Tan
8. The Barefoot Investor 2018 Update by Scott Pape
9. Babies and Toddlers by Kaz Cooke
10. Nine Perfect Strangers by Liane Moriarty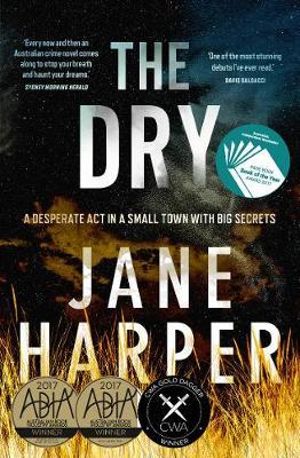 The Dry
Jane Harper
Luke Hadler turns a gun on his wife and child, then himself. The farming community of Kiewarra is facing life and death choices daily. If one of their own broke under the strain, well ...
When Federal Police investigator Aaron Falk returns to Kiewarra for the funerals, he is loath to confront the people who rejected him twenty years earlier. But when his investigative skills are called on, the facts of the Hadler case start to make him doubt this murder-suicide charge.
And as Falk probes deeper into the killings, old wounds are reopened. For Falk and his childhood friend Luke shared a secret ... A secret Falk thought long-buried ... A secret which Luke's death starts to bring to the surface ...
About the Contributor
Sarah McDuling is Booktopia's Senior Content Producer and Editor of The Booktopian Blog. She has been in the bookselling game for almost a decade and a dedicated booklover since birth (potentially longer). At her happiest when reading a book, Sarah also enjoys talking/writing/tweeting about books. In her spare time, she often likes to buy a lot of books and take photographs of books. You can follow her on Twitter and Instragram @sarahmcduling
Follow Sarah: Twitter