Review by Tracey Mills
Imagine a world not dissimilar to our own but where almost the entire population hibernates throughout the winter. Sounds pretty appealing, right?
Now imagine there was a chance that you would die in your sleep. Or become a Nightwalker (AKA zombie) and be reprogrammed to perform menial tasks, or have your body chopped up and used for spare parts. Surviving the winter is no easy feat. What if you had to resort to cannibalism to survive?
This is the world that Jasper Fforde introduces us to in his new standalone novel Early Riser, an adventure unlike any other. The main character, Charlie Worthing, is an orphan living and working in the pool (orphanage) where he grew up. Tired of the same boring routine, on a whim Charlie joins the Winter Consuls – a sort of police force that protects the populace during the winter.
Thrown into a whole new world Charlie manages to get himself trapped in Sector 12 where mysterious things keep happening. Here, he is forced to deal with all kinds of issues such as the zombie-like Nightwalkers, Wintervolk who make people disappear but leave their clothing intact, folded in a neat pile, and viral dreams that are killing people.
Not knowing who is friend or foe, Charlie must find a way to understand the meaning behind the weird hyper real dreams that he is not supposed be having and somehow survive until Spring to expose a secret that people will kill to keep.
Early Riser is full of the quirky humour and sense of adventure that has made Jasper Fforde so popular. The book is a wild ride that will keep you guessing until the very end.
If you are a fan of PC Peter Grant from the Ben Aaronovich novels you will love Charlie Worthing and this audacious supernatural adventure.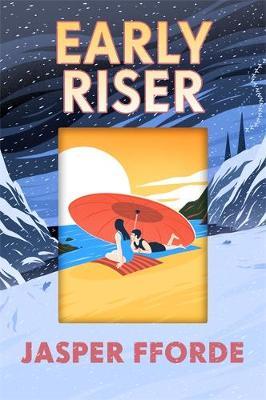 Early Riser
Every Winter, the human population hibernates.
During those bitterly cold four months, the nation is a snow-draped landscape of desolate loneliness, and devoid of human activity.
Well, not quite.
Your name is Charlie Worthing and it's your first season with the Winter Consuls, the committed but mildly unhinged group of misfits who are responsible for ensuring the hibernatory safe passage of the sleeping masses.
You are investigating an outbreak of viral dreams which you dismiss as nonsense; nothing more than a quirky artefact borne of the sleeping mind.
When the dreams start to kill people, it's unsettling.
When you get the dreams too, it's weird.
When they start to come true, you begin to doubt your sanity.
But teasing truth from Winter is never easy: You have to avoid the Villains and their penchant for murder, kidnapping and stamp collecting, ensure you aren't eaten by Nightwalkers whose thirst for human flesh can only be satisfied by comfort food, and sidestep the increasingly less-than-mythical WinterVolk.
But so long as you remember to wrap up warmly, you'll be fine.
About the Contributor
Tracey's love of books started at a young age and has just increased over time and working in the industry. My absolute favourite thing to do is curl up with a cat, a cup of tea and most importantly a good book! I have too many favourite books to pick just one but love reading science fiction, fantasy, young adult, popular science and anything about animals/nature.