The Clockmaker's Daughter
by Kate Morton
There is a certain undeniable magic to a Kate Morton novel. Whenever I pick up one of her books, I know that I'm about to be transported through time into a haunting world full of mystery. I expect to be utterly beguiled by lush descriptions of beautiful old homes and gorgeous countryside, lulled into a dreamlike trance by lyrical prose while an intricate and spellbinding tale unfolds on the page.
The Clockmaker's Daughter gave me everything I expected and more! This is a story with a lot of moving parts, grand in scope and full of bewitching charm.
Jumping back and forth through time, the story touches on the lives of a large cast of interconnected characters. In fact, given the number of characters and different time periods covered in this story, this may be Kate Morton's most complex book to date. If this sounds daunting, rest assured that despite the many characters and multiple timelines The Clockmaker's Daughter is every bit as engrossing as Kate Morton's previous novels – if not more so. In fact, the complex plot may be the greatest strength of this gorgeous book. While reading, I found myself marveling over the way that all the different plot-lines were drawn together with such "clockwork" precision.
Kate Morton is an expert at wielding happenstance and fate like tools to connect her characters across time. Accidents and coincidences work like magic, creating a world full of dramatic irony in which each surprising plot twist unfolds like destiny. An event in the distant past can echo through generations to affect people in the most unexpected ways. The truth cannot remain hidden forever – the past has a way of making itself heard.
In this case, the past concerns a mysterious and charismatic woman called Birdie Bell – definitely one of the best narrators I have encountered in some time.  It also involves a brotherhood of bohemian artists, a lost diamond, a tragic murder and a missing woman. The truth of what happened at Birchwood Manor in the summer of 1862 has been shrouded in mystery for over one hundred and fifty years. The discovery of a photograph will set events in motion for a long buried secret to emerge.
A truly hypnotic tale that is bound to please both fans and newcomers, The Clockmaker's Daughter is another wonderful read from one of Australian's most beloved authors.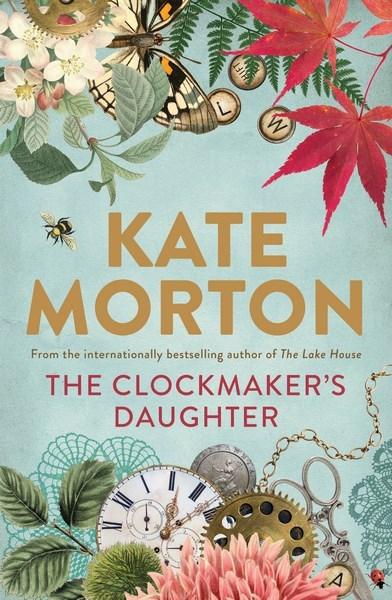 The Clockmaker's Daughter
Kate Morton's highly acclaimed novels have sold over 11 million copies worldwide and are number one bestsellers around the world.
My real name, no one remembers.
The truth about that summer, no one else knows.
In the summer of 1862, a group of young artists led by the passionate and talented Edward Radcliffe descends upon Birchwood Manor on the banks of the Upper Thames. Their plan: to spend a secluded summer month in a haze of inspiration and creativity. But by the time their stay is over, one woman has been shot dead while another has disappeared; a priceless heirloom is missing; and Edward Radcliffe's life is in ruins.
Over one hundred and fifty years later, Elodie Winslow, a young archivist in London, uncovers a leather satchel containing two seemingly unrelated items: a sepia photograph of an arresting-looking woman in Victorian clothing, and an artist's sketchbook containing the drawing of a twin-gabled house on the bend of a river.
Why does Birchwood Manor feel so familiar to Elodie? And who is the beautiful woman in the photograph? Will she ever give up her secrets?
Told by multiple voices across time, The Clockmaker's Daughter is a story of murder, mystery and thievery, of art, love and loss. And flowing through its pages like a river, is the voice of a woman who stands outside time, whose name has been forgotten by history, but who has watched it all unfold: Birdie Bell, the clockmaker's daughter.
About the Contributor
Sarah McDuling is Booktopia's Senior Content Producer and Editor of The Booktopian Blog. She has been in the bookselling game for almost a decade and a dedicated booklover since birth (potentially longer). At her happiest when reading a book, Sarah also enjoys talking/writing/tweeting about books. In her spare time, she often likes to buy a lot of books and take photographs of books. You can follow her on Twitter and Instragram @sarahmcduling
Follow Sarah: Twitter