So you've finished watching the addictive first season of Killing Eve and now you're wondering what to do with your life?
Never fear! We have assembled the perfect list of books to help you through this difficult time. These eight thrilling reads are all rather dark and deliciously disturbing. Some feature female serial killers. These books will take readers on a deep dive into into obsession, toxic relationships and violent psychotic disorders. Many of the characters in these books are somewhat morally flexible – from damaged anti-heroes and driven detectives through to badass assassins and straight-up serial killers.
And so, without further ado, here is our recommended reading list for anyone suffering from post Killing Eve blues ….
---

Number one on the list has to be the book that inspired the TV show!
Killing Eve is loosely based on Codename Villanelle by Luke Jennings. Originally published as four separate novellas, Codename Villanelle introduces us to the compelling Oxana (AKA Villanelle) and Eve Polaski, the MI5 agent determined to track her down.
The mutual obsession between these two characters is hypnotic. Engaged in a dangerous game of "Cat and Mouse", there is no telling how things will end. Luckily a sequel, Codename Villanelle: No Tomorrow, is due in November.
Click here for more details about Codename Villanelle.
---

The Talented Mr Ripley is the ultimate tale of dark obsession by Patricia Highsmith.
If you were intrigued by the way Villanelle grows increasingly fixated on Eve (and vice versa), then you will get a real kick out of Tom Ripley and his dangerous infatuation with Dickie Greenleaf. And if you liked the way Villanelle was able to disguise herself – changing her accent and appearance to play different roles – you'll love Tom Ripley's chameleon-like talent for mimicry.
And if you found yourself beguiled by Villanelle's sociopathic charm, well, when it comes to charming sociopaths then Tom Ripley is truly in a class of his own!
Click here for more details about The Talented Mr Ripley.
---

If you enjoyed Killing Eve  – you're going to love Hades by Candice Fox!
This is the first book in the Archer and Bennett series, which won the Ned Kelly Award for Best Debut Crime Novel in 2014, and it's a must-read for anyone who enjoys dark, gritty thrillers full of complicated morality, difficult relationships, flashes of black humour and complex female characters. Homicide detective, Eden Archer, is such a great character! There is also a very complicated and nuanced dynamic between Eden and her partner, detective Frank Bennett, which is bound to appeal to fans of Killing Eve.
Click here for more details about Hades.
---

Maestra is a dark, erotic thriller that asks the question, "Where do you go when you've gone too far?".
If you couldn't get enough of how dramatically out-of-control things had become by the season finale of Killing Eve, you'll going to love reading about Judith Rashleigh and her adventures. Judith is wild, beautiful, ruthless and prepared to go to any lengths to get what she wants. This decadent thriller will tick a lot of boxes for Killing Eve fans.
Click here for more details about Maestra.
---

Heart Sick is the first book in the Archie Sheridan and Gretchen Lowell series by Chelsea Cain. This series is sooooooo addictive and the reason it's on this list is because of the gloriously messed-up dynamic between the two main characters.
Archie Sheridan is a police detective and Gretchen Lowell is a serial killer. Beautiful but deadly, Gretchen is Archie's nemesis (and occasional lover/would-be killer). Their relationship is definitely complicated and perfect for people who love the dangerous attraction/mutual obsession between Villanelle and Eve. There are some Silence of the Lambs vibes in this unputdownable series. And speaking of The Silence of the Lambs …
Click here for more details about Heart Sick.
---
This has to be one of the most well known "game-of-cat-and-mouse" style thrillers ever written. The weirdly codependent, creepily obsessive dynamic between Clarice Starling and Hannibal Lecter is just as compelling, twisted and fantastically screwed up as the dynamic between Eve and Villanelle.
They way Hannibal interacts with Clarice is definitely like watching an apex predator toying with it's prey. But Clarice is no timid mouse, and neither is Eve! They're both incredibly intelligent, insightful, strong-willed and tenacious characters. Both women are dedicated to their jobs and both are determined to catch killers. I think it's safe to say that Clarice Starling and Eve Polaski are kindred spirits!
Click here for more details about The Silence of the Lambs
---

"If you love somebody, set them free. If they come back, they're yours. If they don't … make them."
Juliette, the main character of The Perfect Girlfriend, has some personality traits in common with Villanelle – mostly because they are both totally bonkers. And yet, despite being certifiably insane, both Juliette and Villanelle are oddly charming and charismatic. You just can't help liking them. Plus, in terms of setting your sights on a goal and putting everything on the line to achieve it, no matter the cost – Juliette is every bit as single-minded as Eve Polaski!
Click here for more details about The Perfect Girlfriend.
---

If watching Killing Eve left you hungry for more stories about badass women, then Red Sparrow is exactly what you're looking for. Whether or not you've seen the movie adaption staring Jennifer Lawrence, Red Sparrow by Jason Matthews is a cracking good read! Following the story of Dominika – a former prima ballerina turned Russian intelligence officer, this intense spy thriller has the same mix of suspense, drama and action that makes Killing Eve so completely addictive.
Click here for more details about Red Sparrow
---
---
And that's a wrap on our list of books to read when you have finished watching Killing Eve! Have we missed anything? If you have any recommendations, please let us know!
And don't forget to check out our Who Dunnit!? Showcase, with 25% off our top Crime and Mystery picks until July 31st, 2018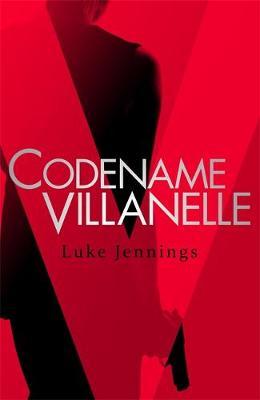 Codename Villanelle
Killing Eve series
She is the perfect assassin.
A Russian orphan, saved from the death penalty for the brutal revenge she took on her gangster father's killers.
Ruthlessly trained. Given a new life. New names, new faces - whichever fits.
Her paymasters call themselves The Twelve. But she knows nothing of them. Konstantin is the man who saved her, and the one she answers to.
She is Villanelle. Without conscience. Without guilt. Without weakness.
Eve Polastri is the woman who hunts her. MI5, until one error of judgment costs her everything.
Then stopping a ruthless assassin becomes more than her job. It becomes personal.
About the Contributor
Sarah McDuling is Booktopia's Senior Content Producer and Editor of The Booktopian Blog. She has been in the bookselling game for almost a decade and a dedicated booklover since birth (potentially longer). At her happiest when reading a book, Sarah also enjoys talking/writing/tweeting about books. In her spare time, she often likes to buy a lot of books and take photographs of books. You can follow her on Twitter and Instragram @sarahmcduling
Follow Sarah: Twitter