Notes on a Nervous Planet
by Matt Haig
Review by John Purcell
Matt Haig is a very versatile writer, having written novels, screenplays, memoir and children's novels – and worked as a journalist. He also has an enormous following on social media, something he seems to hate and love with the same intensity.

His 2015 memoir, Reasons to Stay Alive, is a book that has resonated with millions of people around the world. It has been carried by word of mouth from reader to reader over the last few years. Reasons to Stay Alive has become the go-to book for many people suffering from anxiety and/or depression and also the go-to book for those who love people with anxiety and/or depression, helping them understand and better empathise with their plight.
In his new book, Notes on a Nervous Planet, which incidentally debuted at #1 on the UK bestseller charts this week, Matt Haig focuses more closely on living with anxiety in the world as we all face it today. It is a book you can read from cover to cover, as I did, and it is a book you could leave on your coffee table or nightstand to read when you need a reassuring hug.
Matt Haig offers no silver bullets to defeat anxiety. If you follow him on social media you'll know that the slings and arrows of outrageous fortune still assail him every day. But he shares his successes and makes recommendations to help ameliorate the worst of anxiety. And he also shares, quite openly and endearingly, his cock ups, recording when he fails to adhere to his own best advice.
This book is funny, heart-breaking, heart-mending, warm, insightful, intelligent and full of useful tips on how to navigate our way through life in the 21st century.
But you don't have to take my word for it. Just ask Lily Allen, who recently told her 6 million Twitter followers how much she was enjoying the book:
This is really good. Thank you @matthaig1 pic.twitter.com/Wlui1E9fRz

— LILY ALLEN (@lilyallen) July 16, 2018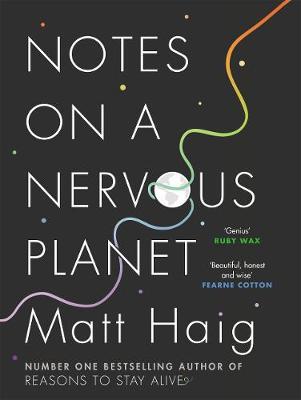 Notes on a Nervous Planet
The world is messing with our minds.
Rates of stress and anxiety are rising. A fast, nervous planet is creating fast and nervous lives. We are more connected, yet feel more alone. And we are encouraged to worry about everything from world politics to our body mass index.
- How can we stay sane on a planet that makes us mad?
- How do we stay human in a technological world?
- How do we feel happy when we are encouraged to be anxious?
After experiencing years of anxiety and panic attacks, these questions became urgent matters of life and death for Matt Haig. And he began to look for the link between what he felt and the world around him.
Notes on a Nervous Planet is a personal and vital look at how to feel happy, human and whole in the 21st century.
About the Contributor
While still in his twenties, John Purcell opened a second-hand bookshop in Mosman, Sydney, in which he sat for ten years reading, ranting and writing. Since then he has written, under a pseudonym, a series of very successful novels, interviewed hundreds of writers about their work, appeared at writers' festivals, on TV (most bizarrely in comedian Luke McGregor's documentary Luke Warm Sex) and has been featured in prominent newspapers and magazines. ​Now, as the Director of Books at booktopia.com.au, Australia's largest online bookseller, he supports Australian writing in all its forms. He lives in Sydney with his wife, two children, three dogs, five cats, unnumbered gold fish and his overlarge book collection. His novel, The Girl on the Page, will be published by HarperCollins Australia in October, 2018.