Christian White might very well be a debut author but his thrilling crime book, The Nowhere Child, has stepped up boldly and claimed the spotlight. As the winner of the 2017 Victorian Premier's Unpublished Manuscript Award, this story is one that has left a strong impression on those who have read it.

Christian is in great company with previous winners of the Victorian Premier's Unpublished Manuscript Award (for example Jane Harper and Graeme Simsion) going on to become multi award winning bestsellers.  Christian explained how he was "shocked and blown away" when The Nowhere Child won the award but it comes as no surprise to his many fans, both readers and authors alike.
"This gripping read takes you to the very edge of reality." – Jane Caro, author of Plain-Speaking Jane

"White skilfully builds an uncertain, noxious world of dysfunctional families and small-town secrets – The Nowhere Child is a gripping debut from an exceptional new talent." – Mark Brandi, author of Wimmera
Booktopia's Sarah McDuling was hooked! "The Nowhere Child is a super impressive debut that begins with an immediately compelling premise," says Sarah. "It takes readers on a frantic rollercoaster ride full of thrills and suspense!"
Christian lists Gillian Flynn and Stephen King among the authors who inspired him to write The Nowhere Child.   "I'd been looking for that perfect idea that would be big enough to fill a novel and this idea just felt right," says Christian. "This is the first idea I've thought I had to show someone." 
We're so glad he did because The Nowhere Child is an amazing read full of old trauma and memories, cults, conspiracies and a final unexpected reveal that few readers will see coming.
Listen to our full podcast interview with Christian below as he chats about his writing process and influences, his win and why the thriller/mystery genre is so fun to write.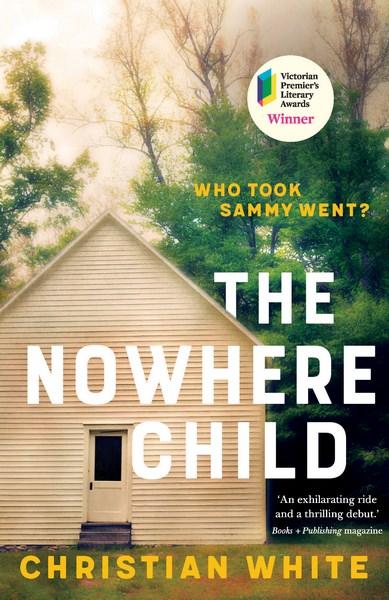 The Nowhere Child
'Her name is Sammy Went. This photo was taken on her second birthday. Three days later she was gone.'
On a break between teaching photography classes in Melbourne, Kim Leamy is approached by a stranger investigating the disappearance of a little girl from her Kentucky home twenty-eight years earlier. He believes Kim is that girl.
At first she brushes it off, but when Kim scratches the surface of her family history in Australia, questions arise that aren't easily answered. To find the truth, she must travel to Sammy's home of Manson, Kentucky, and into a dark past. As the mystery of Sammy's disappearance unravels and the town's secrets are revealed, this superb novel builds towards an electrifying climax.
Inspired by Gillian Flynn's frenetic suspense and Stephen King's masterful world-building, The Nowhere Child is a combustible tale of trauma, cult, conspiracy and memory. It is the remarkable debut of Christian White, an exhilarating new Australian talent.
'The Nowhere Child is a page-turning labyrinth of twists and turns that moves seamlessly between the past and the present, revealing the story in parts and successfully keeping the reader guessing until the final unexpected reveal ... It's an exhilarating ride and a thrilling debut.' – Books + Publishing magazine
About the Contributor
Bronwyn Eley is new to the book industry, having previously served in the Royal Australian Air Force & even spent some time as a barista until entering the exciting world of Booktopia. Books are her true passion. Bronwyn writes in her spare time, often has her face buried in a book and enjoys keeping fit (which she undoes by eating loads of chocolate) with Martial Arts and personal training. She can't answer what her favourite book is but she has a soft spot for The Host (Stephanie Meyer), Peter Pan (J.M Barrie) & Outlander (Diana Gabaldon). Fantasy, sci-fi and YA make up the majority of her bookshelves.