Kingdom of Ash
is coming in a few short months! Feast your eyes on the beautiful cover, revealed today!!
The seventh and final book in the Throne of Glass series by Sarah J. Maas is coming out in October. Fans of this wildly popular and bestselling series have been wondering for years how the story will end. And soon the wait will be over!
The Throne of Glass series has been growing more and more popular since the first book was published in 2012. The Young Adult High Fantasy follows the adventures of Celaena Sardothien (AKA Aelin Ashryver Galathynius) – an assassin with a hidden past and an epic quest to fulfill.
Booktopia's Tanaya Lowden is a longtime fan of this series and has been desperately awaiting this final installment. "This is my most anticipated book of the year!" says Tanaya. "I've been enraptured by these characters for six years now and I can't wait to see where they end up. This series was a real turning point for epic YA fantasy and I'm going to be so sad/excited to see it end."
Years in the making, the conclusion of this #1 New York Time Bestselling series is going to be EPIC. The throne of Glass fandom is going to go wild! If you haven't read any of these books, now would be a really perfect time to start!
In the meantime, Sarah J. Maas' has another series available! Books 1 -3 in the Court of Thorns and Roses series has been released in a gorgeous boxed set. There is also another new Sarah J. Maas book coming out in August. Catwoman: Soulstealer is the third book in the DC Icons series. The series, which reminagines the origin stories of popular DC comic book heroes, includes books written by bestselling YA authors such as Marie Lu and Leigh Bardugo.
Kingdom of Ash is coming out on the 23rd of October and is available to pre-order now.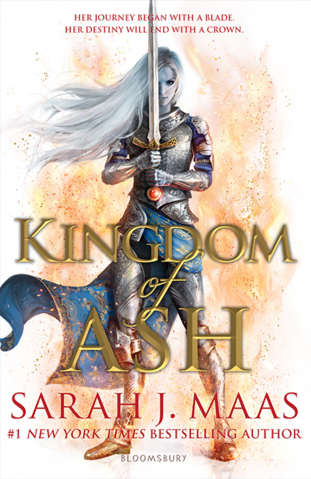 Kingdom of Ash
Throne of Glass: Book 7
Aelin has risked everything to save her people but at a tremendous cost. Locked within an iron coffin by the Queen of the Fae, Aelin must draw upon her fiery will as she endures months of torture.
Aware that yielding to Maeve will doom those she loves keeps her from breaking, though her resolve begins to unravel with each passing day.
With Aelin captured, Aedion and Lysandra remain the last line of defense to protect Terrasen from utter destruction. Yet they soon realize that the many allies they 've gathered to battle Erawan 's hordes might not be enough to save them. Scattered across the continent and racing against time, Chaol, Manon, and Dorian are forced to forge their own paths to meet their fates. Hanging in the balance is any hope of salvation and a better world.
And across the sea, his companions unwavering beside him, Rowan hunts to find his captured wife and queen before she is lost to him forever.
As the threads of fate weave together at last, all must fight, if they are to have a chance at a future. Some bonds will grow even deeper, while others will be severed forever in the explosive final chapter of the Throne of Glas
About the Contributor
Sarah McDuling is Booktopia's Senior Content Producer and Editor of The Booktopian Blog. She has been in the bookselling game for almost a decade and a dedicated booklover since birth (potentially longer). At her happiest when reading a book, Sarah also enjoys talking/writing/tweeting about books. In her spare time, she often likes to buy a lot of books and take photographs of books. You can follow her on Twitter and Instragram @sarahmcduling
Follow Sarah: Twitter