Need a little help navigating that pesky and complicated thing known as 'adulting'? Tanya Hennessy might be able to help you with her new book Am I Doing This Right? It's an A-Z guide to adulting and as one of Australia's most loved entertainers and radio presenters, Tanya Hennessy wanted to show her fans that that thing called 'adulting' isn't easy to conquer, no matter who you are.
Radio presenter, entertainer, author… life must be pretty grand right? Wrong. "I've stuffed up a lot in my life," says Tanya. "And there's a lot of stuff ups in there but I think I've triumphed them."
"It's about rising above it and continuing even though things are hard," explains Tanya. "So I guess that's the inspirational element that I didn't realise was in there because I'm just a fighter. I don't see it as inspirational, I just think how else would you do it?"
Tanya may not be able to tell the time on an analogue clock and might still sleep with her childhood teddy bear, Morris, but it was for these exact reasons Tanya felt Am I Doing This Right? had to be written.
"I wanted people coming away feeling like they were less alone." – Tanya
Horrible, hilarious, humbling and happy – there's a little bit of everything in there. There is a little bit of life!
We loved meeting Tanya – she was charming and hilarious and the kind of person who makes you feel as though you've been life-long friends. We look forward to seeing what she'll write next!
Tanya told us about the inspiration behind her book Am I Doing This Right?, as well as her writing process, overcoming anxiety, the imposter syndrome and many other wide and varying topics from fake tan to cabaret.
Listen to our full podcast interview with Tanya below: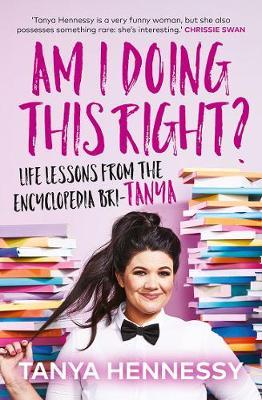 Am I Doing This Right?
Life lessons from the Encyclopedia Bri-Tanya
An honest, hilarious, and incredibly relatable A-Z guide to adulting from one of Australia's most loved entertainers and radio presenters.
Tanya Hennessy can't tell the time on an analogue clock, was once employed as a stilt-walker and still sleeps with Morris, her childhood teddy bear, so naturally she is the most qualified person to write a guidebook for growing up.
AM I DOING THIS RIGHT? is an encyclopedia of life lessons that Tanya has learned so that you don't have to...
About the Contributor
Before entering the exciting world of books, Bronwyn served in the Royal Australian Air Force, travelled extensively and worked (still does!) as a barista on the weekends. Books are her true passion. Bronwyn's debut fantasy novel Relic is coming out in 2019 with indie publishing house Talem Press. They are to publish her entire trilogy called The Relic Trilogy. In her spare time, Bronwyn writes, reads and enjoys keeping fit (which she undoes by eating loads of chocolate) with Martial Arts and personal training. She can't answer what her favourite book is but she has a soft spot for Peter Pan (J.M Barrie), Outlander (Diana Gabaldon), Stardust (Neil Gaiman), The Illuminae Files (Jay Kristoff and Amie Kaufman) and Six of Crows (Leigh Bardugo). Fantasy, sci-fi and YA make up the majority of her bookshelves.