"Anybody can write a book but only authors end them."
These were the words that had Booktopians Sarah McDuling and John Purcell fall into an awe-like wonder over the man sitting before them. Patrick Ness, bestselling author of A Monster Calls (now a major film) and the Chaos Walking series (also heading to the big screen) came by for a little chat about his upcoming book And the Ocean Was Our Sky.
"The book started as a joke discussion between me and Jim Kay," says Patrick. "I just said, completely off hand, 'what if Moby Dick was told by the whale?', because it would be really different."
Based on Moby Dick, which tells the story of one man's quest to avenge the whale that 'reaped' his leg, And the Ocean Was Our Sky focuses on a different point-of-view: that of the whale.
Patrick deals with the idea of who owns the truth and, more importantly, who owns the story, in this latest book. "I love the idea that the whale could tell the story," says Patrick. "It would be just as true and completely different. So where does 'the truth' rest? Does it land in some kind of nexus of the two? That's where it started and it got weirder and weirder from there."
This idea of interchangeable truth is all through Ness' work. "I don't intend it," he says. "Looking back, it's clearly a preoccupation of mine."
It was fantastic to talk to this bestselling author about what makes a writer and what writing means to him. "Authors should be grumpy because there's a sort-of dissatisfaction with the world and wanting to figure it out," says Patrick. "You're grumpy about something and there's an itch and a novel is a great scratching of an itch."
"Ideas don't have an ego. They're good, they're bad, they work, they don't, it doesn't matter where they come from." – Patrick Ness
Ness' other hit titles include the Chaos Walking series, set on a colony planet where almost all the women have been killed by a virus. All those living on the planet can hear one another's thoughts in a stream of words, images and sounds – called "Noise". Protagonist Todd Hewitt stumbles across a girl who might hold answers to this new world's many mysteries.
The series is heading to the big screen, under director Doug Liman (The Bourne Identity, Edge of Tomorrow), starring Spiderman's Tom Holland and Star Wars: The Force Awakens' Daisy Ridley.
So needless to say that Patrick Ness is one busy man!
Have a listen to our full podcast interview with Patrick below: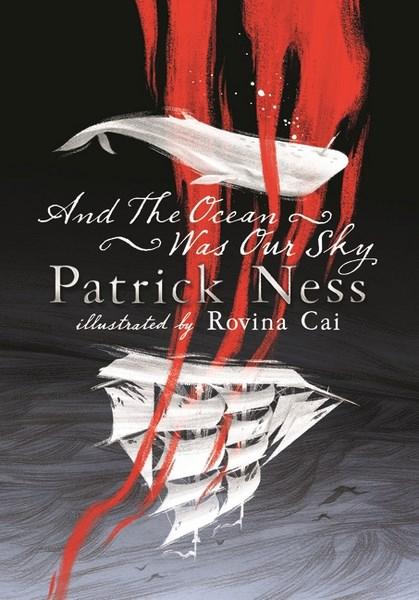 And the Ocean Was Our Sky
From the multi-award-winning author of A Monster Calls comes a haunting tale of power and obsession that turns the story of Moby Dick upside down.
"Call me Bathsheba." The whales of Bathsheba's pod live for the hunt. Led by the formidable Captain Alexandra, they fight a never-ending war against men. Then the whales attack a man ship, and instead of easy prey they find the trail of a myth, a monster, perhaps the devil himself... With their relentless Captain leading the chase, they embark on the final hunt, one that will forever change the worlds of whales and men.
About the Contributor
Bronwyn Eley is new to the book industry, having previously served in the Royal Australian Air Force & even spent some time as a barista until entering the exciting world of Booktopia. Books are her true passion. Bronwyn writes in her spare time, often has her face buried in a book and enjoys keeping fit (which she undoes by eating loads of chocolate) with Martial Arts and personal training. She can't answer what her favourite book is but she has a soft spot for The Host (Stephanie Meyer), Peter Pan (J.M Barrie) & Outlander (Diana Gabaldon). Fantasy, sci-fi and YA make up the majority of her bookshelves.