Kate Forsyth, one of Australia's favourite novelists and the author of books including The Impossible Quest series, Bitter Greens, The Wild Girl and The Beast's Garden, continues her blog with us, giving her verdict on the best books she read in April 2018.
---
The Juliet Code
By Christine Wells
Australian author Christine Wells has been making a name for herself writing intelligent, suspenseful historical novels. Her latest offering, The Juliet Code, begins in 1947 when a young woman named Juliet Barnard is being interrogated about her role as an undercover wireless operator in Nazi-occupied France during the war. She is wracked with guilt and remorse over the disappearance of a friend and colleague of hers, and so agrees to help to her friend's brother track down what happened to her.
The narrative moves back and forth between Juliet's interrogation and subsequent return to France, and the events of 1943 when Juliet was first parachuted into France. She is young and naïve, but acutely aware of the danger if she should be caught by the Germans. Eventually her luck runs out and she finds herself a prisoner. Unable to escape, drugged and tortured, Juliet cannot help but betray her friends. This disloyalty haunts her. She blames herself for the deaths and disappearances of other secret operatives, and so when an ex-SAS officer named Mac begs for her help, Juliet Treluctantly agrees – even though she is afraid of the horror of the memories it will rake up … and the chance she may find herself in danger again.
I love books about resistance fighters and spies in World War II, and The Juliet Code is a fine addition to my collection. I really liked the fact that Juliet was not a particularly good secret operative, but determined to do her part. Her bravery, resolution, and quick wits prove to be more valuable than strength and ruthlessness. The tender love story at the heart of the book adds poignancy and warmth, without crowding out the true narrative arc – a story of an ordinary young woman who does her utmost to help and save those whose lives are torn apart by cruelty and war.
I also loved reading Christine Wells's 'Author's Note' at the end of the book which reveals the true-life inspirations for Juliet, Felix and Mac.
---
The Beast's Heart
by Leife Shallcross
The Beast's Heart by debut Australian author Leife Shallcross is a retelling of the classic French fairy-tale 'La Belle et la Bête', told from the perspective of the Beast. Like many lovers of fairy-tales, it is one of my own personal favourites and I have drawn upon its symbols and structures in my own novel, The Beast's Garden, which is set in Nazi Germany.
Leife Shallcross's novel is a much more conventional fairy-tale retelling, set in a magical world of castles and forests and curses. I do not call it conventional as a perjorative: I love this type of story. Authors such as Robin McKinley, Juliet Marillier, Helen Lowe, Shannon Hale and Edith Pattou have all enchanted me with their reimaginings of old tales, and The Beast's Heart deserves to take its place amongst the best of them.
The original tale was written by the French novelist Gabrielle-Suzanne Barbot de Villeneuve and published in 1740. It was then greatly reduced and simplified by Jeanne-Marie Le Prince de Beaumont and re-published in 1756, just thirty-three years before the French Revolution. It is Mme Beaumont's version which is best known, and which Leife Shallcross has drawn upon rather than the 1991 Disney animated film.
One key difference is that Belle has sisters in the original tale, and their challenges and love affairs add action and humour to Leife Shallcross's tale, as the Beast watches them through his magic mirror.
Leife Shallcross writes beautifully, and there is a great deal of charm in the depiction of the Beast and his longing for friendship and love. The Beauty of the tale is also brought to life with depth and complexity. She is called Isabeau, which is a name I love (I called the heroine of my own debut novel Isabeau too!)
I also loved the depiction of the Fairy and the unexpected reasons for her casting the curse.
There has been a fashion in recent years for depicting fairy-tales as dark, violent, and sexually charged fantasies, but I prefer this more lyrical and romantic style. The action of the plot unfolds slowly and sensitively, and time is taken to bring the magical world vividly to life.
A compelling and surprising retelling of 'Beauty & the Beast', this debut offering from an Australian author is filled with peril, darkness, romance and beauty. Utterly enchanting!
---
And Fire Came Down
by Emma Viksic
A contemporary crime novel set in Australia, and featuring a hearing-impaired private investigator, And Fire Came Down by Emma Viksic is bold, fresh, original, and achingly real.
I bought her book after putting out a call on Facebook for some great crime recommendations. Emma Viksic's name was mentioned several times and so, seeing this novel while browsing in a bookstore, I grabbed it.
It's the second in a series, with the first book Resurrection Bay winning a swathe of awards including the Ned Kelly Award for Best First Fiction. I do wish I'd bought Book 1 first, as there are inevitable references to what happened previously, and some of the characters are introduced only briefly, the reader obviously meant to recognise them from earlier encounters.
Nonetheless, I was hooked in from the very first page, in which a mysterious young woman asks the hero Caleb for help in sign language … and then dies. Written in taut, pared-back language, with moments of dark wit and humour and high-octane action, And Fire Came Down is a compulsive page-turner.
The setting is vivid and memorable too – a small Australian country town baking in the summer heat with drug-fuelled violence and racial tensions simmering just below the surface. I could feel the sweat sliding down Caleb's back and smell the dangerous hint of bushfire smoke in the scorchingly hot air. Just brilliant.
---
Three Gold Coins
by Josephine Moon
A warm-hearted contemporary tale set in Australia and Italy, Three Gold Coins is the first book written by Josephine Moon that I have read but it won't be the last. I just loved the skillful twisting together of romance and suspense, chick-lit and family drama. This is a novel which celebrates family ties, food and the importance of kindness, all things which I passionately believe in.
The story begins when Australian tourist Lara Foxleigh tosses three gold coins into the Trevi Fountain in the age-old superstition: one coin for love, one coin for marriage, one coin to return to Rome. As she watches the crowd passing by, she notices a stooped old man struggling along, helped by a young woman in tight flashy gym gear. Then the old man is alone. His carer has robbed him and abandoned him, and he has no way of getting home. Lara is moved to help him, and ends up offering to drive the old man home. She does not realise Samuel lives in Tuscany, a long way from Rome, and so finds herself embarked on a much bigger adventure than she had imagined.
Before long, Lara finds herself cooking and caring for Samuel, and drawn into his family feuds. The only person to talk to him is his nephew Matteo, a handsome young man with a debilitating stutter. My heart was won at that moment. As someone who has struggled all my life with a stutter, I could not help but warm to the world's first stuttering romantic hero!
Lara learns to milk the goats and make pasta and ricotta cheese, while slowly falling in love with Matteo.
Yet there is darkness in both Lara and Samuel's pasts that threatens her new-found happiness. Back in Australia, Lara's mother, Eliza, her sister Sunny and Sunny's young twins, Daisy and Hudson, are facing a threat that Lara has tried to run from. And in Italy, Samuel's loneliness and isolation are a problem she must try to solve.
The story moves back and forth between the voices of Lara and Sunny, and between the past and the present, slowly revealing the secrets that are overshadowing Lara's life. Josephine Moon sensitively explores themes of depression and mental illness, psychological abuse and violence, which give her story extra gravitas and depth to balance the warmth and charm.
---
Becoming Marie Antoinette
by Juliet Grey
As the title suggests, Becoming Marie Antoinette is biographical fiction inspired by the life of the ill-fated queen of France, who lost her head to the guillotine during the French Revolution.
It is one of my favourite periods of history (I'm actually writing a novel set during the Terror now), and I read many novels inspired by her life by writers like Jean Plaidy and Victoria Holt when I was a teenager. I have also read many biographies by historians such as Antonia Fraser and Evelyne Lever, as well as life histories of her hairdresser, her perfumerer and the like.
Juliet Grey's novel is the first in a trilogy, and begins when Maria Antonia is still a child in the court of her mother, the formidable Empress of Austria. Impulsive, warm-hearted and mischievous, Maria Antonia knows her destiny is to be married for political gain and hopes that her chosen husband will not be too old or too unkind. Her mother begins negotiations with the French king, Louis the Fifteenth, for a betrothal with his grandson, the young Dauphin. Marie Antonia begins her journey of transformation, having her teeth straightened, her posture corrected and her meagre education rectified. She is only fourteen when she is married by proxy and sent off alone to Versailles, and Juliet Grey brilliantly brings her sweetness, naïveté and natural charm to life.
Versailles is, of course, a gilded trap for the young dauphine, and she makes many mistakes by trusting too easily and not submitting to the strict etiquette of the court. Even worse, poor Marie Antoinette fails to entrance her awkward, immature 14-year old husband and the marriage remains unconsummated.
Light, sparkling and yet psychologically acute, Becoming Marie Antoinette is the best novel I have yet read about the young Austrian arch-duchess's journey towards becoming the most infamous French queen in history.
---
Frogkisser!
by Garth Nix
A funny and charming subversion of the well-known 'Frog Prince' fairytale, Frogkisser! by Garth Nix tells the story of a bookish princess, an eager but clumsy puppy, and a whole host of young men turned into amphibians.
Princess Anya just wants to be left alone to study sorcery, but unfortunately her step-stepfather wants to take over the kingdom and so transforms any suitor for her big sister's hand into a frog. Anya reluctantly sets out on a quest to gather the ingredients that will enable her to turn the enchanted frogs back into humans, and encounters many obstacles – both humorous and deadly – along the way.
Along her travels, Anya learns a great deal about the dangers of absolute power and the importance of kindness, compassion and political awareness.
Fabulous fun!
---
The Night Ferry
Michael Robotham
I can always rely on Michael Robotham to deliver an intelligent, fast-paced and psychologically indepth crime thiller, and The Night Ferry is no exception.
At the end of his earlier novel, Lost, young Alisha Barba has her back broken by a murder suspect. She is now trying to get her life back together again, but no-one wants her on their team. One day she receives a plea for help from an old school friend:
Dear Ali, I'm in trouble. I must see you. Please come to the reunion. Love, Cate.
Alisha has not spoken to her onetime best friend in more than eight years. Reluctantly she goes to the reunion, only to discover Cate is eight months pregnant. Her friend only has time to whisper to her, 'They want to take my baby. You have to stop them' before she disappears into the crowd. Moments later, she and her husband are both dead in what appears to be a tragic car accident.
Alisha suspects foul play, and begins to dig. It is not long before she uncovers an intricate web of lies and secrets. Each new discovery leads to danger and death. Alisha follows the clues to Amsterdam's red-light district and hints of baby trafficking.
Ex-cop Vincent Ruiz (the hero of Lost) makes a welcome appearance, in a fast-paced and brilliantly plotted story that changes Alisha's life forever.
---
Jamaica Inn
by Daphne du Maurier
I have set out to read my way through Daphne du Maurier's novels again, and am so enjoying the exercise. Jamaica Inn is one I have not read since I was a teenager, and I love the dark brooding windswept atmosphere of the moors, the tightening screw of dread and suspense, and the psychological strain of cruelty, murder and madness.
The story begins with a young woman, Mary Yellan, in a coach, driving away from her home and towards an uncertain future. Her mother has died, and she is honouring a promise to go and live with her maternal aunt, Patience. All is dark and wild and stormy, and the coachman is reluctant to set her down at her uncle's residence, Jamaica Inn, for it has a bad name and an evil prospect.
The heightened atmosphere, the brooding sense of tension, and the foreshadowing of wickedness to come is all set up in this opening scene – and, once Mary meets her uncle, a sense of impending sexual danger as well. It's a tour de force in neo-Gothic narrative art, mirroring the opening scenes of Bram Stoker's Dracula and the hero's approach to the vampire's castle. It also, of course, has echoes of Wuthering Heights and Jane Eyre's journey to Thornfield Hall.
Jamaica Inn is Daphne du Maurier's fourth novel, and was published when she was only 29. It has all the suspense, ambivalence and thwarted desire of her more famous novel, Rebecca, published two years later.
She is often dismissed as a writer of romance, but I find her inventions dark, haunting and powerful.
---
Kate Forsyth wrote her first novel aged seven and has now sold more than a million books worldwide. Her most recent book, Beauty in Thorns, is a reimagining of Sleeping Beauty set amongst the passions and scandals of the Pre-Raphaelites. Other novels for adults include Bitter Greens, which won the 2015 American Library Association award for Best Historical Fiction; and The Wild Girl, which was named the Most Memorable Love Story of 2013.
Kate's books for children include the collection of feminist fairy-tale retellings Vasilisa the Wise & Other Tales of Brave Young Women, illustrated by Lorena Carrington, and The Impossible Quest fantasy series which has been optioned for a film. Named one of Australia's Favourite 15 Novelists, Kate has a BA in literature, a MA in creative writing and a doctorate in fairy tale studies, and is also an accredited master storyteller with the Australian Guild of Storytellers. She is a direct descendant of Charlotte Waring Atkinson, the author of the first book for children ever published in Australia.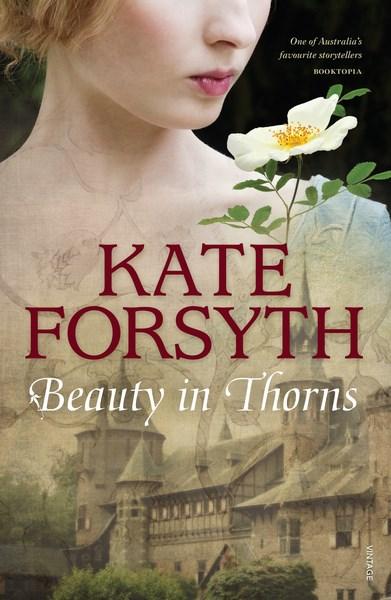 Beauty in Thorns
A spellbinding reimagining of 'Sleeping Beauty' set amongst the wild bohemian circle of Pre-Raphaelite artists and poets.
The Pre-Raphaelites were determined to liberate art and love from the shackles of convention.
Ned Burne-Jones had never had a painting lesson and his family wanted him to be a parson. Only young Georgie Macdonald – the daughter of a Methodist minister – understood. She put aside her own dreams to support him, only to be confronted by many years of gossip and scandal.
Dante Gabriel Rossetti was smitten with his favourite model, Lizzie Siddal. She wanted to be an artist herself...
About the Contributor