Meet Greg Heffley – the skinny, balding wimpy kid we've all come to know and love thanks to bestselling author Jeff Kinney. The idea for Greg came to Jeff during his collegiate days back in 1992, when Jeff decided he wanted to make his character different by making him wimpy.
"There are lots of times in children's books where the protagonist is heroic, they're brave, they're strong," says Jeff. "I wanted to make a character who was more like me when I was a kid."
Thus, the Diary of a Wimpy Kid series was born and Greg Heffley's crazy, wimpy antics turned Jeff's creation into a bestselling series loved by children and adults across the globe.
"It's unbelievable that we've hit 200 million books in print." – Jeff
Not so unbelievable once you've read the incredible series! Diary of a Wimpy Kid even hit the big screen in 2010 with a fantastically funny live-action film featuring Zachary Gordon as Mr. Greg Heffley himself.
We were lucky enough to have Jeff pop by Booktopia while he was here in Australia promoting this bestselling series, including book number 13 in the series, The Meltdown. Instead of interviewing himself ourselves, we decided to let his very own creation, Greg Heffley, ask the questions…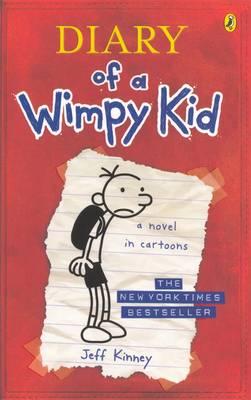 Diary of a Wimpy Kid
Book 1
Being a kid can really stink. And no one knows this better than Greg Heffley, who finds himself thrust into high school where undersized weaklings share the hallways with kids who are taller, meaner, and already shaving.
Luckily Greg has his best friend and sidekick, Rowley. But when Rowley's popularity starts to rise, it kicks off a chain of events that will test their friendship in hilarious fasion.
About the Contributor
Bronwyn Eley is new to the book industry, having previously served in the Royal Australian Air Force & even spent some time as a barista until entering the exciting world of Booktopia. Books are her true passion. Bronwyn writes in her spare time, often has her face buried in a book and enjoys keeping fit (which she undoes by eating loads of chocolate) with Martial Arts and personal training. She can't answer what her favourite book is but she has a soft spot for The Host (Stephanie Meyer), Peter Pan (J.M Barrie) & Outlander (Diana Gabaldon). Fantasy, sci-fi and YA make up the majority of her bookshelves.