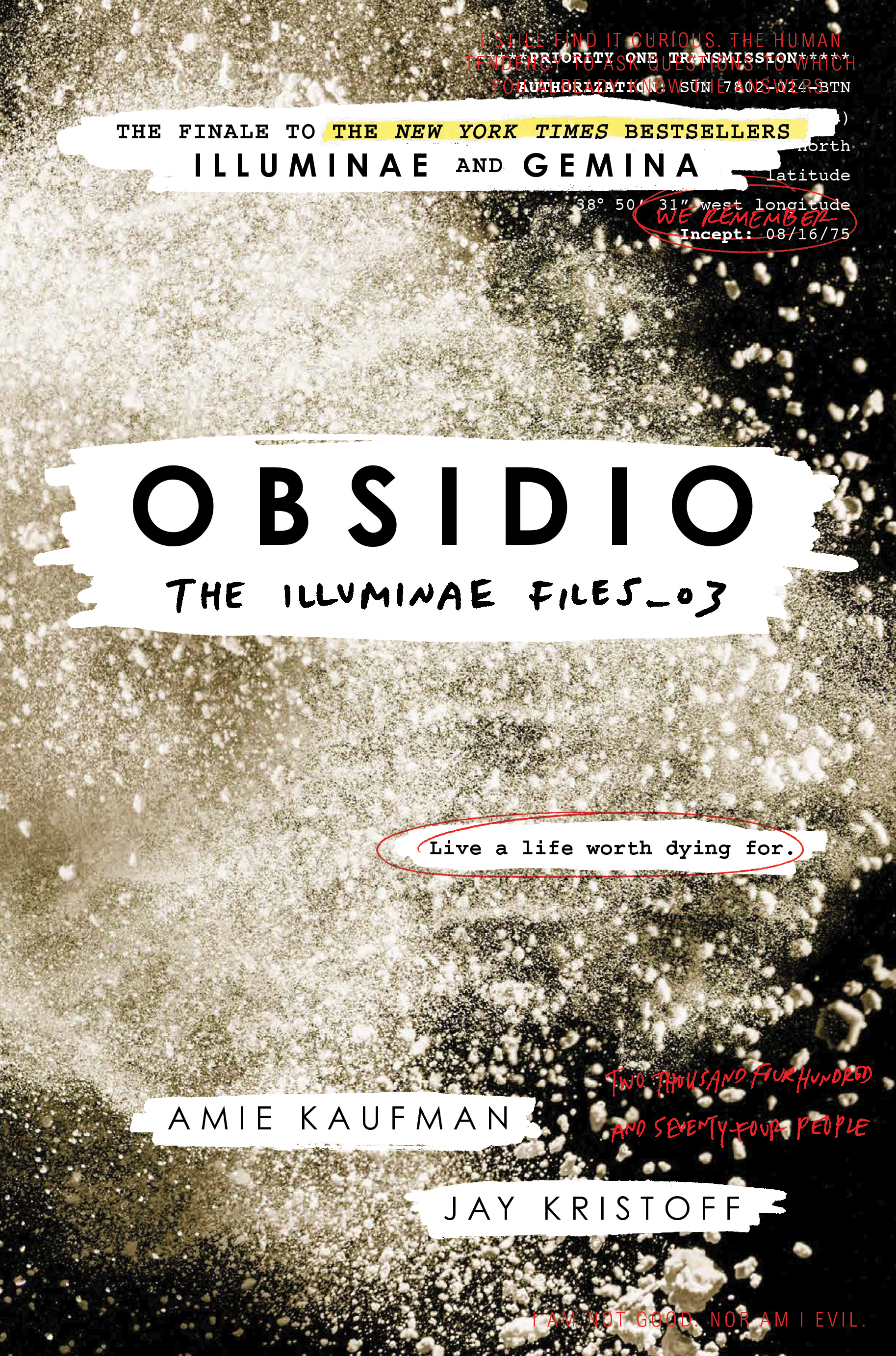 Obsidio
The Illuminae Files: Book 3
by Amie Kaufman and Jay Kristoff
Review by Tanaya Lowden
The day we received advanced finished copies of Obsidio in the office was a very exciting day. After lots of oh my goshes, squeals, and general excitement, the wait for the work day to end (so that I could drop everything and devour the book) begun. Once I finally started to read the book, I was so enraptured that I basically devoured it in one sitting, and I'm so glad I did because this book was everything I had hoped for and more.
One of my favourite things about this series is how incredibly creative and imaginative it is. Amie and Jay have put together one of the most unique young adult series ever, and it is always such a fun time reading through the many ways they have written their story. Obsidio continues with the multimedia layout – with transcriptions, instant messaging chats, illustrations, ship blueprints, lists of the dead, cool text imagery, etc. – and it makes it all the more intense and entertaining. I also thoroughly enjoy spotting the names of authors I know and seeing Jay and Amie either kill them off or just have them amidst the action of the book.
This is the kind of book that gave me ALL the feels. Throughout the entire book I was on edge, expecting the worst to happen to the beloved characters Jay and Amie have created. I was happy when there were cute moments between everyone; I felt the sadness of the destruction of war that is touched upon in this novel (some pretty brutal things go down); and I was also laughing thoroughly because of the wit and banter of all the characters.
As soon as I finished Obsidio, I sat there in awe, completely satisfied with the conclusion to one of my favourite young adult series. I immediately wanted to reread the book because it was just so spectacularly well done. Even now, several weeks later, I STILL want to reread Obsidio (or the whole series even) because I can't get out of my mind just how incredible this conclusion is. The fact that this book has stuck with me for this time is all the proof I need to know that this is a great book.
This bunch of characters has been a fun and lovable cast to get to read about these past few years. I for one am definitely going to be disappointed to think that there are no new books coming featuring them. Kady, Ezra, Hanna, Nik, Ella, the newcomers Rhys and Asha, and even Aidan are better than ever before. I for one will definitely miss reading from the devious Aidan's perspective…
Simply put, Obsidio is a fantastic and deeply satisfying conclusion to this epic series, and one that will not disappoint! If for some reason you've sat through this review and haven't read either of the first two books in this series – Illuminae and Gemina – then I urge you to pick them up immediately! This really is an awesome, action-packed series that I will continue to recommend for all of eternity.
Many thanks to Amie Kaufman and Jay Kristoff for creating such a magnificent world. I can't wait for everyone else to read Obsidio and to see how this all ends. Learn more.
---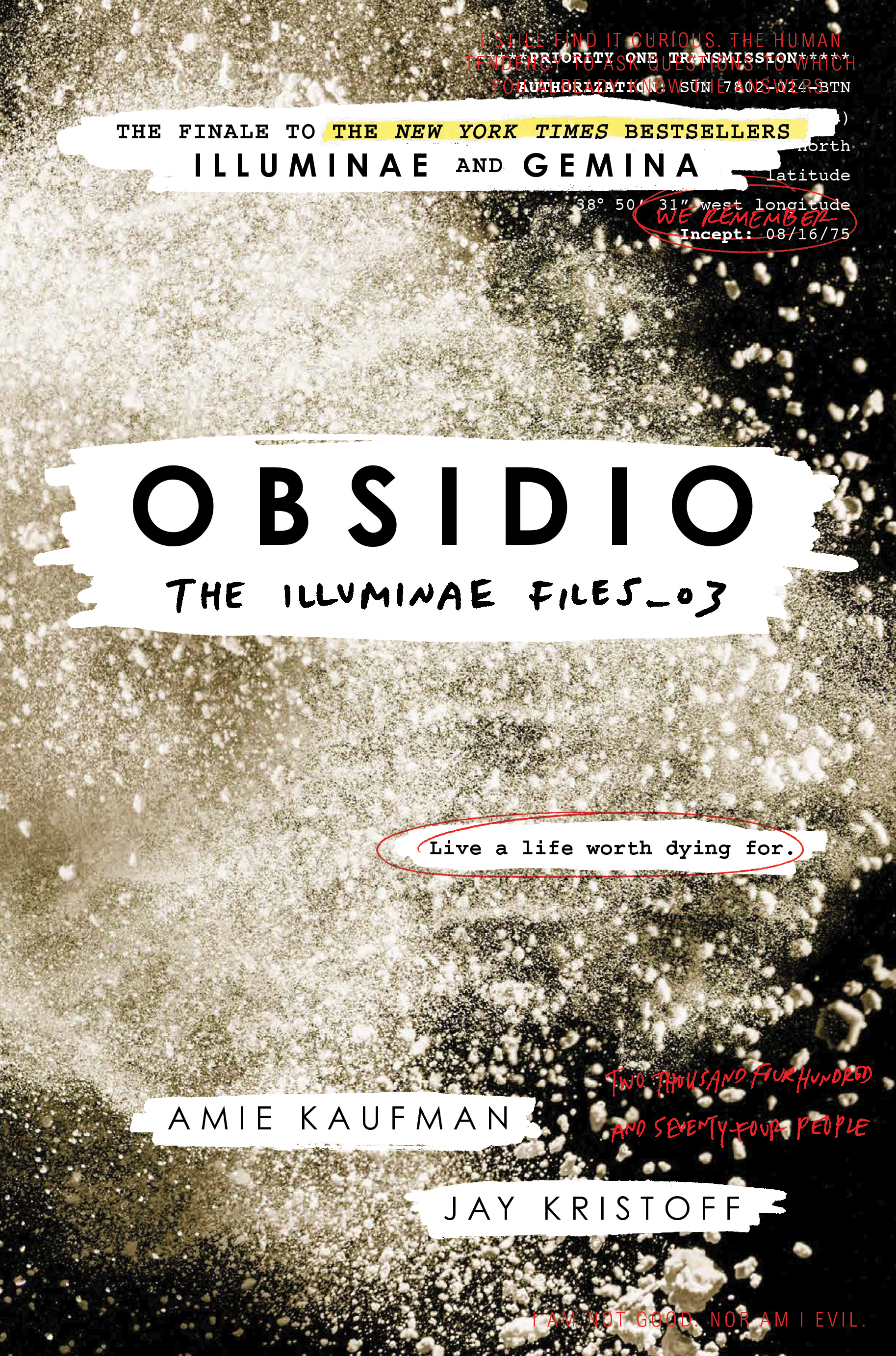 Obsidio
The Illuminae Files: Book 3
Kady, Ezra, Hanna and Nik narrowly escaped with their lives from the attacks on Heimdall station and now find themselves crammed with 2,000 refugees on the container ship, Mao. With the jump station destroyed and their resources scarce, the only option is to return to Kerenza--but who knows what they'll find seven months after the invasion?
Meanwhile, Kady's cousin, Asha, survived the initial BeiTech assault and has joined Kerenza's ragtag underground resistance. When Rhys--an old flame from Asha's past--reappears on Kerenza, the two find themselves on opposite sides of the conflict. With time running out, a final battle...
About the Contributor
Tanaya has been a lover of books for as long as she can remember. Now, her book collection is a little out of control, mostly consisting of YA fiction and pretty hardcovers. When she's not reading, she spends a lot of her time taking photos of books for her bookstagram account, @prettypagesblog. She also has a love of Disneyland, bullet journaling and cats.
Follow Tanaya: Twitter