Jeff Apter is the author of more than 20 books. His works include the biographies of some of the music industry's finest, including The Finn Brothers, Johnny O'Keefe, the Bee Gees, Marc Hunter, Silverchair, John Farnham, and Keith Urban. His career has also included being on the staff of the Australian Rolling Stone, and writing for The Guardian and the Sydney Morning Herald. His latest book, High Voltage: The Life of Angus Young is the first biography to focus exclusively on AC/DC's last remaining original member. Below, Jeff writes about Angus and his new book.
---
By Jeff Apter
Ever wondered why Angus Young of AC/DC has such a propensity for baring his backside on stage? While not the kind of guy given to self-analysis, he did offer this at a Sydney press conference in the mid 1970s, having just shocked a female journalist all the way out of the room by baring his lily-white bum.
'Well,' he figured, 'my arse is better looking than my face.'
Crude, sure, but his comment says a lot about the man, whose life I explore in my book High Voltage: The Life of Angus Young AC/DC's Last Man Standing. Angus has always been a cut-the-crap type of guy. Much of it stems from his very working-class roots: in 1963, when his parents uprooted Angus and his seven older siblings from the Cranhill housing estate in Glasgow, they ended up in the Villawood Migrant Hostel. It sure wasn't the Hilton. The conditions were tough, the residents surly and the local coppers would have been on speed dial if such a thing existed back then. The only difference was the weather: when the Youngs left the UK, they were escaping the bleakest winter in 200 years.
Interestingly, even now, with Angus one of the wealthiest men in rock – his current fortune is pitched somewhere north of $250 million – he recently admitted to a journalist that he still sometimes believes that if he doesn't play, he won't eat that night, a notion that was way more relevant way back in the mid 1970s. Still, it's hard to escape your roots, even if the cost of a sandwich isn't of much concern to Angus Young these days.
Angus' entire life has revolved around the band. As a teenager who clearly had no future in academia, his father William insisted he learn a trade. Angus duly obliged, working as an apprentice printer for a week, but he chucked it in when the band's touring commitments clashed with his day job. And that was it: everything since then has been about AC/DC. He's known no other life. Despite being married for more than 30 years, he and his wife Ellen have no kids. AC/DC is Angus' baby.
This might also explain why he's not been inclined to shut the band down, even after a series of heavy recent dramas. His big brother Malcolm, who started the band with Angus, was diagnosed with dementia in 2014. Then, just as their most recent tour, Rock or Bust, was about to launch, drummer Phil Rudd was sentenced to a stretch of home detention. Roughly halfway through the tour, singer Brian Johnson, who joined the band after the death of Bon Scott in 1980, was told to retire immediately, for fear of losing what remained of his hearing. Then AC/DC's bassist of 40 years, Cliff Williams, quietly handed in his notice.
By tour's end, Angus truly was the last man standing.
Where to next for Angus? He's been typically tight lipped about any kind of future he and the band may have. We'll find out soon enough, but when you have a band, no, a brand, that can bring in close to half a billion dollars per tour, and still pack stadiums around the world, it's hard to walk away. Even harder when you've known no other life.
Perhaps the last word about Angus should be left to Aerosmith's Steve Tyler, spoken as he inducted the band into the Rock and Roll Hall of Fame.
'How,' asked Tyler, shaking his rock star head in wonder, 'do such big balls fit in such short pants?'
---
High Voltage: The Life of Angus Young AC/DC's Last Man Standing is published by Nero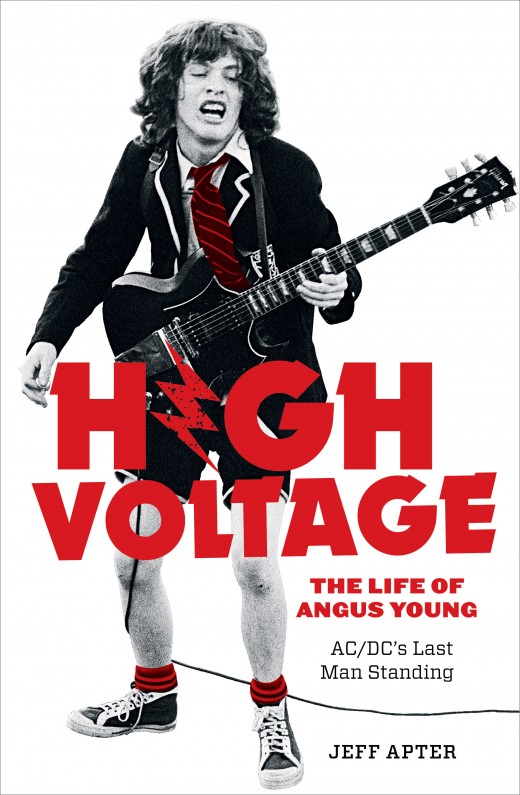 High Voltage
The Life of Angus Young - ACDC's Last Man Standing
High Voltage is the first biography to focus exclusively on Angus. It tells of his remarkable rise from working-class Glasgow and Sydney to the biggest stages in the world.
Angus Young, the co-founder and the last remaining original member of AC/DC, has for more than 40 years been the face, sound and sometimes the exposed backside of the trailblazing rock band. In his trademark schoolboy outfit, guitar in hand, Angus has given his signature sound to songs such as 'A Long Way to the Top', 'Highway to Hell' and 'Back in Black', helping AC/DC become the biggest rock band on the planet....
About the Contributor