Celebrating the life of Roald Dahl:
Author, spy, ace fighter pilot, chocolate historian and medical inventor.
On 13 September 1916 Roald Dahl was born, the man who would later become one of the world's most beloved storytellers. If alive today, he'd be blowing out 101 candles on what we'd imagine would be a scrumdiddlyumptious cake.
It's hard to imagine that this author who wrote books such as Charlie and the Chocolate Factory, Matilda, The BFG, James and the Giant Peach and many others, actually received terrible reports for his writing in school. One teacher actually wrote, 'I have never met a boy who so persistently writes the exact opposite of what he means. He seems incapable of marshalling his thoughts on paper!'



Born in Llandaff, Wales, on 13th September 1916 to Norwegian parents, Harald Dahl and Sofie Magdalene Hesselberg, Dahl was named after Roald Amundsen, the Norwegian who had been the first man to reach the South Pole just four years earlier.
Wanting the best for her only son, his mother sent him to boarding school where many bizarre and memorable events would later be recounted in Boy, Dahl's autobiography.  He remembers being invited to trial chocolate bars, a memory that stayed with him throughout his life, inspiring Charlie and the Chocolate Factory.
After finishing school, Dahl, in search of adventure, travelled to East Africa to work for a company called Shell. In Africa he learnt to speak Swahili, drove from diamond mines to gold mines, and survived a bout of malaria where his temperature reached 105.5 degrees (that's hot!).
With the outbreak of the Second World War Dahl joined the Royal Air Force. Later in the war Dahl was sent to America. It was there that he met famous author C.S. Forester (author of the Captain Hornblower series) who asked the young pilot to write down his war experiences for a story he was writing. Forester was amazed by the result, telling Roald 'I'm bowled over. Your piece is marvellous. It is the work of a gifted writer. I didn't touch a word of it.'
Forester sent Roald Dahl's work straight to the Saturday Evening Post. Dahl's growing success as an author led him to meet many famous people including Walt Disney, Franklin Roosevelt, and the movie star Patricia Neal.
In 1953 Dahl married Patricia with whom he had five children. They divorced after 30 years, and he later married Felicity "Liccy" Crosland, who has furthered Roald's legacy through the foundation of Roald Dahl's Marvellous Children's Charity and The Roald Dahl Museum and Story Centre.
Roald also enjoyed enormous success in television. Having already had his stories told in six episodes of the award winning US series Alfred Hitchcock Presents, his Tales of the Unexpected ran for several series between 1979 and 1988 in the UK.
Roald Dahl died on 23 November 1990, aged 74. He was buried in the parish church of St Peter and St Paul in Great Missenden – the Buckinghamshire village where today The Roald Dahl Museum and Story Centre continues his extraordinary mission to amaze, thrill and inspire generations of children and their parents.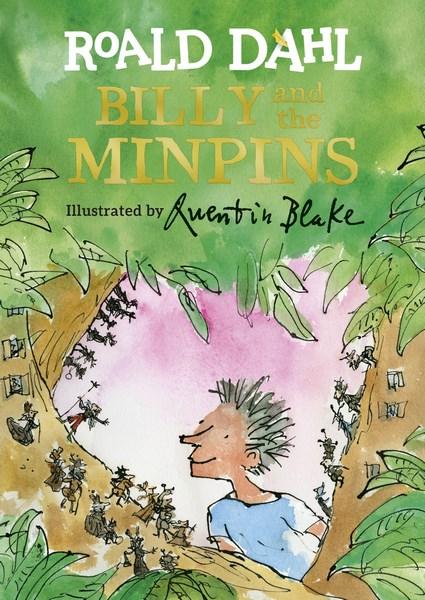 Billy and the Minpins
Billy's mum says he must never go out through the garden gate and explore the dark forest beyond. So, one day, that's exactly what he does! There he meets the Minpins, tiny tree-dwelling people whose children are the size of matchsticks. They live in fear of the terrible, galloping gruncher. Will it gobble Billy too - or can he find a way to defeat the hungry beast?...
About the Contributor
Anastasia Hadjidemetri is the former editor of The Booktopian and star of Booktopia's weekly YouTube show, Booked with Anastasia. A big reader and lover of books, Anastasia relishes the opportunity to bring you all the latest news from the world of books.