Andrew Cattanach: Andrew?
Andrew Cattanach: Why are you writing a review this way?
Andrew Cattanach: Well, actually, you're writing a review this way as well. We're inner monologuing.
Andrew Cattanach: That just sounds pretentious.
Andrew Cattanach: I suppose it is.
Andrew Cattanach: And I'm not sure 'inner monologuing' is a term of any sort.
Andrew Cattanach: I sincerely hope not.
Andrew Cattanach: But seriously, what is going on? What are we doing here?
Andrew Cattanach: We're finally reviewing George Saunders' book Lincoln in the Bardo.
Andrew Cattanach: I see.
Andrew Cattanach: But you don't really. It's been months since we bought it, read it and loved it. And still, no review.
Andrew Cattanach: The thought had crossed my mind. And we love George Saunders.
Andrew Cattanach: That much is sure.
Andrew Cattanach: So why the delay? And can we stop writing 'Andrew Cattanach'? I think the reader gets the drift.
Very well. We've been in somewhat of a bardo ourselves. A kind of 'reviewer's purgatory'.
Andrew Cattanach: For the readers, what is a 'Bardo'?
Oh yes, an excellent place to start. The Bardo is a kind of transitional realm according to Tibetan Buddhist, an intermediate state between death and reincarnation when the soul is not connected to a body. Most of the novel is set there.
George Saunders is so awesome.
Yes he is.
And what's the novel about, this place?
Like anything by Saunders, it's about a lot of things. It's very thematic. The driver of the novel is the death of Willie Lincoln, son of President Abraham Lincoln. He dies at age eleven during the height of the American Civil War…
…did that actually happen?
Yes, but please don't interrupt my flow.
Apologies.
Accepted. Abraham is overcome by grief. As this unfolds, we find Willie in the Bardo, with a collection of spirits who ponder the bigger questions in life and of course, death.
Oh my.
Indeed.
Much of the novel is written like this, this prose, with Willie dissecting life, death, god, the afterlife, slavery, and much more, with these spirits in the Bardo. And I loved it so much, I thought I'd write the review in this manner. It's that sort of book. I've read it three times already. I think about it constantly. It's highly unconventional but all the better for it.
And I suppose that unconventional structure gives it a certain, freedom?
Very much so. Saunders uses the structure beautifully. It is a story of grief but like all the greatest works on such a thing, it never allows itself to be bogged down. Saunders is a wonderful humourist as well, and that comes through in so many parts. It's a remarkable book.
And this 'reviewer's purgatory' that you spoke of earlier? Are we still in it.
I guess. We're still having this discussion. The novel is so good and I believe years from now it will be of such significance (if only as a bold experimentation of prose), that I found myself unable to properly put down on paper how I felt about it. The best novels do that I find. They overwhelm you, rendering you not so much speechless but…
Inadequate.
Quite.
Andrew.
Yes Andrew?
We're still here.
Best to end it then.
Are you just writing unconventionally now to pad it out?
Somewhat. But Saunders' great strength is his economy of words. Like so many great short story writers, he rarely circles themes. Considering the structure of the novel and the themes it explores, few writers in the world could pull this book off, and he does it in spades.
Indeed.
Well then. Time to go.
But what is time?
I don't have time for this.
I suppose not.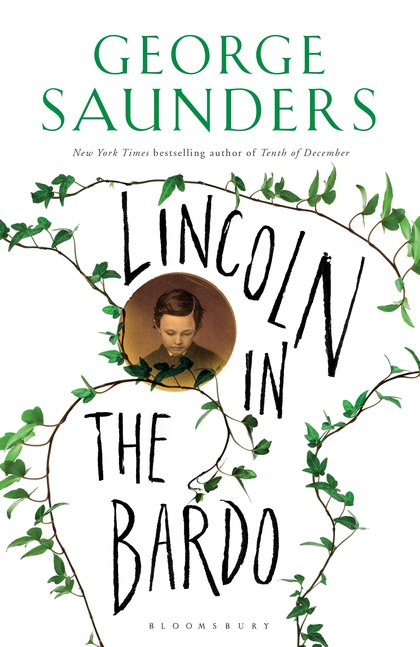 Lincoln in the Bardo
The extraordinary first novel by the bestselling, Folio Prize-winning, National Book Award-shortlisted George Saunders, about Abraham Lincoln and the death of his eleven year old son, Willie, at the dawn of the Civil War.
The American Civil War rages while President Lincoln's beloved eleven-year-old son lies gravely ill. In a matter of days, Willie dies and is laid to rest in a Georgetown cemetery. Newspapers report that a grief-stricken Lincoln returns to the crypt several times alone to hold his boy's body. From this seed of historical truth, George Saunders spins an unforgettable story of familial love and loss that breaks free...
About the Contributor