2017 Man Booker longlistee Sebastian Barry returns with a sensational new novel set in mid-19th Century America, an intensely poignant story of two men and the lives they are dealt. The judges have called Days Without End "a tour de force of narrative voice", and thought it to be "pitch perfect, sentence by sentence". It was also admired for its "hallucinatory descriptions of warfare" and "powerful evocations of landscape".
This would be the fourth time Barry is longlisted for the prestigious Man Booker award. In 2016, Days Without End won the Costa Book of the Year Award. He has previously also won the Kerry Group Irish Fiction Prize, the Irish Book Awards Best Novel, the Independent Booksellers Prize and the James Tait Black Memorial Prize. He now answers Booktopia's Six Sharp Questions.
1.    Congratulations, you have a new book. What is it about and what does it mean to you?        
It's about genocide, nation building, war, armies, slaughter, necessity, exigency, hunger, and love. It was published ten months ago and its reception has been restoring, life-affirming and unexpected.
2.    Time passes. Things change. What are the best moments that you have experienced in the past year or so?
My daughter getting her dream job as MMA and Boxing reporter for Metro Online in London. Then the six months my wife and I spent in London pretending we hadn't followed her there. The night of the Costa Awards and then the Walter Scott Prize. Very exciting. The unexpected phonecall received along a back road in Wicklow from my editor to say we were on the Booker Longlist for the fourth time. Joyful.
3.    Do you have a favourite quote or passage you would be happy to share with us? It doesn't need to be deep but it would be great if it meant something to you.
My mother's advice when we were children was to 'lie, steal and listen at doors'. She was joking. I think. Writers call this 'research'.
4.    Writers have often been described as being difficult to live with. Do you conform to the stereotype or defy it? Please tell us a little about the day to day of your writing life.
Impossible to live with. It is probably an artform. My wife and children have been trying to perfect it. Unfortunately the subject of their efforts is changeable, irascible and wellnigh ridiculous. I work day and night when I have some object in view because I do oftentimes love writing. Then long periods of so-called 'reading' for which you may substitute 'waiting' or 'panicking'.
5.    Some writers claim not to be influenced by the needs of the marketplace, while others seem obsessed by it. How does the marketplace affect your writing?
I have been working fulltime for forty years (and so much has changed I am sure), but I am not quite clever enough to identify markets and have to ignore all that and go on blindly and in good faith.
6.    Unlikely Scenario: You've been charged with civilising twenty ill-educated adolescents but you may take only five books with you. What do you take and why?
Hmm. I confess I don't know how to answer this. I'm not sure I believe in civilising exactly. It has a bad history in Ireland and elsewhere (see answer 1). I would be very happy to get five book recommendations from them though.
Thank you, Sebastian!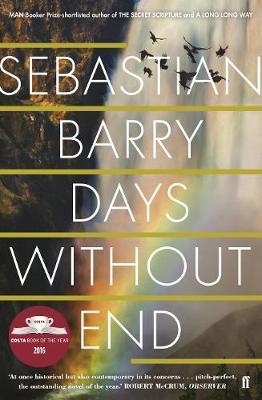 Days Without End
Twice Booker-shortlisted author Sebastian Barry returns with a sensational new novel set in mid-19th Century America, an intensely poignant story of two men and the lives they are dealt.
Having signed up for the US army in the 1850s, aged barely seventeen, Thomas McNulty and his brother-in-arms, John Cole, go on to fight in the Indian wars and, ultimately, the Civil War. Orphans of terrible hardships themselves, they find these days to be vivid and alive, despite the horrors they both see and are complicit in....
About the Contributor
Anastasia Hadjidemetri is the former editor of The Booktopian and star of Booktopia's weekly YouTube show, Booked with Anastasia. A big reader and lover of books, Anastasia relishes the opportunity to bring you all the latest news from the world of books.