Take Three Girls is a collaboration between award-winning, internationally published authors Cath Crowley, Simmone Howell and Fiona Wood. With its themes of friendship, feminism, identity and belonging, it is honest, raw and funny – a novel that will strike a chord with young readers everywhere.
The authors now answers the Booktopia Book Guru's Ten Terrifying Questions.
1. To begin with why don't you tell us a little bit about yourself – where were you born? Raised? Schooled?
FIONA: Born, raised, school, university – all in Melbourne.
CATH: Born in Melbourne, raised in Latrobe Valley.
SIMMONE: Born Box Hill. Raised Ringwood. Schooled Ringwood, Kew, Hawthorn, Carlton and Burwood. All over the suburbs, me.
2. What did you want to be when you were twelve, eighteen and thirty? And why?
CATH: When I was twelve I had no idea what I wanted to be. But I imagined myself in an office with huge glass windows, overlooking the city.
FIONA: At eighteen I was studying Arts/Law at Melbourne University without a clue what I wanted to do with my life from any point of view.
SIMMONE: When I was 30 I wanted to be a writer. And I was, but not exactly how I dreamed it. Although I was working really hard on short stories and screenplays my day-job was writing advertorials for a dodgy subscription newspaper. It taught me how to be brief, and how to find the right angle. It made me a bit obsessed about pagination.
3. What strongly held belief did you have at eighteen that you do not have now?

CATH: I thought there were things I knew for certain. Now I'm certain I don't know much of anything at all.
SIMMONE: That anyone over 40 was not worth my attention.
4. What were three big events – in the family circle or on the world stage or in your reading life, for example – you can now say, had a great effect on you and influenced you in your career path?
SIMMONE: Ghost World by Daniel Clowes. Foxfire by Joyce Carol Oates. Joseph Cornells' collage and assemblage.
5. Considering the innumerable electronic media avenues open to you – blogs, online newspapers, TV, radio, etc – why have you chosen to write a book?
FIONA: I love reading fiction, and I love writing fiction. It's hard to imagine any other work that could be as engrossing and addictive and frustrating and satisfying as writing a novel.
CATH: I couldn't draw. Plus, yes, exactly what Fiona said. Writing is addictive. It's what I think about as soon as I wake.
SIMMONE: I'm interested in many forms of writing and making, but the lure of the novel is that I can have this whole other world in my head – the challenge of transferring it from head to paper is a kind of agonising fun.
6. Please tell us about your latest book…
CATH (stealing from Fiona): Take Three Girls was so much fun to write. We each created and wrote a character, and we plotted the story together. It's entertaining and also gives readers plenty to chew on, covering thematic areas such as first love, friendship, feminism and online bullying.
7. If your work could change one thing in this world – what would it be?
FIONA: Some ideas about how we find and make friends; how we navigate new relationships; and how we treat each other as humans, even in an anonymous online realm.
SIMMONE: That everyone has a voice and we shouldn't be afraid to speak up when things are making us unhappy.
8. Whom do you most admire and why?
SIMMONE: So many people! I love Rebecca Solnit's essays about place. I love the way Ali Smith writes about art and memory. Melina Marchetta and Sonya Hartnett both write books that stay with me.
9. Many people set themselves very ambitious goals. What are yours?
CATH: I want to write another novel. I'm so exhausted after I finish one, setting myself the goal to write another feels incredibly ambitious.
SIMMONE: I'm just taking it one book, zine, script, poem, essay, collage, manifesto at a time.
10. What advice do you give aspiring writers?
FIONA: Be a hungry reader. Forgive yourself dreadful first drafts (we all write them). Don't compare yourself to other writers – keep looking for the truest you.
CATH: Write every chance you get. Observe the world. Keep a journal. Be curious. And be kind to yourself – as Fiona writes, forgive yourself those first drafts.
SIMMONE: Leave your desk. Be part of the world. Never go to Officeworks as a form of procrastination.
Thank you for playing!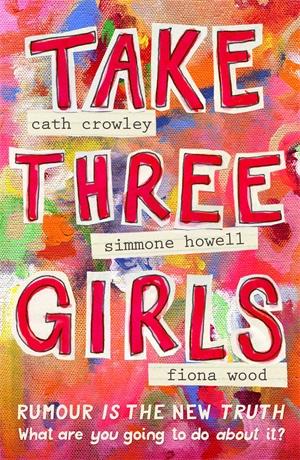 Take Three Girls
ADY - not the confident A-Lister she appears to be.
KATE - brainy boarder taking risks to pursue the music she loves.
CLEM - disenchanted swim-star losing her heart to the wrong boy.
All are targeted by PSST, a toxic website that deals in gossip and lies. St Hilda's antidote to the cyber-bullying? The Year 10 Wellness program. Nice try - but sometimes all it takes is three girls. Exploring friendship, feminism, identity and belonging. Take Three Girls is honest, raw and funny...
About the Contributor
Anastasia Hadjidemetri is the former editor of The Booktopian and star of Booktopia's weekly YouTube show, Booked with Anastasia. A big reader and lover of books, Anastasia relishes the opportunity to bring you all the latest news from the world of books.