Stephen King has called him "an absolute master." Val McDermid has praised his work as "heart-stopping and heart-breaking." Linwood Barclay has commented that he "doesn't just make me scared for his characters, he makes my heart ache for them." Who are these bestselling crime and thriller authors talking about?
Australia's very own Michael Robotham. That's who.
Fun fact: Robotham beat Stephen King and J.K. Rowling to win the Crime Writers' Association Gold Dagger Award for best crime novel in 2015!
The Secrets She Keeps is Robotham's latest psychological thriller about Agatha and Meghan. Booktopia's very own Sarah McDuling and Ben Hunter review this new book below. Have a read and see what you think.
Pre-order your SIGNED COPY of The Secrets She Keeps here!
---
Review by Sarah McDuling

---
It's been a long time between reads for all the rabid Michael Robotham fans out there (myself included). We haven't had a new Robotham book since Close Your Eyes in 2015. Fortunately, The Secrets She Keeps is such stunning thriller that I can say with absolute honestly… it was well worth the wait!
This is the story of two pregnant women from very different walks of life. Both are struggling with family problems. Each has a secret they are trying to keep, and each is desperate to prevent the truth from destroying their happiness.
Meg lives in a picture-perfect world of domestic bliss, wealth and privilege. She's beautiful, talented, and has a handsome husband, two gorgeous children and a third bundle of joy on the way. She also runs a popular "mummy blog" where she writes endearingly funny stories about the trials of motherhood.
Meanwhile, Agatha has a job stacking shelves in a supermarket. She has a creepy boss, an estranged mother and a much younger ex-boyfriend/baby-daddy who is not overly pleased about becoming a father. She's haunted by a troubled past but hopeful for a happy future. She's also in the habit of watching Meg – admiring and envying her from afar.
When Meg and Agatha meet, their lives become entwined in ways both unexpected and dangerous. At the same time, the secrets they are trying so hard to keep hidden begin to unravel at an alarming rate …
The Secrets She Keeps is another absolute cracker from Michael Robotham, certain to please longtime fans and newcomers alike. This riveting standalone psychological thriller not only kept me on tenterhooks as I frantically turned pages, it also played merry havoc with my emotions. A deeply compelling and thoroughly addictive read!



---
Review by Ben Hunter

---
Unlike some of my fellow Booktopians, I'm not a voracious devourer of crime books. Bad ones bore me and the good ones keep me up in cold sweats. When a protagonist I like is in mortal danger, you'll find me rocking backwards and forwards in a chair muttering swears to myself over and over as I race through the pages.
I knew Robotham had to be good, but I didn't know just how good. The Secrets She Keeps presents two flawed women facing pregnancy with all kinds of conundrums in their lives. I really can't go into any detail, but I can say it wasn't long before I was cheering these women on as they did the most atrocious things to protect their children-to-be from real peril.
The ease with which this book puts its hooks into you, and the ferocity at which it ramps up the stakes, is enough to bring even the most adverse reader into the Church of Robo. Hallelujah!
Discover Michael Robotham's books here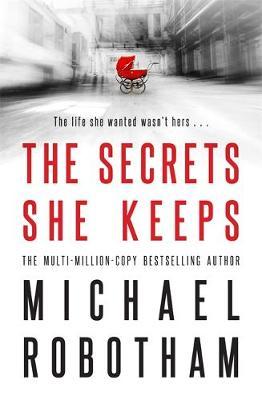 The Secrets She Keeps
Everyone has an idea of what their perfect life is. For Agatha, it's Meghan Shaughnessy's. These two women from vastly different backgrounds have one thing in common - a dangerous secret that could destroy everything they hold dear.
Both will risk everything to hide the truth, but their worlds are about to collide in a shocking act that cannot be undone. The Secrets She Keeps is a compelling psychological thriller that delves deeply into the psyche of the human mind, by internationally bestselling author Michael Robotham....
About the Contributor
Anastasia Hadjidemetri is the former editor of The Booktopian and star of Booktopia's weekly YouTube show, Booked with Anastasia. A big reader and lover of books, Anastasia relishes the opportunity to bring you all the latest news from the world of books.