One of Australia's favourite novelists – Kate Forsyth, author of The Impossible Quest, Bitter Greens, The Wild Girl and The Beast's Garden – continues her blog with us, giving her verdict on the best books she read over August and September.
---
Kate Forsyth's Reviews

---
Gillespie & I
by Jane Harris
I loved Jane Harris's debut novel The Observations, which was told in the tough, humorous voice of a young Irish serving-maid, Bessy. It was a tour-de-force of ventriloquism, and a real page-turner. So I was interested to see what Jane Harris would do next.
Gillespie & I, her second novel, is very different. The narrator, Harriet Baxter, is a plain and rather nosy spinster who becomes embroiled in the life of a young artist and his family in Glasgow in 1888. Her tone is wry and self-deprecating, and yet there are darker shadows beneath the narrative – hints of mysteries and tragedies and misunderstandings – that slowly build until we no longer know whether or not Harriet's view of events is can be trusted at all. Once again, the voice is utterly compelling and the desire to know the truth of what is happening drives the suspense of the deftly handled plot. In the end, it is a darker more heart-rending book than The Observations, but one that stayed with me for a long time afterwards.
Learn more about Gillespie & I 
---
The Mothers
by Rod Jones
The Mothers tells the stories of three generations of women in Footscray, a working-class suburb of Melbourne. Each of them struggle to survive hard times. Each is vulnerable yet strong; they all make mistakes and yet try to be good mothers.
The first narrative strand is set during the last years of the First World War. Alma has left her husband but has nowhere to go. She and her children find refuge with a kind-hearted woman, and Alma finds comfort in the arms of her benefactor's son. However, when Alma becomes pregnant, her troubles start all over again. Her daughter Molly needs to be kept secret, and when Alma cannot afford to support her anymore, she is sent to a foundling home.
The second narrative thread is that of Anna in the 1950s. A country girl, she is seduced by her boyfriend and finds herself in a home for unwed mothers in Melbourne. Despite her determination to keep her baby, her parents refuse to support her and her baby is taken from her.
The final thread takes place in the 1970s, amidst the political turmoil of the dismissal of the Whitlam government. Cathy and her boyfriend David do not believe in marriage, but when she finds out she is pregnant she finds herself in a quandary, and under pressure from her father.
The three narrative threads are woven together in interesting ways, and it is fascinating to see how attitudes towards women change (and yet in many ways do not change) over fifty years. Rod Jones has said that he began the book as a memoir of his own life, and that of the women in his family, but decided to shrug off the shackles of fact so that he could invent more freely and so explore the deeper issues of the story. The knowledge that the book was inspired by real-life women deepens the sense of poignancy and verisimilitude, and makes it a very moving testament to the strength of these women.
---
The Midnight Watch
by David Dyer
Like many people, I have always been interested in the story of the Titanic. But my interest never reached the obsessive proportions of David Dyer, who first wrote a story about it when he was in primary school and used to prop up two of the legs of his bed so that he slept at a tilt, as if he was on board a sinking ship.
The Midnight Watch is the result of this lifelong fascination, and it illuminates the tragedy in an entirely new and original way. It is not so much the story of the ill-fated Titanic, but of the ship that watched her sink and did nothing to help.
The Titanic hit an iceberg late in the evening of April 14, 1912, and fired eight distress rockets into the starlit sky. Second Officer Herbert Stone, in charge of the midnight watch on the SS Californian sitting only a few miles north, saw the distress rockets and alerted the captain, Stanley Lord, who was asleep in the chartroom below. Lord did not come to the bridge, or give any orders to help the sinking ship, despite several more attempts to inform him of the signals. The next morning, the Titanic had sunk to the bottom of the sea and more than 1,500 people were dead.
I knew nothing about the SS Californian, despite the many books I have read about the tragedy (and of course, watching the famous movie with Leonardo di Caprio and Kate Winslet countless times). It seems incomprehensible that anyone could have ignored those eight distress signals. However, by the end of David Dyer's book I felt I understood how such a terrible thing could have happened. The Midnight Watch is powerful, compelling, and utterly illuminating – a must-read for anyone with even the slightest interest in the tragedy of the Titanic.
Learn more about The Midnight Watch
---
Hexenhaus
by Nikki McWatters
Nikki McWatters and I share two nephews, though we have never met. So when my sister-in-law told me that her other sister-in-law was writing a novel for young adults inspired by witch-hunts through history, I was intrigued. Tell her to send me a copy, I said. I'm very glad that I did. Hexenhaus is a gripping story of three different young women at different times of history who all find themselves persecuted in some way for witchcraft.
Veronica lives in Bamburg in what is now Germany in 1628. Katherine lives in Scotland in 1696. Paisley lives in Bundadoon, Australia, in the present-day. They are linked by a kind of pagan sisterhood, with their names inscribed in an ancient book called the Systir Saga. All three suffer witch-hunt hysteria, with the first two inspired by real-life events in Germany and Scotland.
Told in short yet evocative alternating chapters, the story follows each character's struggle to escape the narrow-mindedness and cruelty of the societies in which they live. Aimed squarely for a teenage audience, the novel moves swiftly and yet does not shy away from depicting some of the horror of the historical witch-hunt. The modern-day narrative helps ground the story in the here-and-now, showing that prejudice and intolerance to other people's belief systems still causes harm today.
I gave Nikki an endorsement for the front cover: 'A riveting novel inspired by the true history of witchcraft and witch-hunts. Unputdownable.'
---
The Signature of All Things
by Elizabeth Gilbert
Somehow I never got caught up in the Eat, Pray, Love fervour – I was busy and it just didn't sound like my kind of book. Then I met Elizabeth Gilbert at the Perth Writers Festival and she was very warm and personable. Quite a long time later, I asked the twitter-sphere for the most inspiring book on writing or creativity that they had read that year, and dozens of people named Elizabeth Gilbert's Big Magic. One lovely reader even sent me their copy. So I read Big Magic and liked it a lot. After I blogged about it, a lot of people said to me, 'oh you must read The Signature of All Things. You'll love it.'
So I did read it and they were all right. I loved it.
Such a wonderful book! It's big and deep and clever and wise, telling the story of a brilliant and unconventional woman in the early 19th century. Alma Whittaker was the daughter of the self-made millionaire Henry Whittaker, who made his fortune in the quinine trade. She is fascinated by botany, and studies on her own, developing a theory of evolution very like that of her contemporary Charles Darwin. Tortured by unfulfilled desire, angered by the society in which she lives, Alma refuses to be anything but herself – and the resulting story is utterly original and captivating.
One of the best books I've read in a long time.
Learn more about The Signature Of All Things
---
Enemy: A Daughter's Story
by Ruth Clare
I met Ruth Clare at the Brisbane Writer's Festival, and was so intrigued by her story I bought her book – a memoir of growing up with a brutal and domineering father who had been damaged by his experiences in the Vietnam war. I've always been interested in the way violence done to one generation can warp and cripple the generations to follow, and the difficulties in breaking the cycles of harm. Ruth Clare's memoir is a searing indictment of the shadow cast by the Vietnam war, and a timely reminder of the imperative to learn from the mistakes of the past.
The most poignant aspect of the novel, for me, was the way Ruth Clare's mother was broken by her husband's violence … and the fact that Ruth herself was able to survive and heal, and build a new life for herself. A powerful and heart-rending memoir, told with grace and empathy.
Learn more about Enemy: A Daughter's Story
---
A Woman on the Edge of Time: A Son's Search for his Mother
by Kristin Hannah
In 1965, in Primrose Hill, London, a beautiful and passionate young woman gasses herself to death, leaving behind two small children and an about-to-be-published manuscript of her life's work…
The woman is Hannah Gavron, and her death is eerily similar to that of Sylvia Plath who killed herself two years earlier and only two streets away.
Jeremy Gavron, Hannah's son, was only four when she died and has no memory of her. She was always an aching presence in his life, however, as absences so often are. He wondered about her, but could never talk about it to his father or his brother. When his brother died, however, Jeremy Gavron was so overwhelmed with pain he realised that he was also grieving for his mother. A few months later, Sylvia Plath's son Nicholas Hughes committed suicide. The similarities between his own life and that of Nicholas Hughes chilled him, and he set out to try and solve the mystery of his mother's death.
A Woman on the Edge of Time is therefore a memoir of a woman the author could not remember, an autobiography which reveals little about the author's life, a true-life detective story about a death in which the murderer was always known. It is also an utterly brilliant book about a woman who could not break out of the cage of her time.
Learn more about The Nightingale
---
The Good People 
by Hannah Kent
Like so many others, I loved Hannah Kent's debut novel Burial Rites and so I was excited to be sent a proof copy of her second novel, The Good People. In her letter to readers included at the front of the book, Hannah described herself as 'someone who – as my friends describe it – writes books about dark happenings in cold places'; a description that gave me a little shiver of anticipation. She did not disappoint me.
The Good People is set in the Irish countryside in 1825, and begins with the death of a man. His body is found at the crossroads, a place of superstition and danger. His widow Nora, knocked sideways with grief, nonetheless takes care to send her grandson away for the day. She does not want her neighbours to see him and speculate about him. For all is not well with her grandson Micheal. Nora fears he is a changeling child, given to her by the Good People who have stolen her real grandson. Micheal is four years old, but he cannot walk or talk. He screams all the time.
Unable to cope, Nora hires a girl to help her … and turns to the local wise woman, Nance, for advice. These three women must struggle to find a way to deal with the changeling child, at a time when long-held superstitions are being shaken by new scientific and rational thinking.
Dark, poetic, and intense, The Good People is a fascinating and atmospheric tale of the ancient fairy lore of Ireland and how it shaped the people who believed it. One of my best reads of 2016.
Learn more about The Good People
---
The Suspect
by Michael Rowbotham
I bought this book for my brother's birthday and then borrowed it from him. It's the first in Michael Rowbotham's bestselling contemporary thrillers featuring psychologist, Joseph O'Loughlin. I've read the third in the series, Shatter, and reviewed it thus: 'Chilling, powerful and superbly written. Highly recommended for the brave.' I've been wanting to read the rest of the series ever since, and so naturally decided to start with the first.
Michael Rowbotham deserves every prize and accolade he's ever won. The Suspect was just nail-bitingly suspenseful and surprising as you could wish for. Brilliantly constructed and executed, I was kept guessing right up to the very end. Joseph O'Loughlin is a brilliant character – flawed and yet empathetic, he has just been diagnosed with Parkinson's Disease, and so is struggling with his own body as much as with the murderer who seems to know his every move. Engrossing stuff.
---
The Leopard
by Jo Nesbo
I've heard a great deal about Jo Nesbo and similar Nordic-noir crime novels, but have not yet read any. So I borrowed The Leopard from my brother, and so was drawn into the dark, cold and sinister world of Harry Hole, Norwegian detective and alcoholic. There are dead women, murdered in horrible ways, secrets and betrayals galore, and lots of unexpected twists. It's a big book, but the pace never flags. I do wish, though, that I had read earlier books as there are lots of references to past characters and cases (in particular, the previous book The Snowman.) So I might have to track down the first book in the series!
---
Kate Forsyth
Kate Forsyth is the bestselling and award-winning author of more than twenty books, ranging from picture books to poetry to novels for both children and adults.
She was recently voted one of Australia's Favourite Novelists. She has been called one of 'the finest writers of this generation', and 'quite possibly … one of the best story tellers of our modern age.'
Kate's books have been published in 14 countries around the world, including the UK, the US, Russia, Germany, Japan, Turkey, Spain, Italy, Poland and Slovenia.
Visit Kate Forsyth's Booktopia author page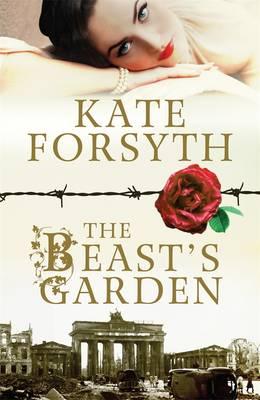 The Beast's Garden
'Ava fell in love the night the Nazis first showed their true nature to the world …'
A retelling of the Grimms' Beauty and The Beast, set in Nazi Germany.
It's August 1939 in Germany, and Ava's world is in turmoil. To save her father, she must marry a young Nazi officer, Leo von Löwenstein, who works for Hitler's spy chief in Berlin. However, she hates and fears the brutal Nazi regime, and finds herself compelled to stand against it.
Ava joins an underground resistance movement that seeks to help victims survive the horrors of the German war machine. But she must live a double life, hiding her true feelings from her husband, even as she falls in love with him.
Gradually she comes to realise that Leo is part of a dangerous conspiracy to assassinate Hitler. As Berlin is bombed into ruins, the Gestapo ruthlessly hunt down all resistance and Ava finds herself living hand-to-mouth in the rubble of the shell-shocked city. Both her life and Leo's hang in the balance.
Filled with danger, intrigue and romance, The Beast's Garden, a retelling of the Grimm brothers' 'Beauty and The Beast', is a beautiful, compelling love story set in a time when the world seemed on the brink of collapse.
About the Contributor