It's decided.
After watching Fantastic Beasts and Where To Find Them, I'm quitting my job at Booktopia to become a Magizoologist.
Forget a life of books and music, I need nifflers and demiguises in my life, and I need them now.
Newt Scamander, you are #goals.
I cannot contain my excitement over this film, and without any spoilers, I'm here to tell you the do's and don'ts of Fantastic Beasts and Where To Find Them:
• Do watch this film. The cinematography and graphics are incredible, and from the moment I heard Hedwig's theme in the opening sequence, I was hypnotised. Talk about feelings that come rushing back. The Wizarding World never does fail to feel like home. This film is the perfect mix of nostalgia for the Harry Potter fans, but also requires no previous knowledge for the muggles amongst us.
• Do buy the screenplay, whether it's before or after watching the film. It's gorgeous and a must have for all fans. I'm swooning already, and although the Fantastic Beasts film is heavily visual, it's a long time until the DVD will be available and you should be able to read about Newt whenever you like! Also, what kind of collector are you without it?!
• Do take the passion you will have for saving all magical endangered species that you learn about and translate it into the muggle world. We need more Newt Scamander's in this world, and adopting a rescue pet or educating yourself on an endangered species and becoming an advocate is a great way to continue the magic until the next film.
• Don't expect this film to be Harry Potter. Yes, it is a prequel. Yes they are playing Hedwig's theme at the beginning of the film (aka the Harry Potter theme song). But Harry isn't born until almost 54 years after this film is set.
• Do expect four more sequel films. Continuation? Yes please! This film has been set up for the next four sequels perfectly. Expect Dumbledore's arrival in the next film, and a greater understanding of his relationship with Grindelwald.
• Don't think twice about watching it. Honestly, I didn't get excited until I was in that cinema at midnight and I am so glad I did that screening. It's over 24 hours later and I'm still completely enchanted.
• Don't stop believing in the magic.
With its visually stunning depiction of New York in the 1920s, this film is still a sharp commentary on the state of the world we live in today . Even more than that, Fantastic Beasts is a timely reminder from J.K. Rowling – "We've all got both light and dark inside us. What matters is the part we choose to act on. That's who we really are."
Buy the screenplay, watch the film, read the textbook – you will fall in love with the magic in a whole new way. Plus, if you're anything like me, you will leave the cinema with a burning desire to capture your very own magical suitcase of creatures!**
This slideshow requires JavaScript.
**Please note that Booktopia does not endorse in any way or form capturing animals in suitcases, unless they are enchanted with suitable housing.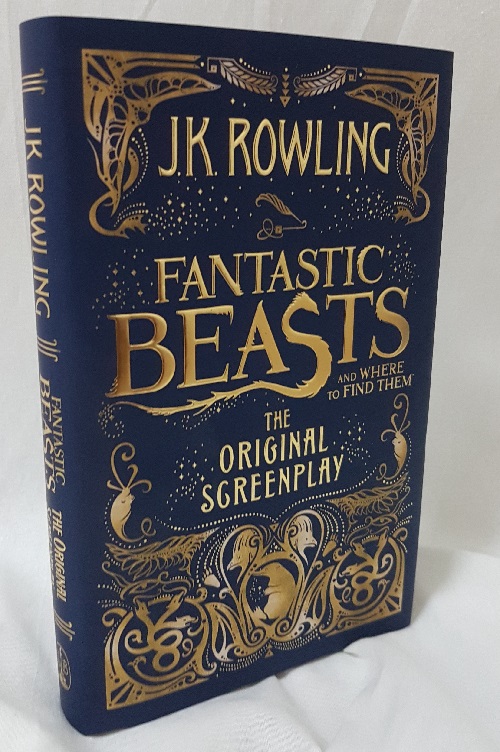 Fantastic Beasts and Where to Find Them
The Original Screenplay
When Magizoologist Newt Scamander arrives in New York, he intends his stay to be just a brief stopover. However, when his magical case is misplaced and some of Newt's fantastic beasts escape, it spells trouble for everyone . . .
Inspired by the original Hogwart's textbook by Newt Scamander, Fantastic Beasts and Where to Find Them: The Original screenplay marks the screenwriting debut of J.K. Rowling, author of the beloved and internationally bestselling Harry Potter books. A feat of imagination and featuring a cast of remarkable characters and magical creatures, this is epic adventure-packed storytelling at its very best.
Whether an existing fan or new to the wizarding world, this is a perfect addition for any film lover or reader's bookshelf.
About the Contributor
Emily is Booktopia's resident eBook Merchandiser and music nerd. Obsessed with all things Harry Potter, dogs, biographical and digital; she occasionally talks too much and worked in customer service in a previous Booktopian life. When she's not obsessing over one of her many loves, she's out taking photos or trying to write self-deprecatingly witty things.