The Booktopia Book Guru asks
Christine Clais
author of French Complexion
Ten Terrifying Questions
____________
To begin with why don't you tell us a little bit about yourself – where were you born? Raised? Schooled?
I am a facialist and skincare expert.
I was born and raised in the North of France.
I'm also known as The French Facialist.
I currently live in Melbourne, Australia.
My skincare philosophy is simple: to look healthier and younger, treat your skin as a living organ within its own ecosystem.
What did you want to be when you were twelve, eighteen and thirty? And why?
At 12, I wanted to be a 'majorette' (the French equivalent of a baton twirler). I liked the sparkly uniform and the idea of performing in parades accompanied by an orchestra. My parents didn't share my enthusiasm!
At 18, I had no idea what I wanted to be, so I left France and worked as an au pair in England as a way to improve my English. It ended up being a great idea as this helped me land a job as a long-haul flight attendant for Air France.
At 30, I decided to study Health Science to become a qualified facialist. I have never looked back: 20-odd years later, I am still as passionate about skin and my work.
What strongly held belief did you have at eighteen that you do not have now?

At 18, I (naively) believed that I knew better than my parents.
What were three big events – in the family circle or on the world stage or in your reading life, for example – you can now say, had a great effect on you and influenced you in your career path?
My fascination with skin and skincare began as a young girl under the wonderful influence of Bonne Maman, my paternal grandmother. I remember Bonne Maman telling me about the benefits of using rainwater to cleanse your skin.
I have vivid memories of the creams that she used. I was mesmerised by the magic of those pots elegantly displayed in my grandparents' salle de bain (bathroom). I can still clearly recall how they looked: light pink and translucent white jars with luxurious gold lids. Sometimes, I would be allowed to take one home with me. The ultimate treat! To me, it did not matter that they were nearly empty: they were the best presents I could get. I would then try to emulate Bonne Maman's beauty rituals at home.
I also recall my first visit to a beauty salon. It was in Saint-Omer in the north of France, where I grew up. I was 15 and Maman, my loving mother, decided it was time I experienced my first nettoyage de peau (deep cleansing facial) as my skin was going through the typical teenage pimply stage. There I was like a grown-up, proudly lying on a facial bed as the expert hands of Madame Dumont cleansed, exfoliated and massaged my skin. I was sent home with a few products and my skin quickly cleared.
While these early experiences ignited my interest in skincare, it wasn't until I started working as a long-haul flight attendant for Air France (before migrating to Australia 26 years ago) that I started to take a more serious interest in facial products and treatments. I wanted to look for solutions to treat my own very dehydrated, frequent-flying skin.
Considering the innumerable electronic media avenues open to you – blogs, online newspapers, TV, radio, etc – why have you chosen to write a book? Aren't they obsolete?
While I love online media platforms, there is a special beauty in 'real' books. I wanted to create a tangible book that you can hold in your hands and refer to from time-to-time. Because my book is beautifully illustrated, it looks great on a coffee table too.
Please tell us about your book…
French Complexion is a practical book on how to care for your skin. With French Complexion, my aim is to show the reader how to obtain and maintain skin that radiates good health and vigour at any age.
In my book, I detail my holistic skincare philosophy which is based on more than 20 years of professional hands-on experience as well as French culture that I have grown up with. It is packed with expert skincare tips, French beauty secrets and product recommendations.
If your work could change one thing in this world – what would it be?
I hope that my book makes women realise that in order to age well, skin needs to be treated with tender loving care every day. This includes avoiding harsh treatment and products.
Whom do you most admire and why?
I would say Oprah. She is such an inspirational woman who has achieved so much despite all the odds stacked against her during her younger years.
Many people set themselves very ambitious goals. What are yours?
My goals are simple: to be happy, have harmonious relationships and keep doing what I love, i.e. caring for people's skin and writing another book.
What advice do you give aspiring writers?
If you feel like writing, believe in yourself and go for it, get your message out!
Thank you for playing, Christine!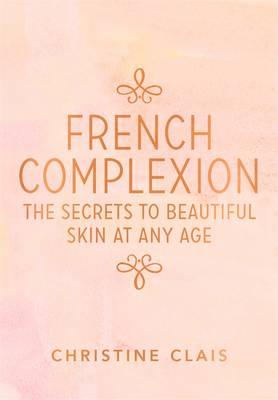 French Complexion
The secrets to fabulous skin by French facialist and skincare expert Christine Clais.
French women have always been very serious about their skin. From a young age - following their mothers' and grandmothers' advice - they establish good skincare routines and rituals. In French Complexion, Christine Clais presents her unique skincare philosophy based on more than twenty years of hands-on professional experience and the beauty secrets of her countrywomen. Through easy-to-follow expert tips, product recommendations and French beauty insights, Clais guides women through the stages of their lives and shows how to have healthy, glowing skin at any age.
This is the perfect resource for all women wanting to learn about their skin's needs, improve their complexion and delay skin ageing without resorting to surgery.
About the Contributor
Anastasia Hadjidemetri is the former editor of The Booktopian and star of Booktopia's weekly YouTube show, Booked with Anastasia. A big reader and lover of books, Anastasia relishes the opportunity to bring you all the latest news from the world of books.