Guest Blog: Cath Ferla
When I was a kid my favourit
e meal was caterpillars.
This was the name for the sticky soy-and-honey glazed lamb ribs my mum liked to slow bake in the oven. The dinner menu in my 1980s childhood home was eclectic. While other kids I knew ate eggs on toast and sausages with frozen 'three-vegetable mix', our family feasted on internationally-inspired dishes: stir fries and curries, pilaffs and poppadoms, summer puddings, falafel, ratatouille and, always, an assortment of condiments: mustard, chilli, mint sauce, mango chutney, yoghurt raita and whole peppercorns generously ground.
Yes, I was also subjected to brains in white sauce and the dreaded 'lamb's fry'. Some memories are not so fond.
My interest in food began early and has stayed with me. When I travel I like to absorb culture through food. I associate New Zealand with the ubiquitous Scottish-influenced 'slice' (a dozen varieties of this flat, sweet biscuit can be found in every small town bakery. I don't know who eats all that slice but there's a lot of it); Argentina with dulce de leche and morcilla; Thailand with a tangle of tamarind, pomelo, green peppercorns and holy basil; and China with food memories and experiences beyond measure.
I threaded food through Ghost Girls for several reasons.
Firstly, I have a very strong connection to food in all its forms: growing it, purchasing it in its whole state, cooking and processing it, eating it, photographing it, discussing it. I find that food sews many of my memories together. It connects me to people and it connects me very strongly to sense of place. It is part of me and part of my lived experience and it needed to operate strongly as a theme, almost a character of its own, in my first novel.
Secondly, because food is such an important part of Chinese culture, it was an essential element to help me fully bring to life this partly Chinese story. Everywhere you go in China you hear people discussing food – their dinner plans or a great dish they've tried at a restaurant or mastered in the kitchen. Meals are shared and celebrated, the best morsels reserved for guests and the most extravagant dishes ordered by the hosts on a night out.
It was in China (Nanjing) that I donned plastic gloves to eat simmered pork bones with a bunch of Dong-Bei (North-eastern) owner-chefs whose restaurant was closed for the Chinese New Year holiday. They invited me to eat
with them, in their closed shop, and it was both foul and greasy as well as succulent and amazing, including the bit where they provided me with a plastic straw so I could suck the marrow out of the bones.
It was also in China that I tasted the most delicious mushrooms I've ever eaten, offered up by a poor farming family who had never before seen a foreigner and whose home is now underwater. China gave me my firsts tastes of jellyfish, cubed blood, lotus root, moon cake, pickled green chillis, hot pot, pig's heart, candied winter fruits, dog, donkey and salted pumpkin seeds. I learnt and began to understand about the many different kinds of tea and I learnt lessons in both diversity (there is so much of this in China and its food is reflective of this) and also communal human identity (food brings people together.)
Finally, food operates in Ghost Girls as a device to blunt, ever so slightly, the dark edges of the story's subject matter. I've used it as a mechanism to both increase and release tension and to bring colour to what is otherwise a very black story.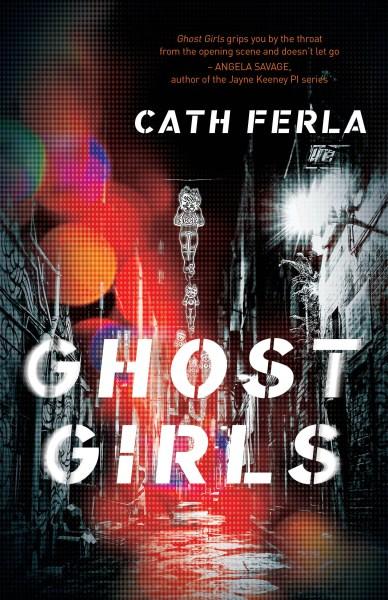 Ghost Girls
Winter in Sydney. The city is brimming with foreign students. Sophie Sandilands takes a job teaching at an English language school. When one of her students leaps to her death it becomes clear that lurking within the psyche of this community is a deep sense of despair and alienation. When it is revealed that the dead woman on the pavement has stolen another's identity, Sophie is drawn into the mystery.
Unable to resist the investigative instincts that run in her blood, Sophie finds herself unravelling a sinister operation that is trawling the foreign student market for its victims. But as Sophie works on tracking down the criminals it becomes evident that someone has knowledge of her and the disappearances in her own past. Will Sophie solve the mystery before she too becomes a ghost?
Ghost Girls richly evokes the sights, smells, tastes and sounds of Sydney's Chinatown, and imagines dark exploitative demands behind closed suburban doors.
About the Contributor