One of Australia's favourite novelists Kate Forsyth, author of The Impossible Quest, Bitter Greens, The Wild Girl and now The Beast's Garden, continues her monthly blog with us, giving her verdict on the books she read in February.
I'm hard at work writing a new novel, and so spending much of my reading time deep in research books. However, I always try and make time for reading for pleasure and so have read some great books this month. I hope you find something to enjoy here! – Kate Forsyth
---
Fingersmith
by Sarah Waters
Sarah Waters had been on my radar for a while, but I only read one of her books – Affinity – last year. I absolutely adored it, and am now working my way through all of her books. I asked friends which one I should read next and they all recommended Fingersmith, and so of course I ordered a copy straightaway. It was short-listed for the Orange Prize and the Booker Prize, and has been widely acclaimed, and all for very good reason. Fingersmith is one of the best books I have ever read.
Fiendishly clever and utterly suspenseful, it has one of the most unexpected twists I have ever read. I just loved the way the whole plot turned itself about, and how it was all resolved in the end.
Sarah Waters is without a doubt one of the most brilliant authors writing today, and Fingersmith has become one of my all-time favourite books. I'm still thinking about it and marvelling about it weeks later.
Learn more about Fingersmith here
---
The Alice Behind Wonderland
by Simon Winchester
On a summer's day in 1858, in a garden behind Christ Church College in Oxford, a shy and half-deaf mathematician named Charles Dodgson photographed six-year-old Alice Liddell, the daughter of the college dean, with his new camera. She was barefoot and dressed in rags, posing as a beggar-girl, and looks at the camera with a look of preternatural worldliness. Her dress has been pulled from her shoulder to show one small nipple.
Eight years later, Charles Dodgson became Lewis Carroll and his book Alice in Wonderland became a publishing sensation.
Simon Winchester has used this famous and troubling photograph as a launch pad for an exploration of the life and work of Lewis Carroll, his fascination with photography, and the ongoing speculation about the nature of his relationship with Alice Liddell. It's a fascinating account, beautifully written, and an excellent entry point for anyone interested in the story behind Alice in Wonderland.
Learn more about The Alice Behind Wonderland here
---
Summer Harvest
by Georgina Penney
A funny, romantic story with lots of heart, set in the Margaret River wine region and featuring engaging characters and light-hearted encounters.
Beth Poole is a Yorkshire lass who has had a rough time. Her Aussie-soap-loving grandmother gives her a ticket to Australia as a birthday present. Beth is terrified of snakes and spiders and sharks, and in fact, nearly everything. And her heart has been badly bruised in the past. However, the warm-hearted Hardy clan, who own the vineyard on which Beth stays, soon have her embroiled in all sorts of complications.
My only reservation about this engaging book is that about halfway through I began to realise that it was a follow-on from an earlier book by Georgina Penny called Fly In, Fly Out. I usually like to read books in order, and so I'd have liked to have done so here. However, the books clearly stand alone, and I look forward to picking up Fly In, Fly Out now that I've been charmed by the Hardy clan.
Learn more about Summer Harvest here
---
The Cater Street Hangman/Callander Square
by Anne Perry
I love a good Victorian murder mystery, and Anne Perry is the queen of the genre. Her books are full of brooding atmosphere and intriguing mysteries, and I particularly love this series, with the ugly but kind lower-class detective and his outspoken upper-class wife.
The Cater St Hangman is the first in the series, and introduces Inspector Pitt to Charlotte Ellison, when one of her family's maids is brutally murdered. The denouement is really very clever (though I guessed the murderer), and the romance is subtly done.
Callander Square is the second in the series, and sees Charlotte and her sister, Lady Emily, helping Inspector Pitt with the gruesome murder of two newborn babies.
The books are not very long, and swiftly paced, so it's possible to read one in a couple of hours. I have read the first few, but there are now 31 books in the whole series, and I plan to read them all. Watch this space.
Learn more about The Cater St Hangman here
---
The Curse of the Thirteenth Fey
by Jane Yolen
Jane Yolen is a wonderful writer of fantasy and historical fiction for young adults, and has a particular interest in fairy tales that has long drawn me to her work.
The Curse of the Thirteenth Fey is a reworking of the Sleeping Beauty tale, told from the point of view of the thirteenth fey (the one that cast the curse of death on the princess). It's written with a great deal of humour and charm, and all ends happily (even though the princess and her family are really not very nice people).
Learn about The Curse of the Thirteenth Fey here
---
Kate Forsyth
Kate Forsyth is the bestselling and award-winning author of more than twenty books, ranging from picture books to poetry to novels for both children and adults.
She was recently voted one of Australia's Favourite Novelists. She has been called one of 'the finest writers of this generation", and "quite possibly … one of the best story tellers of our modern age.'
Kate's books have been published in 14 countries around the world, including the UK, the US, Russia, Germany, Japan, Turkey, Spain, Italy, Poland and Slovenia.
Visit Kate Forsyth's Booktopia author page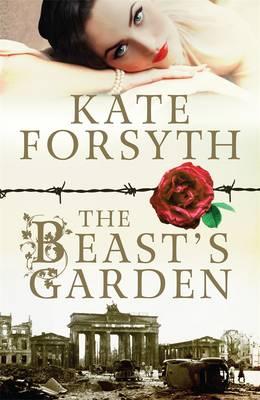 The Beast's Garden
A retelling of Beauty and The Beast set in Nazi Germany.
The Grimm Brothers published a beautiful version of the Beauty & the Beast tale called The Singing, Springing Lark in 1819. It combines the well-known story of a daughter who marries a beast in order to save her father with another key fairy tale motif, the search for the lost bridegroom.
In The Singing, Springing Lark, the daughter grows to love her beast but unwittingly betrays him and he is turned into a dove. She follows the trail of blood and white feathers he leaves behind him for seven years, and, when she loses the trail, seeks help from ...
About the Contributor