Scott Westerfeld's new book, Imposters, marks the beginning of a thrilling new quartet set in the same world of the bestselling Uglies series.
Read on for a Q&A with master storyteller Scott Westerfeld!
---
In Impostors, we're returning to the same universe of the Uglies quartet – but what's different about the world in this new series?
In the original series Tally says that "freedom has a way of destroying things." Impostors explores how right she was. Her revolution has made the world less stable and more complicated. And more dangerous.
What made you want to return to this universe?
I needed to find out more about what happened after the Mind Rain. I'd already explored some of the effects in Extras with its reputation economy. But Impostors takes place almost twenty years after the Mind Rain. It's about how revolutions can fail, and be betrayed. And how we all have to keep fighting, because freedom is never guaranteed.
Can you tell us about your character, Frey?
Frey was literally created to be her sister's body double—she's an identical twin raised to take her Rafi's place in dangerous situations. (Their father is a not very nice guy with a lot of power and a lot of enemies.) Impostors is about her finding an identity of her own out of the shadow of her glamorous sister and overpowering father.
Does Frey view her role as an human shield with contempt? What impact has growing up in this protective role had on Frey's identity?
Frey is proud of being her sister's protector. She is exultant when she saves her sister's life at the beginning of the book. Finally she is doing what she was born to do. But as the book begins, she's getting her first chance to live her own life. That opportunity changes everything.
'This new series is about all the expressions of human nature that've popped up after more than ten years of social upheaval.' Many of your books imagine strange, twisted futures – what fascinates you about looking into the future?
Writing the future is all about exploring the present. I take what I see around me and exaggerate it, as a way of laying bare what's going on around us. Of course, the present is already pretty exaggerated right now . . .
After collaborating with Margo Lanagan and Deborah Biancotti for the Zeroes trilogy, did it feel lonely to be back to writing novels flying solo?
It was a joy to be writing solo again . . . until I got stuck and didn't have a collaborator to turn to. However, I'm lucky because I live with another novelist. When we're writing first drafts we read a few chapters out loud to each other once a week or so. That way when either one of us is stuck, we can turn to the other to bounce ideas off etc. But I do miss outlining with Deborah and Margo.
Were there any books you read when you were younger that you think instigated your concerns with authority, or set you on the path of becoming a professional dealer of dystopias?
So many! But John Christophers' Tripods series was probably the biggest influence on the Uglies series. It even has an operation when you turn sixteen!
---
About the Author

---
Scott Westerfeld is best known as the author of the Uglies series, a number-one New York Times bestseller, and the Leviathan and Zeroes trilogies, both New York Times bestsellers. His standalone novels include So Yesterday, and Afterworlds.
His other works include the Midnighters trilogy, the Peeps and Risen Empire duologies, and the eponymous first book of the Horizon multi-platform series. His novels have won the Philip K Dick Special Citation, the Aurelius Award (twice), the Victorian Premier's Award, and have been named New York Times Notable Books and Best Books for Young Adults Top Ten Children's Books of the Year.
Scott co-wrote the Shay's Story Uglies-based graphic novels with Devin Grayson. He is also the author of the graphic novel Spill Zone, illustrated by Alex Puvilland.
He lives in Sydney and New York.

Click here to order your copy of Imposters by Scott Westerfeld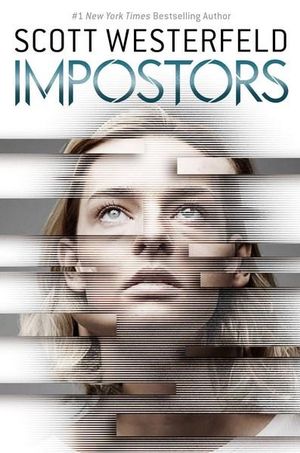 Imposters
From the bestselling author of the Uglies Series
In a world full of social and military tech, power struggles, dictatorships, surveillance, intrigue and the ever-present threat of treachery, Frey is sent on a potentially deadly mission. Impostors is the first book in a new quartet - a thrilling return to the world of the New York Times bestselling Uglies series.
Frey was raised to take a bullet.
She's the body double for her twin sister Rafia - the precious heir of the first family of Shreve - and her existence is a closely guarded secret. So while Rafi was schooled in poise and diplomacy, Frey was drilled in weapons and combat. Her purpose: to protect her sister from their tyrannical father's many enemies.
When Frey is sent in Rafi's place as collateral in a precarious business deal, she becomes the perfect impostor - as elegant and charming as her sister. But Col Palafox, the son of a rival leader, is getting close enough to spot the killer inside her. As layers of deceit peel away, can Frey become her own person, and risk everything in a rebellion?
About the Contributor