Jessica Friedmann is a writer and editor living in Canberra with her husband and son. She graduated from the University of Melbourne in 2010 with an Honours Thesis in Creative Writing, for which she won a R.G. Wilson Scholarship. Her bookshelves are increasingly overtaken by Agatha Christie novels.
Her debut book of essays, Things That Helped, is based on her experience with extreme and debilitating postpartum depression.
Jessica now answers the Booktopia Book Guru's Ten Terrifying Questions.
1. To begin with why don't you tell us a little bit about yourself – where were you born? Raised? Schooled?
I was born in Melbourne in 1987, and lived there up until a bit over a year ago. I'm still very homesick, especially for Balaclava and St Kilda East, which is where I lived for the last few years. I'm not practising, but living in the heart of Melbourne's Jewish community was something pretty special.
2. What did you want to be when you were twelve, eighteen and thirty? And why?
At twelve I wanted to be about a hundred different things, but one of them was always 'a writer'. At eighteen I was halfway through a degree in media and communications and wasn't really sure where I was going, but was just beginning to get involved with independent media and journals. And at thirty, where I am now, I feel pretty confident that writing is going to take up the bulk of my life.
I did very much want to be a doctor until I was about sixteen, when it became clear that my capacity for understanding the more complex mathematical concepts we were being taught was flagging. I write a lot about the body and I'm fascinated by the body's processes, its knowledges. I wish I had known of medical anthropology as a field as it would have suited me perfectly. But the nice thing about writing is that it gives you the freedom to pursue any line of inquiry that you want to, so I read a lot and don't feel like I'm missing out.
3. What strongly held belief did you have at eighteen that you do not have now?
When I was eighteen I really believed that to be involved in the arts, you should be able to do things at a professional level. I didn't want to be (or be considered) a dilettante; I wanted to be a serious, committed artist. It was an ambition but it was also a really unhealthy expression of perfectionism, which I've let go of to a degree. There's so much joy in being an enthusiastic amateur. I would never want to miss it now for fear of not being good enough.
 4. What were three big events – in the family circle or on the world stage or in your reading life, for example – you can now say, had a great effect on you and influenced you in your career path?
I don't know that big events have affected me in nearly the way that small ones have. When I was thirteen, I got permission to sit in on a Year 11 literature unit, and I just fell in love completely. My teacher, a woman named Jill Fenwick, really took me under her wing and fostered a passion for language that previously I had hidden away a bit, because I was paranoid about being accused of showing off. With her I could stretch as far and as wide as I wanted to. It was really liberating, and I still absolutely cherish a copy of T.S Eliot's Four Quartets she gave me.
The second thing that really influenced me was becoming involved in student media, in that it demystified 'getting published' and gave me a crash course in writing and editing. I went from volunteering to subediting to editing the student union newspaper, Farrago, and began to fall in love with the possibilities of not just writing, but editing. I still love working collaboratively, and the years I've spent working on magazines and literary journals have given me a sense of home within the industry; it's amazing to see so many people that I met as very young, very ambitious writers a decade later, having matured a bit and found their own particular niche within the media.
It would be silly, though, given the subject matter of Things That Helped, to pretend that anything affected me quite as much as having a baby did. Owen's coming along really knocked me off my feet. I had to pick myself up and construct a stable sense of subjectivity out of nothing. In doing so I think I altered the way I think and write. I like to think that my writing would have grown richer naturally, but it really did force a change.
5. Considering the innumerable electronic media avenues open to you – blogs, online newspapers, TV, radio, etc – why have you chosen to write a book?
I do work quite a bit in newspapers and online, for shorter things, features on other people, writing on art or books or travel, but to discuss postnatal mental illness in all of its complexity, I felt as though I really needed the spaciousness and autonomy of something self-contained.
6. Please tell us about your latest book…
Things That Helped is a series of essays that use postpartum depression as a lens through which to look at some of the social issues that cause us to become isolated from our former selves; patriarchy, violence, stigma, lack of structural support. It's memoir, but told slant, and with a lot of research woven in. It also picks up a persistent question about the value of art and tries to address what it is within the need to make and experience work that keeps us tethered to the earth.
7. If your work could change one thing in this world – what would it be?
The book has a pretty explicit mission, which is to provoke conversation around the care that new parents receive, and how it could be better structured – much, much better – when it comes to dealing with mental illness. I guess my hope is twofold – that women will read it and feel less alone, and that those in supporting industries can use it as good qualitative data when it comes to advocating for better conditions and more funding.
8. Whom do you most admire and why?
The writer I absolutely idolise is Rumer Godden, who seems to have fallen out of popular knowledge, but whose work is absolutely, exquisitely finely drawn. Her work is so detailed, far-seeing but also compassionate; I really hope more and more people discover her work, especially her masterpiece, In This House Of Brede.
9. Many people set themselves very ambitious goals. What are yours?
My goals are pretty modest!  It's still one day at a time with my mental health, to a degree. I aim to get to the end of the day feeling only 'normally' tired, to have maybe written something of worth, to have spent time with my husband and son, to have checked in with friends and maybe read or taken a bath. There are a few writing projects I want to get out in the next few years – there's a novel that's kicking around my head, and I'm contemplating the possibility of a PhD – but for the most part, it's just about making sure that I'm strong and healthy and up to the task of daily living.
10. What advice do you give aspiring writers?
Only write what you are burning to write. The work is too hard to waste on something second-rate.
Thank you, Jessica!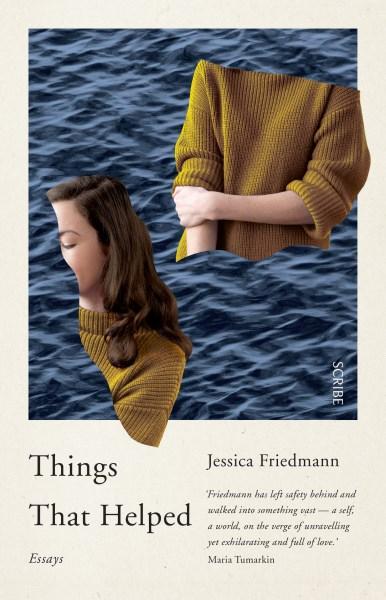 Jessica Freedmann
A collection of essays
Through the tide of hormones ebbing and flowing my body, and the little runnels of blood and the sour tang of my breasts, I lay awake, listening, and thinking of breath and of water. I had broken my relationship with sleep.
In this stunning collection, Jessica Friedmann navigates her journey through postpartum depression after the birth of her son, Owen. Drawing on critical theory, popular culture, and personal experience, her wide-ranging essays touch on class, race, gender, and sexuality, as well as motherhood, creativity, and mental illness.
About the Contributor
Anastasia Hadjidemetri is the former editor of The Booktopian and star of Booktopia's weekly YouTube show, Booked with Anastasia. A big reader and lover of books, Anastasia relishes the opportunity to bring you all the latest news from the world of books.