The Booktopia Book Guru asks
Cal Flyn
author of Thicker Than Water
Ten Terrifying Questions
____________
To begin with why don't you tell us a little bit about yourself – where were you born? Raised? Schooled?
I was born in Inverness in 1986 and I grew up in a Highland village nearby. I went to the local primary school and a state secondary in Inverness, Charleston Academy.
After a year living in south India, working for local charity Arthik Samata Mandal, I was offered a place at Oxford University, where I studied experimental psychology. 
What did you want to be when you were twelve, eighteen and thirty? And why?
At twelve, I could think of no better calling in life than to be a riding instructor (or – even better – an event rider).  But I did well at school – I loved reading, and the sense of understanding that maths and science gave me – so I was encouraged to move in a more academic direction.
Veterinary medicine seemed the obvious compromise, so I studied all three sciences and did the necessary work experience – lambing, cleaning kennels, shadowing a large animal vet during the UK's foot-and-mouth crisis – until at 18 I suddenly had a crisis of direction.
I went to India with no clear plan of what I'd do when I got back. Out there, I taught English, travelled enormous distances, immersed myself in the local culture, read dozens and dozens of books and wrote. I wrote journals, letters and articles for my local paper back in Scotland. I love reading those outpourings now – so full of wonder and excitement and raw emotion. I'd always written a lot, but always as a process of catharsis rather than for any particular audience, so those articles and letters were the beginnings of my interest in writing to communicate or explain.
At university I followed this interest – writing for, then editing, my student paper – and after that I pursued a career in journalism as a way to write as a career. I went freelance a few years ago to concentrate on 'long form' writing – narrative non-fiction and features.
…which brings me to the present. I'm not yet thirty. But when I am (in July this year), I guess I'll want to be a writer. I'm getting there.
What strongly held belief did you have at eighteen that you do not have now?
Ha! Well, I used to think that history was boring.
In school, it all seemed so distant and hypothetical, like so many fairy stories. Talk of military victories (or perhaps more accurately, in Scotland, defeats) and the doings of long-dead kings and queens turned me off entirely. I couldn't see what relevance any of it had to me or the people that I knew.
Over time, I have come to understand that everyone's life fits into this bigger picture, and that the consequences of actions made long ago can spill down through the generations in unpredictable ways. All the opinions I have, all the factors that determine what I know and how I think are the result of decisions made years before by other people, often during periods of great emotional charge and stress. We can learn a lot from those who have come before us – not least about what not to do.
I now like to imagine that one day, not so long from now, people will look back at how we lived and find it entirely bizarre and illogical. "You need to think about it in context," historians will say, while people sigh and shake their heads and think how idiotic we were.
What were three big events – in the family circle or on the world stage or in your reading life, for example – you can now say, had a great effect on you and influenced you in your career path?
A very personal event which influenced me as a person (and – indirectly, I suppose – has sent me along this path) was the surgical treatment I underwent as a child. I was born with one leg significantly shorter than the other, and underwent more than 20 operations to lengthen my left leg and shorten the other.
The first surgery, when I was fitted with an external fixator (basically a metal bicycle pump attached to four pins drilled into my femur, which was then slowly cranked apart over a period of months) took place when I was eight, the last when I was a teenager – around 15 or 16.
During this time I spent a lot of time out of school, and read a huge amount. I would finish one book and then go straight onto the next. Sitting in a curtained-off bed for days on end does wonders for the concentration span! I was also spoken to in a mature way by my parents and the medical staff so I grew up quite quickly, and – in the myriad waiting rooms and emergency departments we frequented – got an insight into a very different world to the one I had grown up in.
As I mentioned above, I became a news reporter after university, working first for The Sunday Times and later the Daily Telegraph (in the UK). Before this I was perhaps more interested in reading fiction and poetry, but the daily work of reporting vastly increased my understanding of (and by extension, interest in) politics, history and social injustice. I began to develop much more informed views, and learnt to read behind the lines of the 'official truth'. Reporting also brought a lot of discipline to my writing: how to structure, how to back up one's arguments, the importance of thoroughness (in thinking and research) and how to lace information through a paragraph without it reading too clunkily.
Finally – most obviously – the discovery of my link to Angus McMillan is the event that sparked my interest in the settlement of Australia (and the British colonial legacy), which has come to obsess me over the last few years.
His experience and actions in Gippsland are really a single, striking instance of a pattern that was reiterated across Australia, and the conflict between his character (congenial, pious, generous to a fault) and his actions (leading a group of his countrymen in vicious attacks against the Gunai people he had once admired) is what I have found so fascinating and, simultaneously, terrifying.
Considering the innumerable electronic media avenues open to you – blogs, online newspapers, TV, radio, etc – why have you chosen to write a book? aren't they obsolete?
Books are certainly not obsolete! There is a worldwide trend back to buying hard-copies of books, and millennials are, according to Pew, actually reading more than older generations. So first of all, the outlook is bright.
Secondly, a book is a single, large piece of work that must be weighed and measured as a whole. In it, the author can seek to answer a question or explore events in depth which are beyond the scope of a long article, or even a series of articles. It provided a very valuable framework for my research, writing and thought-process.
Blogging can be extremely ef
fective, but to me the write-as-you-go form is too risky in terms of ever coming to a satisfying conclusion. (Also, I like to chew things over for a while, change my mind about things, until I feel I have an opinion I can back up – blogging would make this process terrifyingly transparent!)
In terms of radio or TV – although I greatly admire documentary makers, writing has always been to me the natural way of expressing myself and clarifying my own thoughts. So it was natural that this is the way that I would turn. I would like to develop my photography skills because the visual can be very important in communication, but I'd need an awful lot of help and resources to make a successful film.
Please tell us about your latest book…
Thicker Than Water is my first book. It's a work of creative non-fiction which examines the legacy of colonialism and frontier violence during the settlement of Australia.
It is part family memoir, part travelogue, part history book in the vein of Edmund de Waal's The Hare With Amber Eyes, exploring this complex issue through the life story of a distant relative of mine, Angus McMillan. In his time, McMillan was fêted as a hero, and celebrated with cairns and portraits. But latterly he has been identified as a leader of several gruesome massacres of the Gunai (sometimes 'Kurnai') people of Gippsland, Victoria.

For the book I retraced my forebear's journey from the snow-tipped Cuillins of the Isle of Skye to the unmapped wilderness of 1830s Australia, stitching together the events of the clandestine "Black War" of the Gippsland frontier and looking for answers: How could a man lauded for his generosity and integrity commit such terrible acts? What have been the long-term consequences for the Gunai people? And has today's generation inherited a responsibility to atone for its ancestors' sins?
If your work could change one thing in this world – what would it be?
I would like Thicker Than Water to prompt open and honest discussion in both Australia and the UK about the long term effects of colonialism, and how today's inequalities and social problems might be combated with this in mind.
Whom do you most admire and why?
Impossible question! Perhaps…Joan Didion? Her writing is so lucid and rings so true to me. I remember a passage in Slouching Towards Bethlehem where she discusses how her nature runs counter to the rigour of reporting – the failures of nerve as she sat "on some Best Western motel bed somewhere and tried to force myself to put through the call" – which made me wince with recognition. And yet, despite this natural inclination towards introversion, she goes out and meets
people, she interviews, she experiences, she reflects. And she writes like an angel, of course.
Martin Amis once said she was trying to invent "a female way of being serious" – that is, non-fiction that coloured by emotion and romanticism – which, although I tend to dislike labeling things as 'male' or 'female', has a certain appeal. 
Many people set themselves very ambitious goals. What are yours?
Oh, I hate doing that. It is a way of thinking that I find extremely limiting. If you are diligently following some detailed route map, and an interesting side road comes up, then you might be disinclined to take it. I at least want to be open to the idea of seeing what comes up.
Partly too, I think I find displays of raw ambition a bit embarrassing. (A British trait, perhaps? A Calvinist streak?!) But I feel quite strongly that I need to keep my eyes on the road, and my mind on the matters in hand.
We all motivate ourselves in our own ways. For me, it is doing what I'm interested in doing, and trusting that instinct and my natural drive will push me to achieve what can be achieved.
What advice do you give aspiring writers?
Focus on the task in hand. A lot of people spend far more time talking about writing – aims, techniques, and so on –  than they actually spend writing. It's great to pick apart and understand when writing is successful, but not if it becomes a displacement activity. You can't publish what you haven't written.
Personally I find all this talking incredibly inhibitive – if I think too much about what I'm trying to achieve and how I need to go about it, then I am totally overfaced by the challenge of meeting my expectations. It's better just to get on with it, and slowly work my way forward through the dark.
Thank you, Cal!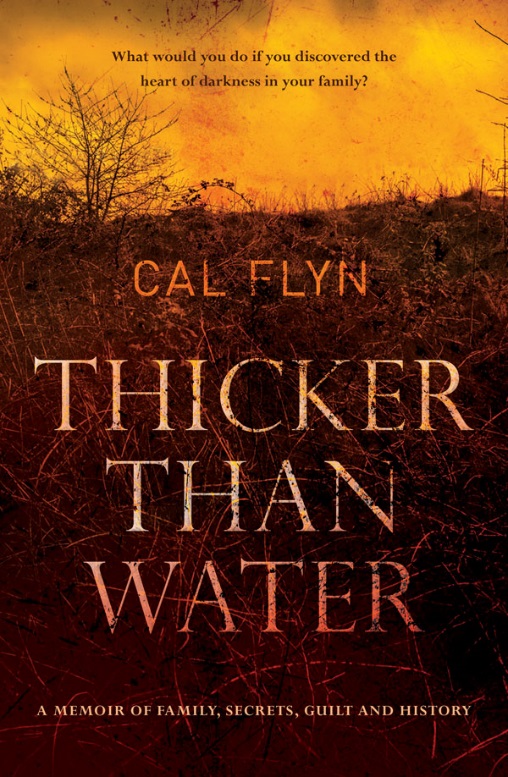 Thicker Than Water
British journalist Cal Flyn was holidaying in her childhood home in the Highlands of Scotland, when she stumbled upon a dark family secret. To her horror, she discovered that her great-great-great uncle Angus McMillan, who had been mythologized as a great explorer and pioneer of early Australia, was in fact also the leader of a number of gruesome massacres of indigenous people. In 1843, he led a loosely formed 'Highland brigade' which were responsible for a series of assaults so ferocious that the sites would ever after be synonymous with bloodshed: Butchers Creek, Boney Point, Skull Creek, Slaughterhouse Gully ...
About the Contributor
Anastasia Hadjidemetri is the former editor of The Booktopian and star of Booktopia's weekly YouTube show, Booked with Anastasia. A big reader and lover of books, Anastasia relishes the opportunity to bring you all the latest news from the world of books.