The shortlist for the 2016 Stella Prize has just been announced!
Named after one of Australia's most important female authors, Stella Maria Miles Franklin, The Stella Prize celebrates Australian women's contribution to literature, awarded last year to Emily Bitto for The Strays.
Don't miss the chance to grab a copy of these fantastic books and judge them for yourself with the help of Booktopia.
---
Six Bedrooms
by Tegan Bennett Daylight
Six Bedrooms is about growing up; about discovering sex; and about coming of age. Full of glorious angst, embarrassment and small achievements.
Hot afternoons on school ovals, the terrifying promise of losing your virginity, sneaking booze from your mother's pantry, the painful sophistication and squalor of your first share house, cancer, losing a parent.
Tegan Bennett Daylight's powerful collection captures the dangerous, tilting terrain of becoming adult. Over these ten stories, we find acute portrayals of loss and risk, of sexual longing and wreckage, blunders and betrayals. Threaded through the collection is the experience of troubled, destructive Tasha, whose life unravels in unexpected ways, and who we come to love for her defiance, her wit and her vulnerability.
Stunningly written, and shot through with humour and menace, Six Bedrooms is a mesmerising collection of moments from adolescence through adulthood, a mix of all the potent ingredients that make up a life.
About the Author
Tegan Bennett Daylight is a critic, teacher and fiction writer. She is the author of several books for children and teenagers, the novels Bombora, What Falls Away and Safety. Her stories appear in a wide range of Australian journals, including Griffith Review, Meanjin and Best Australian Stories. She lives in the Blue Mountains with her husband and two children.
Learn more or grab your copy of Six Bedrooms here
---
Hope Farm
by Peggy Frew
It is the winter of 1985. Hope Farm sticks out of the ragged landscape like a decaying tooth, its weatherboard walls sagging into the undergrowth. Silver's mother, Ishtar, has fallen for the charismatic Miller, and the three of them have moved to the rural hippie commune to make a new start.
At Hope, Silver finds unexpected friendship and, at last, a place to call home. But it is also here that, at just thirteen, she is thrust into an unrelenting adult world — and the walls begin to come tumbling down, with deadly consequences.
Hope Farm is the masterful second novel from award-winning author Peggy Frew, and is a devastatingly beautiful story about the broken bonds of childhood, and the enduring cost of holding back the truth.
About the Author
Peggy Frew's debut novel, House of Sticks, won the 2010 Victorian Premier's Literary Award for an unpublished manuscript. Her story Home Visit won The Age short story competition. She has been published in New Australian Stories 2, Kill Your Darlings, The Big Issue, and Meanjin. Peggy is also a member of the critically acclaimed and award-winning Melbourne band Art of Fighting.
Learn more or grab your copy of Hope Farm here
---
A Few Days in the Country: And Other Stories
by Elizabeth Harrower
One day, Alice said, 'Eric Lane wants to take me to -'
For the first time, her mother attended, standing still.
Eric was brought to the house, and Eric and Alice were married before there was time to say 'knife'. How did it happen? She tried to trace it back. She was watching her mother performing for Eric, and then (she always paused here in her mind), somehow, she woke up married and in another house.
Internationally acclaimed for her five brilliant novels, Elizabeth Harrower is also the author of a small body of short fiction. A Few Days in the Country brings together for the first time her stories published in Australian journals in the 1960s and 1970s, along with those from her archives—including 'Alice', published for the first time earlier this year in the New Yorker.
Essential reading for Harrower fans, these finely turned pieces show a broader range than the novels, rangin
g from caustic satires to gentler explorations of friendship.
About the Author
Elizabeth Harrower is the author of the novels Down in the City, The Long Prospect, The Catherine Wheel, The Watch Tower and In Certain Circles, which was shortlisted for the Prime Minister's Literary Award for Fiction in 2015. A Few Days in the Country is her first collection of short stories.
Learn more or grab your copy of A Few Days in the Country: And Other Stories here
---
The World Without Us
by Mireille Juchau
Told from the perspective of six, interconnected characters, The World Without Us is a tale of love in all its forms, a mystery and an elegy for a denatured landscape. It is about the ways we become lost to ourselves, and the transformative joys of being found.
After a fire destroys her family's commune home, Evangeline is forced to start afresh in the north coast rainforest town with her child, and partner, Stefan Muller.
Years later, while tending the bees on their farm, Stefan discovers a car wreck, and not far off, human remains. While the locals speculate on who has gone missing from the transient hinterland town, Stefan's daughters Tess and Meg, have a more urgent mystery. Where does their mother go each day, pushing an empty pram and returning wet, muddy and disheveled?
Jim Parker, a Sydney teacher escaping his own troubles arrives in their clannish community. One morning he stumbles upon Evangeline, naked by a river with a hammer and some rope. Their charged encounter propels Evangeline's past into the present and sparks a change in all their lives.
Meanwhile ten year old Tess, mute since the loss of her youngest sister, attempts to escape. Will getting lost help her discover where she belongs? As the rainy season descends, and each of the family are separated by flood, they realise nothing is what it seems.
About the Author
Mireille Juchau is a Sydney-based writer of novels, short fiction, essays, scripts and reviews. The World Without Us is her third novel, and won the 2016 Victorian Premier's Literary Award for Fiction. Her first, Machines for Feeling was shortlisted for the 1999 Vogel/Australian Literary Award and the second, Burning In, was published by Giramondo Publishing in 2007. It was shortlisted for the Prime Minister's Literary Award 2008, Commonwealth Writers' Prize 2008, the Age Book of the Year Award 2008 and the Nita B. Kibble Award 2008. She has a PhD in writing and literature and teaches at universities and in the community.
Learn more or grab your copy of The World Without Us here
Mireille answers the Booktopia Book Guru's Ten Terrifying Questions
---
The Natural Way of Things
by Charlotte Wood
Two women awaken from a drugged sleep to find themselves imprisoned in a broken-down property in the middle of a desert. Strangers to each other, they have no idea where they are or how they came to be there with eight other girls, forced to wear strange uniforms, their heads shaved, guarded by two inept yet vicious armed jailers and a 'nurse'.
The girls all have something in common, but what is it? What crime has brought them here from the city? Who is the mysterious security company responsible for this desolate place with its brutal rules, its total isolation from the contemporary world?
Doing hard labour under a sweltering sun, the prisoners soon learn what links them: in each girl's past is a sexual scandal with a powerful man. They pray for rescue – but when the food starts running out it becomes clear that the jailers have also become the jailed. The girls can only rescue themselves…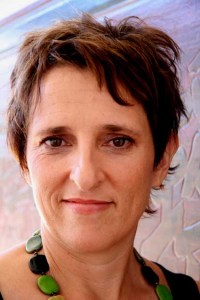 The Natural Way of Things is a gripping, starkly imaginative exploration of contemporary misogyny and corporate control, and of what it means to hunt and be hunted. Most of all, it is the story of two friends, their sisterly love and courage.
About the Author
Charlotte Wood is the author of five novels and a book of non-fiction, and editor of The Writer's Room Interviews magazine. Her last novel, Animal People, was longlisted for the Miles Franklin Literary Award and her other books have been shortlisted for many prizes including the Christina Stead Prize for Fiction.
Learn more about The Natural Way of Things here
Read John Purcell's review of The Natural Way of Things
---
Small Acts of Disappearance
by Fiona Wright
Small Acts of Disappearance is a collection of ten essays that describes the author's affliction with an eating disorder which begins in high school, and escalates into life-threatening anorexia over the next ten years. Fiona Wright is a highly regarded poet and critic, and her account of her illness is informed by a keen sense of its contradictions and deceptions, and by an awareness of the empowering effects of hunger, which is unsparing in its consideration of the author's own actions and motivations.
The essays offer perspectives on the eating disorder at different stages in Wright's life, at university, where she finds herself in a radically different social world to the one she grew up in, in Sri Lanka as a fledgling journalist, in Germany as a young writer, in her hospital treatments back in Sydney.
They combine research, travel writing, memoir, and literary discussions of how writers like Christina Stead, Carmel Bird, Tim Winton, John Berryman and Louise Glück deal with anorexia and addiction; together with accounts of
family life, and detailed and humorous views of hunger-induced situations of the kind that are so compelling in Wright's poetry.
About the Author
Fiona Wright's poetry book, Knuckled, won the Dame Mary Gilmore Award for a first collection. Her poems and essays have been published in the Australian, Meanjin, Island, Overland, The Lifted Brow, Seizure and HEAT.
Learn more or grab your copy of Small Acts of Disappearance here
---
About the Contributor
Andrew Cattanach is a regular contributor to The Booktopia Blog. He has been shortlisted for The Age Short Story Prize and was named a finalist for the 2015 Young Bookseller of the Year Award. He enjoys reading, writing and sleeping, though finds it difficult to do them all at once.
Follow Andrew: Twitter