Collette Dinnigan's Obsessive Creative: In this much-anticipated book from Collette Dinnigan, the Australian designer and fashion icon provides an intimate insight into her life and work.
For the first time, this intensely private woman opens up about what makes her tick. What inspires her to create clothes worn by the most glamorous women in the world, from film stars to royalty? How has her bohemian childhood shaped her? What has made her so successful? What drives her creativity and her famed attention to detail? How does she unwind? How does she juggle the roles of mother and businesswoman?
Obsessive Creative takes you behind the scenes of the world of high fashion, from the studio where Collette's sublimely beautiful clothes are made, to backstage at the Paris shows, from the red carpet to a beading factory in India. Lavishly illustrated with photographs from top international fashion photographers and from Collette's own family albums, this is an intensely personal account of her life and times.
The name Collette Dinnigan conjures up images of romance, style, luxury and femininity – meet the woman behind the name.
Click here for more details or to buy
Collette Dinnigan's Obsessive Creative

Collette Dinnigan
Collette Dinnigan is Australia's most internationally recognised designer. Her signature delicate lace pieces, lingerie style dresses and detailed prints are as distinctive today as they were in 1990 when the label first started. Collette is a proud member of the Chambre Syndicale du Pret a Porter des Couturiers et des Createurs de Mode and her designs have featured in every major fashion magazine around the world.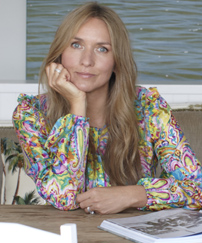 Collette's clothes are worn by an extensive and international list of leading actresses, celebrities and royalty, and her collections are sold in every corner of the world, including a flagship Collette Dinnigan Boutique in Chelsea Green, London and boutiques in Sydney and Melbourne, Australia. Most recently, in 2012 Collette Dinnigan launched an online boutique that ships internationally.
Collette Dinnigan currently designs thirteen collections per year. This includes her ready-to-wear range as well as her diffusion line, collette by Collette Dinnigan, Collette Dinnigan Bridal & collette by Collette Dinnigan Lingerie collection.
What has been the greatest challenge in your life?
Falling pregnant in my forties – miracles do happen!
What is your favourite room in your house, and why?
My bedroom – it's calm, uncluttered, and all the family (including the animals) seem to like the opportunity to hang out there if I ever have time.
What is your favourite travel destination, and why?
I love Paris – I have never felt as though I want to leave, it's like a second home. The city has a beautiful energy, it's easy to navigate, restaurants and cafes are always good and even in the rain it's beautiful.
Who would you most like to have dinner with?
Barack Obama.
Click here for more details or to buy
Collette Dinnigan's Obsessive Creative
Tell us something about yourself that would surprise us.
I collect the front pages of newspapers for each and every one of Estella's and now Hunter's birthdays, no matter where we are in the world, so that they have a history relating directly to each of them of what was happening in the world the day they were born.
I am an advocate for protecting honey bees – I believe they are a barometer of what is happening in our environment, and that honey is medicinal and so a very powerful food.
I try to do everything I can to eradicate sulphates in my home and workplace and wherever else I can.
I do not like wasting anything… I believe there is always a use for things. Recycle, recycle, recycle!!!!!
Starting Out
I didn't consciously set out to design a lingerie collection – it was just something I gravitated towards, because I loved beautiful fabrics. I had collected vintage lace, silks and trims from the 1930s, so I started making silk chiffon knickers and crepe de Chine chemises as gifts for friends –  a bit like trousseau pieces. I had a friend, Nikki Andrews at Mode magazine, who asked me to bring some pieces in, and before long I was taking orders from editors and other staff, then going back to my studio and making them up. I did all the sewing myself. When I first started, I was making about one piece a week. It soon grew to about five pieces, then twenty-five pieces a week, as word spread.
My first real break came when Susan Owens of The Sydney Morning Herald wrote a piece on my lingerie. At the end of the article she said: 'If anyone is interested, please send a self-addressed envelope to receive a catalogue.' How times have changed –  it's all about the database now. I received literally thousands of letters from people wanting me to custom-make lingerie pieces for them. I started trying to sell my lingerie to retailers, but there just wasn't a market for it in Australia at that time. I was trying to create luxury pieces that would last a lifetime –  it was all about the cut, and mixing silk with beautiful, antique laces. I sometimes meet people today who tell me they have kept those early pieces as heirlooms as they are so beautiful.
Click here for more details or to buy
Collette Dinnigan's Obsessive Creative
How the Magic Happens
When I design a collection there is always a story. I never start by thinking a particular collection is going to be modern, or graphic or whatever. I begin with a story in mind  –  I imagine the mood, the time, the place, who will be wearing the clothes, who else might be there. I look for something that will define the collection. Those ideas might not always be obvious in the final collection, but that is how it starts. Anything might inspire me  –  fields of flowers, a flock of birds, old mosaics, or even a row of striped deckchairs.
I get a lot of inspiration from travel  – not because I am consciously looking for ideas, but because I am always aware of my surroundings, and open to new experiences.
So in Italy, on the Amalfi Coast, seeing girls on Vespas wearing bright red lipstick and turquoise dresses might inspire me to design a fabric in red and turquoise, because I think that colour combination is sexy and romantic, as women's clothes should be. I design many of my fabrics myself so the design process is doubled.
The Paris Shows
I will never forget my first show in paris. It was in 1995 and came about at the suggestion of Mary Gallagher, from Harvey Nichols in London, who had been selling my clothes for a few years. In those early days I used to go traipsing around the world with a suitcase of samples to show buyers in Los Angeles, New York, Hong Kong and London. One day Mary said to me 'why are you doing all that travelling? why don't you just go to paris and do a show? People don't really understand how to wear your clothes, with all the different layers, so you need to show them.'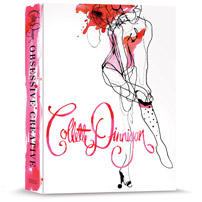 These days, people take photos with their iPhones and tweet them and put them up on their blogs almost immediately, so many fashion editors don't come to the shows anymore. This has taken away some of the magic and the anticipation, I think, which is a shame. Nothing compares to actually being at a show.
The only contact I had in Paris was Stephen Todd, a friend of Seamus's who wrote for The Australian newspaper, and he offered to help. He suggested I do the show at the Angelina Tearoom on the Rue de Rivoli, next to Le Meurice, and together we put together the show. I still don't know how we did it – I was just running on adrenaline. Stephen was an amazing support. My show was 'off schedule' as I hadn't been accredited by the Chambre Syndicale (the French body that runs the show schedule). I decided to show against Comme des Garçons, because Rei Kawakubo has a very different sensibility from mine, and I didn't think we would compete as much for press. I sent out invitations to the press and buyers, and a friend of Stephen's lent us her wardrobe of shoes, and off we went.
I showed a collection of my corsets, layered skirts and lace overdresses, and we got some really good press. People knew that we were already selling to Barneys and Harvey Nichols and I think they were quite intrigued – they are always looking to discover someone new. I did another show later that year, and again had a good response from the press, and other designers on the official list started to complain that I was taking key press away from their shows.
Click here for more details or to buy
Collette Dinnigan's Obsessive Creative

There is also a
Limited Edition of Collette Dinnigan's Obsessive Creative
In this Limited Edition, each copy will be numbered and signed, will have a unique illustrated cover and will be accompanied by a limited edition Collette Dinnigan silk scarf designed especially for the book.
Click here to buy
About the Contributor
While still in his twenties, John Purcell opened a second-hand bookshop in Mosman, Sydney, in which he sat for ten years reading, ranting and writing. Since then he has written, under a pseudonym, a series of very successful novels, interviewed hundreds of writers about their work, appeared at writers' festivals, on TV (most bizarrely in comedian Luke McGregor's documentary Luke Warm Sex) and has been featured in prominent newspapers and magazines. ​Now, as the Director of Books at booktopia.com.au, Australia's largest online bookseller, he supports Australian writing in all its forms. He lives in Sydney with his wife, two children, three dogs, five cats, unnumbered gold fish and his overlarge book collection. His novel, The Girl on the Page, will be published by HarperCollins Australia in October, 2018.