David Gemmell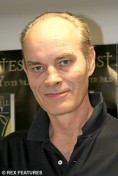 Born in west London during the summer of 1948, Gemmell's was a colourful upbringing, with a childhood that culminated in expulsion from school at the age of sixteen after he was found guilty of orchestrating a gambling syndicate. In the following years he found employment as a labourer and part-time bouncer in Soho, and eventually took to working as a freelance journalist.

By the early 80's Gemmell had been working for a number of years as a writer/editor for several south England papers, and though he put much of his free time toward writing fiction, it was not until he received a misdiagnosis of cancer – later amended – that he set about his true passion in earnest. Certain that his days were limited, the apparently doomed author-to-be completed his first book, Legend, in 1984.

Sadly, David Gemmell passed away on Friday, 28th July 2006, two weeks after heart bypass surgery.

Gemmell for me was great reading, it is Fantasy and should be different from our mundane PC world. Druss and Waylander are men that men wished they could have been. Face and defeat the enemy, never doubt and never complain about hardship.