Well folks, we are well and truly in the streaming wars. The new streaming service Disney Plus launched last week, and with it one of the most anticipated shows of 2019: The Mandalorian.
The latest addition to the Star Wars universe, The Mandalorian follows a lone gunfighter as he makes his way through the outer reaches of the galaxy, far from the authority of the New Republic.
(Also, we get to see baby Yoda and I don't care if it's a blatant ruse to sell merchandise, baby Yoda is ADORABLE and I love him.)
So, after much deliberation with the sci-fi lovers on the Booktopia team, we came up with five books that you should check out if you're loving the show. Read on!
---
The Mandalorian Armor (Bounty Hunter Wars: Book 1)
by K.W. Jeter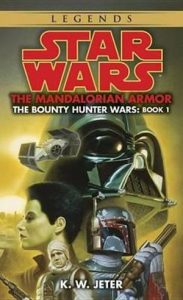 Liv says: The Mandalorian Armor is the first book in the Bounty Hunter Wars series, and if you're dipping your toes into the world of bounty hunters for the first time, this book is a fantastic place to start. Why? It follows perhaps the most famous (and feared) bounty hunter of them all: Boba Fett. Before he became lunch for the Sarlacc in Return of the Jedi, Boba Fett was embroiled in a plot to destroy the Bounty Hunter's Guild by everybody's favourite villains; the Emperor and Darth Vader. He's a legend for a reason, and this book will show you exactly why.
Buy it here
---
Saga (Volume 1)
by Brian K. Vaughan and Fiona Staples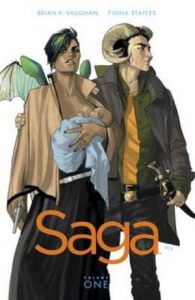 Mark says: If you haven't read Saga yet – WHAT ARE YOU WAITING FOR?? It's a story of forbidden love between protagonists Alana and Marko, whose different species are locked in a galaxy-spanning war. Their relationship and family develop as they are pursued by bounty hunters, warring factions and royal robots, while creating a rag-tag group of friends that includes a ghost. It feels fresh and exciting, and the constant cliff-hangers and twists make it an easy series to binge. And the artwork by Fiona Staples is just STUNNING.
Buy it here
---
The Collapsing Empire (Interdependency: Book 1)
by John Scalzi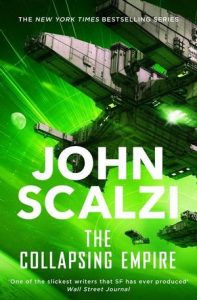 Mark says: John Scalzi's series, Interdependency, is about a vast space empire of planet-based outposts that depend on each other for resources, connected by a series of hyperspace tunnels known as the Flow. When the Flow tunnels start to collapse, each planet faces the very real possibility of extinction. A reluctant new Emperor must deal with the machinations of ambitious houses and rebellion as the crisis looms. Just like Scalzi's Old Man's War series, it's clever, fast paced and populated by incredibly vivid characters. Book 1, The Collapsing Empire and Book 2, The Consuming Fire are out now, with Book 3, The Last Emperox due in 2020.
Buy it here
---
Leviathan Wakes (The Expanse: Book 1)
by James S.A. Corey
Mark says: Now an excellent TV series, The Expanse is a series of 8 (soon to be 9) novels, set in a future that sees the nations of Earth, Mars and the Asteroid Belt struggling for control of the solar system, when a mysterious alien presence arrives that could change everything. The characters are a crew for hire on a stolen Martian spaceship, who always seem to find themselves at the centre of huge system-changing events. Start with book 1, Leviathan Wakes, and in no time you'll be champing at the bit for the as-yet-untitled ninth book, which will finish the series in 2020.
Buy it here
---
Aurora Rising (Aurora Cycle_0.1)
by Amie Kaufman and Jay Kristoff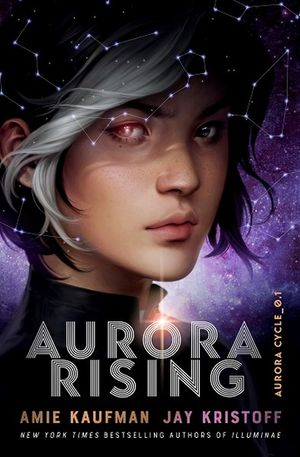 Liv says: If you're looking for thrilling space adventures, there are plenty to spare in the wide realm of young adult fiction. One of my favourites is Aurora Rising, which comes from the superstar duo Jay Kristoff and Amie Kaufman, the co-authors behind the bestselling Illuminae Files (another amazing series). Aurora Rising is a classic sci-fi adventure story about a scrappy gang of military cadets from the Aurora Academy who are hunted into the galaxy by lethal government agents after they rescue a mysterious girl who's been trapped in cryo-sleep for the past 200 years. It's The Breakfast Club meets Guardians of the Galaxy and it's a whole lot of fun.
Buy it here
---
Have any suggestions for The Mandalorian read-alikes? Tell us in the comments!
(Couldn't resist.)
About the Contributor
Olivia Fricot is the Editor of the Booktopian Blog. After finishing a soul-crushing law degree, she decided that life was much better with one's nose in a book and quickly defected to the world of Austen and Woolf. You can usually find her reading (obviously), baking, writing questionable tweets, and completing a Master's degree in English literature. Just don't ask about her thesis. Olivia is on Twitter and Instagram @livfricot - follow at your own risk.
Follow Olivia: Twitter