All I needed to know about The Magnolia Sword was this: it's a ballad of Mulan. As someone who grew up obsessed with the cartoon movie, Mulan has always held a special spot in my heart as the kick-ass, brave, selfless and intelligent young woman who risked everything to protect her father.
So when bestselling author Sherry Thomas took her hand to the classic story, I was ready and willing to dive back into the world of Mulan.
In her retelling, The Magnolia Sword, Mulan has spent her life training for the duel of her life. For many years, Mulan has pretended to be her long-dead brother and since every generation is expected to participate in this duel … it is now Mulan's turn! When war disrupts these plans, Mulan takes up her sword and joins the army as a man.
What I love most about Mulan is how real Thomas made her. She is full of self-doubt and fear, as anyone joining a war would be. She faces her fear and her mistakes head-on and grows into the formidable opponent the world knows and loves.
Of course this wouldn't be a Mulan retelling without a thrilling romance. Her would-be duelling partner ends up becoming her commander and ally during a tumultuous, intense and dangerous mission. Their romance is beautifully handled and doesn't overpower the story.
Mulan is the heroine of my life and this retelling only reiterated why her story is beloved by the masses. Thomas did a fantastic job at recreating a world that is familiar yet richer than most of us know.
Gripping and nail-biting, make sure you get your hands on a copy of The Magnolia Sword!
---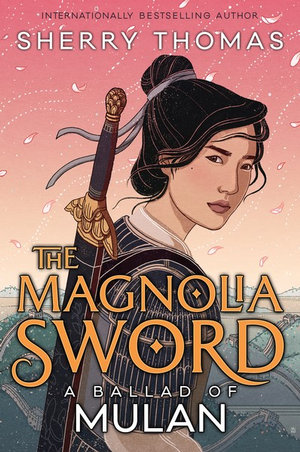 The Magnolia Sword
A Ballad of Mulan
Mulan has been drilled in martial arts to fight the duel of her life - but what if her sworn enemy is also her secret love? A heart-thumping retelling that brings a much-loved heroine to life.
All her life, Mulan has trained for one purpose: to win the duel that every generation in her family must fight. Then a messenger from the Emperor arrives, demanding that all families send one soldier to fight the Rouran invaders in the north. Mulan's paralysed father cannot go, and her brother...
About the Contributor
Before entering the exciting world of books, Bronwyn served in the Royal Australian Air Force, travelled extensively and worked (still does!) as a barista on the weekends. Books are her true passion. Bronwyn's debut fantasy novel Relic is coming out in 2019 with indie publishing house Talem Press. They are to publish her entire trilogy called The Relic Trilogy. In her spare time, Bronwyn writes, reads and enjoys keeping fit (which she undoes by eating loads of chocolate) with Martial Arts and personal training. She can't answer what her favourite book is but she has a soft spot for Peter Pan (J.M Barrie), Outlander (Diana Gabaldon), Stardust (Neil Gaiman), The Illuminae Files (Jay Kristoff and Amie Kaufman) and Six of Crows (Leigh Bardugo). Fantasy, sci-fi and YA make up the majority of her bookshelves.
Follow Bronwyn: Twitter